Banana Fosters Bread Pudding
August 4, 2008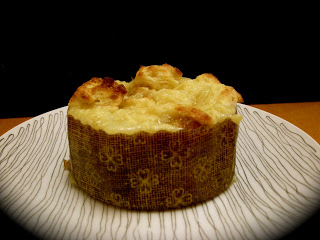 It is said that on Shabbat each person gets an extra soul that stays with him throughout the day. It is my theory that the extra soul is the one that gets the calories on Shabbat, and it takes them with it when it leaves. With that theory, there is always room for dessert on Shabbat!
Earlier this week, I had made a batch of David
Lebovitz's
easy chocolate ice cream. For my taste it was a bit too boozy to eat in large quantities by itself, so I wanted a dessert for
Shabbat
that would pair nicely with a small scoop. Bananas, chocolate and rum are always a winning combination, so I decided to make a banana bread pudding to go with the ice cream.
The bread pudding turned out delicious, rich and custardy with the right amount of banana flavor. I am a big fan of using coconut milk in parve desserts, and it this recipe it worked perfectly. The coconut flavor was very subtle, and paired nicely with the banana flavor.
The flavor of the bread pudding was a bit too subtle to stand up to the strong ice cream, so we ended up scraping the ice cream off and eating them separate. All in all, a delicious end to a wonderful shabbos meal.
Recipe Updates – Delivered Fresh!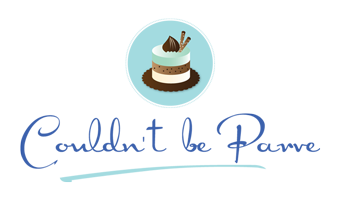 Banana Fosters Bread Pudding
Banana Fosters Bread Pudding
Ingredients & Instructions
Ingredients & Quantities
4 oz challah, crusts removed and bread cut into 1/2 inch cubes
2 eggs
1 cup coconut milk
1/4 cup sugar
1 teaspoon vanilla extract
1 large banana, sliced
1/4 cup brown sugar
1 tablespoon margarine
splash of rum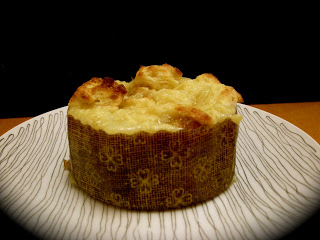 Preparation Instructions
Whisk eggs, coconut milk, sugar, and vanilla extract in large bowl to blend. Add bread cubes. Let stand 30 minutes, occasionally pressing bread into custard mixture.
Preheat the oven to 350 degrees. In a saute pan melt the margarine with the brown sugar. Add the banana slices and saute 2 minutes until slightly soft and caramelized. Remove from the heat, splash with rum and carefully ignite.
Spoon half of the bread mixture into 2 8 oz ramekins. Layer with bananas. Top with the remaining bread mixture. (there may be some extra, use an additional ramekin if needed).
Bake until pudding is set in the middle, approximately 25 minutes. They are best served warm.
Thank You For Printing This Recipe! Visit Us Again Soon!
Recipe Page: http://www.couldntbeparve.com/recipe/extra-souls-best-possible-excuse-for/