Dreidel Cookies with a Surprise
December 6, 2012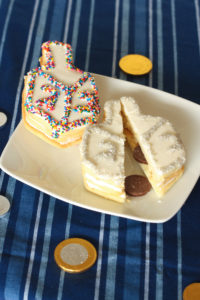 I like to push the envelope a bit with my desserts. The classics are delicious, and it is important to have good recipes for all the basics, but sometimes it is fun to push the desserts a bit further. That is exactly what I did with these cookies. Dreidel sugar cookies would be a welcome addition at any Hanukkah gathering (or you could try making them with gingerbread instead) but when people see an iced sugar cookie it isn't necessarily a conversation starter. These cookies, however, are sure to be the talk of the party. They combine the classic combination of dreidels and gelt in a fun package. On the surface they look like tall sugar cookies, but break them open and out fall a bunch of chocolate gelt.
The gelt-filled  cookies are inspired by these filled piñata cookies I saw a while back. Those cookies are shaped like piñatas and when you break them open candy falls out. They are unbelievably cute, but I had no need for piñata cookies so I made these gelt-filled dreidels using the same basic method. They are a bit of work to make, but I thought the end result was worth it.
For these cookies I decided to try a new sugar cookie recipe. I figured since I have recipes I like that use margarine and coconut oil I should try a shortening recipe to see how it came out. This recipe is from the uber talented Melissa at Lil Miss Cakes. She makes such beautiful decorated cookies (and even more impressive cakes) so I figured she probably knows a thing or two about sugar cookie dough, and she sure does. These cookies are not only delicious, the dough is truly a pleasure to work with. If your shortening isn't too warm the dough doesn't even need chilling before rolling it out and the cookies don't spread much at all when they are baked.
I also really love that this recipe uses shortening. I have been using shortening more lately with great results. It's kind of funny, when people hear shortening they immediately think "unhealthy" and that is no longer true necessarily true. I use Spectrum Organic Shortening which is completely non-hydrogenated and natural. As far as I know there are no parve, non-hydrogenated margarines that are unsalted. That means that unless the recipe you use them in has enough salt to compensate for the difference the end result comes out a bit too salty. Using shortening is a great alternative. One of the downsides of shortening is that it is not particularly flavorful, but this recipe compensates by adding orange juice which gives it a nice subtle flavor. I will definitely be making these again.
If you want to make the gelt-filled cookies gluten-free follow the same instructions for cutting and baking using this gluten-free recipe instead. The gluten-free cookies do spread a bit while baking so as soon as you remove them from the oven (while they are still hot) recut them using the same cookie cutter.
Recipe Updates – Delivered Fresh!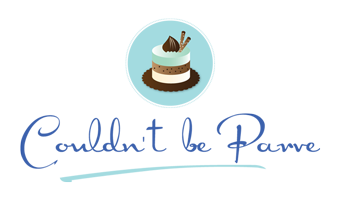 Dreidel Cookies with a Surprise
Ingredients & Instructions
Ingredients & Quantities
1 cup (192 g) natural vegetable shortening
2 cups (15 oz or 420 g) sugar
1 tablespoon (.5 oz or 14 g) vanilla extract
3 eggs
5 cups (22.5 oz or 630 g) flour
1 tablespoon (.5 oz or 14 g) baking powder
1 teaspoon (6g) salt
6 tablespoons (3 oz) orange juice
royal icing
small chocolate gelt, unwrapped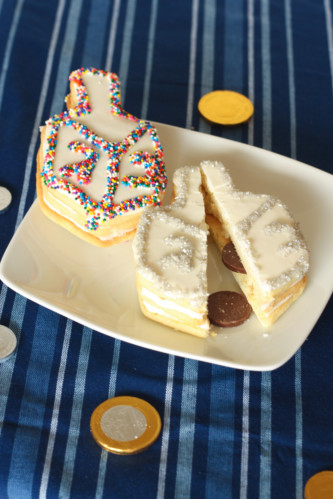 Preparation Instructions
Preheat the oven at 350 degrees F.
In the bowl of an electric stand mixer, beat the shortening, sugar, and vanilla until light and fluffy. Add the eggs one at a time, beating after each addition. Add the flour, baking powder, and salt all at once and combine. With the mixer running at low speed slowly add in the orange juice.
If the dough is very sticky, refrigerate before trying to roll out.
Divide the dough into three sections. Cut two pieces of parchment paper the size of the cookie sheet. Lightly flour one sheet of paper. Place one section of dough on the paper. Sprinkle lightly with flour and top with the second piece of paper. Roll out the dough to ¼ inch thick. Cut out the dreidels for the top and the bottom, leaving at least an inch of space between the cookies. Remove the scraps from around the cookies, but do not move the cookies. (It is important that the shape of the cookies does not distort and this is the best way to ensure that.) If the cutter is not completely symmetrical cut half of the cookies in the reverse (flip the cookie cutter over to do this.) Roll out a second section of dough in the same way to cut the middle cookies. Cut out the dreidels and remove the scraps. Using a small cutter or the back of a decorating tip cut out the center of each dreidel, leaving a ½ inch border on each side. (You should have half as many of these cut out cookies as you do top/bottoms. The goal is to have one cookie of each type (top/middle/bottom) for each gelt filled cookie. Repeat until all the dough is gone. Freeze the cookies until firm, approximately 15 minutes.
Bake the cookies 8-10 minutes or until light brown at the edges. Transfer to a rack and let cool completely.
To assemble the cookies
Take the first dreidel cookie and lay it upside down so that the baked bottom is facing up. Outline the dreidel with royal icing (or a thick glaze made with 1/2 cup of powdered sugar and two teaspoons of non-dairy milk.) The easiest way to do this is with a pastry bag or a Ziploc bag with a tiny corner cut off.
Put the middle cookie on top of the frosting glue and place the unwrapped gelt in the open center. Put another outline of frosting glue on the middle cookie and place the opposite-cut dreidel cookie on top (so that the pretty side is facing out). Let these sit and harden for at least 30 minutes before decorating the top with royal icing and sprinkles.
Cookie dough recipe adapted from Lil Miss Cakes
Thank You For Printing This Recipe! Visit Us Again Soon!
Recipe Page: http://www.couldntbeparve.com/recipe/dreidel-cookies-with-a-surprise/