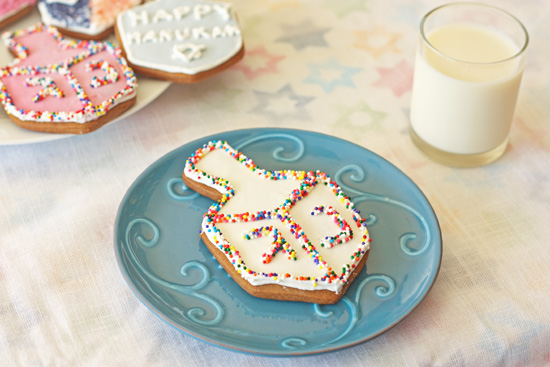 Now that Thanksgiving has passed I can fully embrace the flavors of the Christmas season. Now I know I am a nice Jewish girl who has no business looking forward to Christmas songs playing on the radio, but I do. And it is all because of the desserts. See here is the thing. Many of my favorite flavors have come to be associated with the Christmas season. This is the only time of year I can walk into Starbucks and find not one but three of my favorite flavors all offered in a warm soothing coffee beverage.  I look forward to gingerbread, peppermint and eggnog all year around (and don't even get me started on my love of fruitcake), but there is something about this season that just makes me want to incorporate those flavors into every dessert I make.
Last year I made gingerbread marshmallows, and while I will probably make them again for gifts this year, this year I decided to get my gingerbread fix by making traditional gingerbread cookies for Chanukkah. We try to have something each night of Hanukkah that embraces the theme of the holiday, and I can't deep fry every night, so these cookies will be our Hanukah treat one night this year.
This was my first time making this gingerbread recipe and it will be my go to recipe from now on. The cookies are nice and crisp and have a good amount of spice. They are not that sweet on their own which makes them perfect for decorating with royal icing. I used a royal icing recipe that used dried egg whites because I didn't want to use raw eggs and don't really like the flavor of royal icing made with meringue powder. I don't tend to make decorated roll out cookies that often because they take a bit of time to decorate, but it was totally worth it for these cookies.