Gingerbread Dreidels
November 28, 2012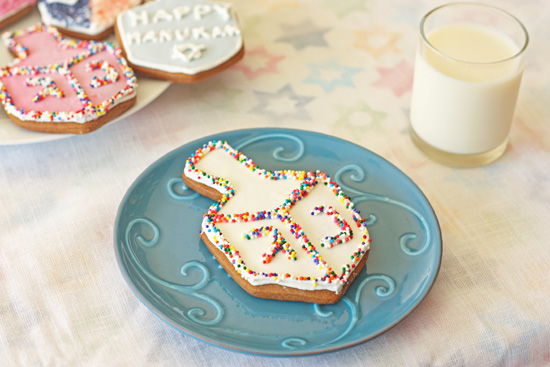 Now that Thanksgiving has passed I can fully embrace the flavors of the Christmas season. Now I know I am a nice Jewish girl who has no business looking forward to Christmas songs playing on the radio, but I do. And it is all because of the desserts. See here is the thing. Many of my favorite flavors have come to be associated with the Christmas season. This is the only time of year I can walk into Starbucks and find not one but three of my favorite flavors all offered in a warm soothing coffee beverage.  I look forward to gingerbread, peppermint and eggnog all year around (and don't even get me started on my love of fruitcake), but there is something about this season that just makes me want to incorporate those flavors into every dessert I make.
Last year I made gingerbread marshmallows, and while I will probably make them again for gifts this year, this year I decided to get my gingerbread fix by making traditional gingerbread cookies for Chanukkah. We try to have something each night of Hanukkah that embraces the theme of the holiday, and I can't deep fry every night, so these cookies will be our Hanukah treat one night this year.
This was my first time making this gingerbread recipe and it will be my go to recipe from now on. The cookies are nice and crisp and have a good amount of spice. They are not that sweet on their own which makes them perfect for decorating with royal icing. I used a royal icing recipe that used dried egg whites because I didn't want to use raw eggs and don't really like the flavor of royal icing made with meringue powder. I don't tend to make decorated roll out cookies that often because they take a bit of time to decorate, but it was totally worth it for these cookies.
Recipe Updates – Delivered Fresh!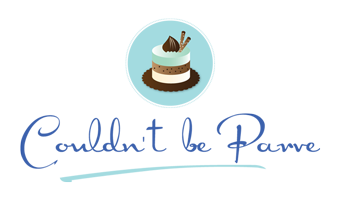 Ingredients & Instructions
Ingredients & Quantities
Gingerbread Dreidels
6 cups all-purpose flour, plus more for work surface
1 teaspoon baking soda
1/2 teaspoon baking powder
4 teaspoons ground ginger
4 teaspoons ground cinnamon
1 1/2 teaspoons ground cloves
1 teaspoon finely ground pepper
1 1/2 teaspoons coarse salt (use 1 1/4 teaspoons if using salted margarine)
1 cup (2 sticks or 1/2 pound) margarine
1 cup packed dark-brown sugar
2 large eggs
1 cup unsulfured molasses (not blackstrap)
Royal Icing (see below) and assorted sprinkles for decorating
Royal Icing
4 tsp dried egg whites
1/4 c room temperature water
1 tsp lemon juice (or 1/4 tsp cream of tartar)
3 c powdered sugar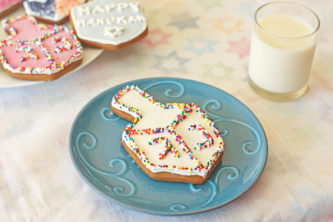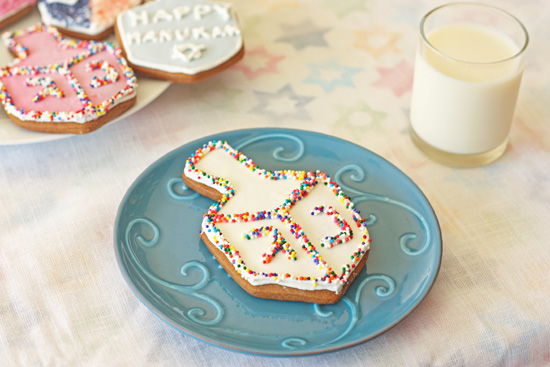 Preparation Instructions
Gingerbread Dreidels
Whisk together flour, baking soda, baking powder, spices and salt in a large bowl and set aside. Beat the margarine and brown sugar together in the bowl of an electric mixer until fluffy. Mix in the eggs and molasses.
Add flour mixture, mixing on low until just combined. Divide dough into thirds and wrap each part in plastic. Refrigerate until cold and firm, about one hour or up to two days.
Preheat oven to 350 degrees. Roll out dough on a lightly floured work surface to a 1/4-inch thick. (The easiest way to do this is roll the dough out between two pieces of parchment paper. Lightly flour the paper on the bottom). Cut the dough into shapes of your choice, such as dreidels or (if you want to be more traditional) gingerbread men. Transfer the cookies to a parchment lined cookie sheet, spacing them at least two inches apart. If the dough gets too soft while working with it place the dough, still on the parchment, on a cookie sheet in the freezer for a few minutes to firm up. Once the cookies are cut out and on the baking sheets refrigerate them the cookies firm up again, about 15 minutes.
Bake cookies until crisp but not dark, 12 to 14 minutes. Let cool on sheets on wire racks.
When cool, you can decorate the cookies with icing and sprinkles. When you pipe designs, sprinkle the icing with sanding sugar and let it sit for five minutes before tapping off the excess sugar. Then let the icing set completely at room temperature, which will take an hour or so, depending on how thick it is.
Store cookies between layers of parchment or waxed paper in an airtight container for up to a week.
Royal Icing
Mix water and egg whites in the bottom of a mixing bowl. Let stand 3-5 minutes. Add lemon juice or cream of tartar. Beat on high speed until stiff peaks form. Add powdered sugar one cup at a time and mix well. The resulting icing should also be about stiff peak thick. Transfer to an airtight container and store for up to two weeks.
This icing may be thicker than necessary depending on how you are using the icing to decorate. Transfer some of the icing to a bowl and stir in a bit of water or lemon juice at a time until it reaches the desired consistency. If using the icing for flooding a cookie a line drawn in the frosting with a knife should melt back into the rest of the icing by a count of 10. If it gets there before 7 or 8 add a bit more icing to thicken it a bit.
Thank You For Printing This Recipe! Visit Us Again Soon!
Recipe Page: http://www.couldntbeparve.com/recipe/gingerbread-dreidels/