Chocolate Ganache Cupcakes with Mint Buttercream
April 22, 2010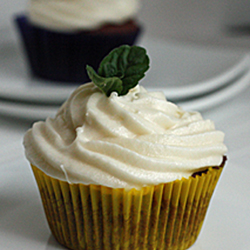 It seems like some weeks things just don't turn out how I hope they will in the kitchen. This week I have been experimenting with gluten-free baking and so far have not had much success. I have a huge batch of gluten-free challah dough in the fridge that is barely edible. My son, the challah lover, took one bite of the test loaf and gave it back. I hate to waste food so if anyone has suggestions for salvaging it I am all ears. These cupcakes were my second gluten-free attempt. I had high hopes for them, because the cupcake part was based on a recipe from the Cupcake Bakeshop and that woman sure knows her cupcakes. They weren't bad, certainly a passible gluten-free dessert, but they were not great either. The texture of the cupcakes wasn't quite right. However, I loved the combination of chocolate ganache and mint buttercream on a chocolate cupcake. The frosting was definitely the most popular part. I am posting the ganache and buttercream recipes and recommend using them with your favorite chocolate cupcake recipe. If you are a chocolate lover don't forget to enter the giveaway to win Chocolate Obsession.
Recipe Updates – Delivered Fresh!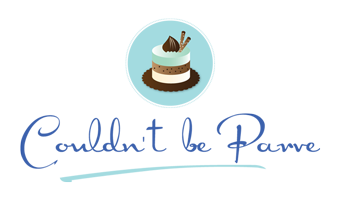 Chocolate Ganache Cupcakes with Mint Buttercream
Chocolate Ganache Cupcakes with Mint Buttercream
Ingredients & Instructions
Ingredients & Quantities
Chocolate Ganache Layer
1 cup (8 oz) unsweetened coconut milk (not cream of coconut), well mixed 9 oz bittersweet chocolate, finely chopped
Mint Buttercream
1/2 cup margarine
6 oz toffuti cream cheese
3/4 lb 10X confectioners' sugar
1/4-1/2 teaspoon peppermint extract, or to taste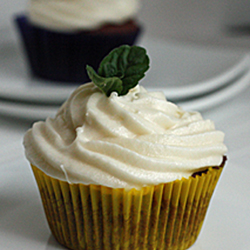 Cooking Instructions
Chocolate Ganache Layer
Place chocolate in a large bowl. Heat coconut milk until just boiling, either on the stovetop or in the microwave. Pour hot coconut milk over the chocolate and let sit for 5 minutes. Whisk gently until completely smooth. If some chocolate remains unmelted microwave the mixture on 50% power in 15 second intervals, whisking after each one, until the chocolate is completely melted. Refrigerate until thick, at least one hour before spooning into cupcakes.
Mint Buttercream
Cream margarine and cream cheese together for 3 minutes. Stop and scrape the bowl. Sift the sugar. Beat sugar 1 cup at a time into the margarine mixture. Add the peppermint extract and beat to combine. Start with the smaller quantity of peppermint extract and add more to taste.
Thank You For Printing This Recipe! Visit Us Again Soon!
Recipe Page: http://www.couldntbeparve.com/recipe/chocolate-ganache-cupcakes-with-mint-buttercream/