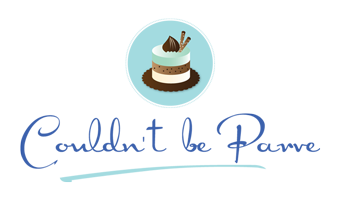 What to Do With Leftover Chanukkah Gelt
December 9, 2010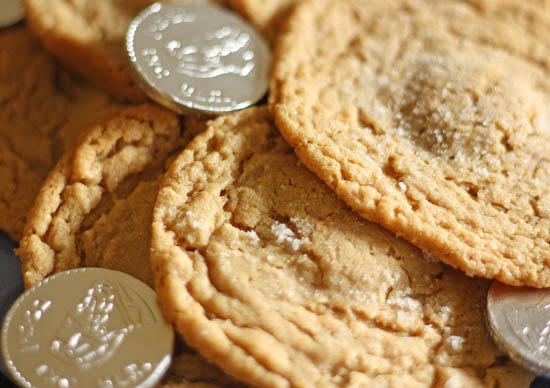 Although it is fun and exciting to eat Chanukkah gelt the first few days of the holiday, every year I find that by the end of the eight days there are leftover gelt sitting around that no one really wants to eat. Even the three year old seems tired of them. The chocolate gets nibbled slowly when there is nothing better around for a sweet fix, but much of it just sits in the cabinet until we have to toss it for Passover.
Since under the foil wrappers gelt are simply chocolate, it seemed that there had to be a better way to use up the leftovers. While of course they could simply be melted and used in any recipe that calls for melted chocolate, or chopped and folded into cookie dough, I wanted to make something that took advantage of the round shape of the gelt. Since I really like the peanut butter filled chocolate cookies from the King Arthur blog I decided to make a kind of inversion of those cookies by filling a peanut butter cookie with chocolate gelt instead of a chocolate cookie with peanut butter.
These cookies were delicious. Soft peanut butter cookie filled with chocolate gelt and more peanut butter filling, they are a peanut butter lovers delight. I used the peanut butter cookie recipe from Baked: New Frontiers in Baking, but any soft peanut butter cookie recipe would work. If you don't happen to have leftover gelt, any round chocolate pieces will work, or even a few chocolate chips.
Gelt Filled Peanut Butter Cookies
(cookie recipe adapted from Baked: New Frontiers in Baking)
Yeild 28 cookies
Ingredients
1 3/4 cup of all-purpose flour
2 teaspoons of baking soda
1 teaspoon salt
1 cup (2 sticks) of unsalted margarine, cut into 1-inch pieces (If using salted margarine like Earth Balance reduce amount of salt)
1 cup granulated sugar, plus more for sprinkling
1 cup firmly packed dark brown sugar
2 large eggs
1 teaspoon pure vanilla extract
1 cup creamy peanut butter
10 tablespoons peanut butter
5 tablespoons confectioners sugar
28 medium pieces of gelt (from 7 bags of gelt, save the big gelt of another use)
Sift the flour, baking soda, and salt into a medium bowl and set aside
In the bowl of an electric mixer fitted with a paddle attachment, beat the margarine and sugars together until fluffy. Scrape down the bowl and add the eggs, one at a time, beating until each is incorporated. The mixture will look light and fluffy. Add the vanilla and peanut butter and beat until just incorporated.
Add half of the flour mixture and mix for 15 seconds. Add the remaining flour mixture and mix until just incorporated.
Preheat the oven to 375 degrees F. Line two baking sheets with parchment paper.
In a medium bowl combine the 10 tablespoons of peanut butter and powdered sugar. Mix until smooth and creamy.
Scoop out one tablespoon cookie dough. Push one piece of gelt down into the cookie dough and top with a teaspoon of the peanut butter mixture. Top with another teaspoon of cookie dough. Using moist hands press cookie dough down to completely cover the gelt. Sprinkle the cookies with additional granulated sugar.
Sprinkle the tops of the cookies with granulated sugar and bake for 10 to 12 minutes, rotating the pan halfway through the baking time, until the tops of the cookies just begin to brown. Let the cookies cool for 5 minutes on cookie sheet and then transfer to a cooling rack.
Note: For an even easier version skip the peanut butter filling. Place a heaping tablespoon of the cookie dough into each cup of a mini muffin tin and bake for 12-15 minutes, or until set on top. Immediately after removing the pan from the oven press a piece of gelt down into the cookie. (The cookie should collapse in). Top with a second piece of gelt and let cool for a few minutes before removing the muffin cookies from the pan onto a cooling rack.
Recipe Updates – Delivered Fresh!
Thank You For Printing This Recipe! Visit Us Again Soon!
Recipe Page: http://www.couldntbeparve.com/recipe/what-to-do-with-leftover-chanukkah-gelt/