Strawberry Lemonade Cupcakes
May 9, 2014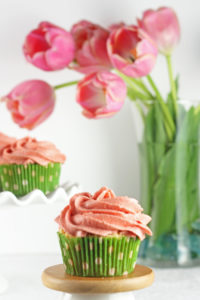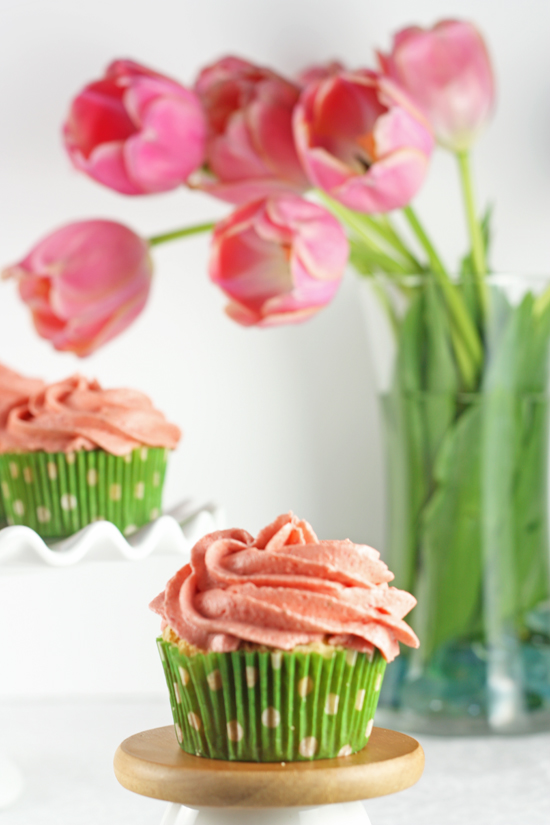 Even though my mom is not the kind of woman who loves everything pink (her color is purple) there is something about planning an elegant Mothers' Day brunch that makes me want to make pretty pink cupcakes for dessert. These strawberry lemonade cupcakes are perfect for an elegant brunch, an afternoon tea party, or really anytime. In my mind lemon cupcakes topped with strawberry lemonade frosting just scream spring.
I wanted to make an intensely strawberry flavored frosting that is still thick enough to pipe. Because fresh strawberries are so watery it is hard to make intensely flavored strawberry frosting using fresh strawberries. In the past I have made strawberry frosting using strawberry jam. That works somewhat better but still tends to be not as flavorful and more watery than I want from a frosting. The solution is freeze dried strawberries. When ground up into a fine powder freeze dried strawberries add a huge punch of flavor without any added moisture. The frosting stays firm and perfect for piping. It is also beautifully pink without any added food coloring. The one drawback is that the strawberry seeds make the frosting not completely smooth. I found the slight crunch delightful but if that bothers you simply strain the powdered strawberries through a fine sieve to remove the seeds. Even better the frosting is both vegan and gluten-free so it can be used in a wide variety of recipes. (An amazing treat is this frosting spread between two graham crackers or gluten-free S'moreables)
I love strawberry but I wanted to make these cupcakes a bit more interesting so I added lemon. The combination is one of my favorites (it is no secret that I love strawberry lemonade) and this might be one of my new favorite cupcakes. (That says a lot coming from a die hard chocolate lover). To make the strawberry lemonade cupcakes I added some lemon flavor to both the cupcakes and the frosting, but feel free to leave it out for a pure strawberry experience.
Recipe Updates – Delivered Fresh!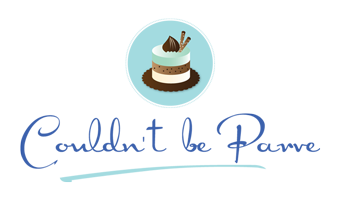 Strawberry Lemonade Cupcakes
Ingredients & Instructions
Ingredients & Quantities
Lemon Cupcakes
1 cup (8 oz) coconut, soy, or almond milk (475 ml) 1 tablespoon lemon juice 2 cups plus 1 tablespoons (265g) cake flour (not self-rising) 1 teaspoon (5 grams) baking powder 3/4 teaspoon baking soda 1/2 teaspoon table salt 1 stick (4 oz) non-hydrogenated margarine, such as Earth Balance 1 cup (200 grams) sugar 1 teaspoon (5 ml) pure vanilla extract 1 teaspoon finely grated lemon zest 2 large eggs, at room temperature
Strawberry Lemonade Frosting
3/4 cup (6 ounces) non-hydrogenated margarine, such as earth balance 3/4 cup (6 ounces) organic shortening, such as spectrum organic 3 cups (12 ounces) powdered sugar 1 1/2 tablespoon (.75 oz) fresh lemon juice 5-8 drops lemon oil 1/2 cup (2 oz) freeze dried strawberry powder (grind the strawberries in a food processor until powdered)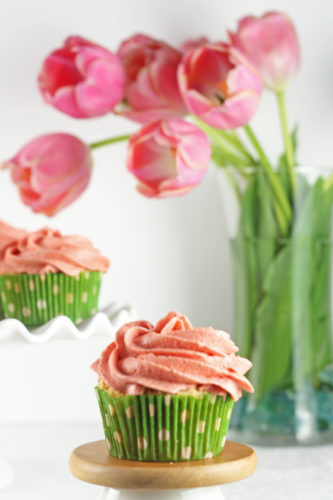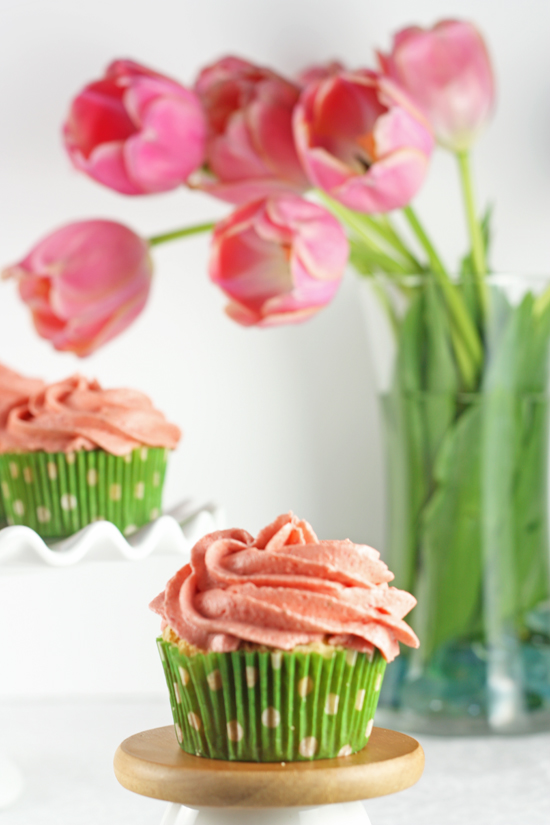 Cooking Instructions
Strawberry Lemonade Cupcakes
Stir together the coconut or almond milk and the lemon juice and set aside.
Sift together the flour, baking powder, baking soda, and salt in a medium bowl. In a large mixing bowl, beat the margarine and sugar with an electric mixer at medium speed until pale and fluffy, then beat in vanilla and lemon zest. Add eggs 1 at a time, beating well and scraping down the bowl after each addition. At low speed, beat in the milk and lemon juice mixture. Beat until just combined (the mixture will look curdled). Add the flour mixture in three batches, mixing until each addition is just incorporated.
Spread batter evenly in cupcake liners, filing each one approximately 2/3 full. Bang the pan on counter several times to eliminate air bubbles. Bake until the cupcakes are golden and a wooden pick inserted in center comes out clean, 20 to 25 minutes. Cool in the pan on a rack 10 minutes, then transfer the cupcakes to a cooling rack. Cool completely before frosting.
Strawberry Lemonade Frosting
Combine the margarine and shortening in the bowl of an electric mixer and beat until smooth. Add the sugar and beat until smooth and fluffy, approximately two minutes. Add the remaining ingredients and beat until well combined and smooth.
Preparation Instructions
Preheat oven to 350°F. Line cupcake pan with paper liners.
Recipe Yield
Approximately 12 cupcakes
Thank You For Printing This Recipe! Visit Us Again Soon!
Recipe Page: http://www.couldntbeparve.com/recipe/strawberry-lemonade-cupcakes/