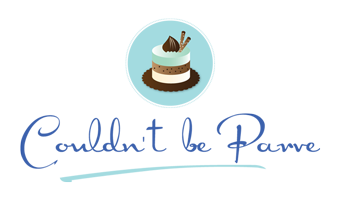 Strawberry Lemon Verbena Jam
August 7, 2011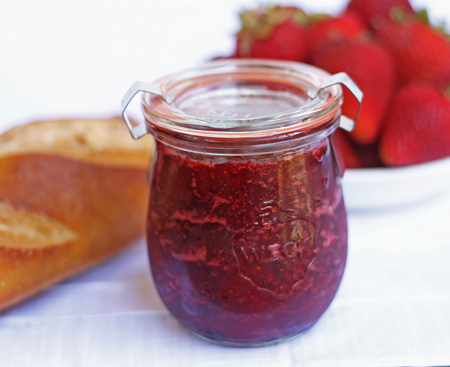 [donotprint] I absolutely adore making jam. There is something about the process of jam making that is very calming. One summer I made seven flats of jam while living in an Indiana apartment with no air conditioning. The air temperature in the kitchen was usually around 95 but there I was, several days a week, putting a big pot of water on the stove to boil my jars. Oh, and I was seven months pregnant at the time. That is how much I love making jam. I love the way the jam looks lined up on the counter in clear glass jars. I love hearing the "pop" of the lids as the jam cools.
The only problem is that it turns out we don't eat as much jam as I thought. While people always appreciate gifts of homemade jam, I decided this summer to scale down my jam making to a more reasonable amount. I have made a few small batches of jam that I have been storing in the refrigerator. I haven't even gotten out the canner. With such good jam available in the stores I wanted to direct my jam making efforts to flavors that are not so readily available. I have certainly never seen strawberry lemon verbena jam in the store and I am very glad I made some.
We had gone strawberry picking the day before and I had a whole flat of fresh strawberries that needed to be cooked into something before they went bad. I made some into delicious strawberry lemon sorbet but there were still a lot left. At 10:00 at night I wasn't ready to start the jam making process, so when I saw a recipe that included lemon verbana (one of my favorite herbs) and an overnight maceration period that would let me go to sleep and finish in the morning I was sold.
The jam I made was inspired by this jam posted on Food 52 by Mrs Wheelbarrow. I didn't have any peaches so I changed the proportions a bit to make it all strawberry and I was quite happy with the results. The lemon verbena flavor is subtle but adds an interesting dimension to this softly set strawberry jam that kept me coming back for more.
The recipe is for a very small batch of jam (I got less than two 8 oz jars) but that made it the perfect size batch for us. I look forward to trying the original recipe, peaches and all, some time soon.
[/donotprint]
[print_link]
Strawberry Lemon Verbena Jam
4 cups small strawberries
1 cups sugar
1 lemon, juiced
5 sprigs lemon verbena, six leaves set aside
In a large glass or ceramic bowl, hull the strawberries, leaving them whole. (If they are not tiny, cut them in half) Add the sugar, lemon verbena and lemon juice. Macerate overnight in the refrigerator.
Place the berries, sugar, verbena and lemon juice in a large pot. Bring to a full rolling boil. Stir constantly as the puree will want to stick and burn.
Bring the mixture up to 220°. Stir constantly Boil for 4 minutes at 220°, skim any foam – there shouldn't be much – then remove the verbena stalks and funnel into sterilized jars. Add two verbena leaves to each jar, and cover.
Store the jars in the refrigerator for up to a month. For longer storage the jam can be preserved using the boiling water canning method. Leave a 1/4 inch of head space at the top of each jar. Process for 10 minutes.
Recipe Updates – Delivered Fresh!
Thank You For Printing This Recipe! Visit Us Again Soon!
Recipe Page: http://www.couldntbeparve.com/recipe/strawberry-lemon-verbena-jam/