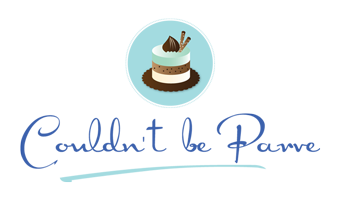 Streusel-Topped Chocolate Chunk Banana Cake
February 15, 2009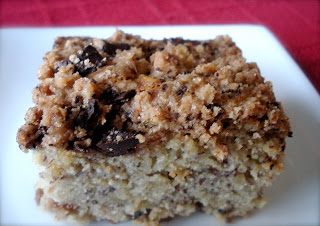 The fact that I love to bake is probably obvious, given that I have a blog dedicated to just that. I love making desserts that are both delicious and beautiful, and I am not afraid to buy a new pan to get a dessert just right. This is probably why I had to install 4 extra wire shelves in the kitchen of my new apartment to hold all the stray baking pans and candy making equipment. If I had all the time in the world I would always make desserts with many different components, pairing fillings and frostings and being careful to decorate and plate everything just so.
But real life does not come with unlimited time, especially as a full time student with a half time job and a 17 month old bundle of energy.
It is lucky, then, that what my husband calls "the world's best cake" is also incredible simple to make. This banana cake with chocolate cinnamon streusel is truly to die for. My husband requests this any time I let him pick the dessert. He even wanted it as his birthday cake, but yielded when I insisted that I wanted to be able to decorate the cake and write happy birthday.
There is nothing fancy about this cake, but one bite and no one will care. It is moist, flavorful and completely addictive. The recipe makes a large amount, but it also freezes fantastically, so I always make the full recipe and freeze portions for the weeks I don't have time to bake for Shabbat.
Ingredients:
Cake
4 ripe bananas, mashed
1 cup (2 sticks) margarine, melted
2 cups sugar
2 large eggs
1/2 cup low-fat mayonnaise
1/2 cup soymilk
1 teaspoon baking soda
3 cups all-purpose flour
1/8 teaspoon salt
1 teaspoon vanilla
Streusel Topping
1 1/4 cups all purpose flour
1 cup sugar
2 tablespoons ground cinnamon
1/2 cup margarine, melted
1 1/2 teaspoons vanilla
7 ounces good quality bittersweet chocolate, roughly chopped with a knife
Preparation:
Preheat oven to 350. Grease a 13 X 9 inch pan.
Place the mashed banana in the bowl of an electric mixer. Add all the rest of the cake ingredients and beat until combined.
In a separate bowl combine the streusel ingredients.
Pour half of the batter into the prepared pan. Sprinkle with half of the streusel. Top with remaining batter and sprinkle remaining streusel over the top.
Bake for 1 hour or until a tester comes out with a few moist crumbs.
Recipe Updates – Delivered Fresh!
Thank You For Printing This Recipe! Visit Us Again Soon!
Recipe Page: http://www.couldntbeparve.com/recipe/sometimes-simple-really-is-better/