Pumpkin Cream Cheese Muffins
October 24, 2008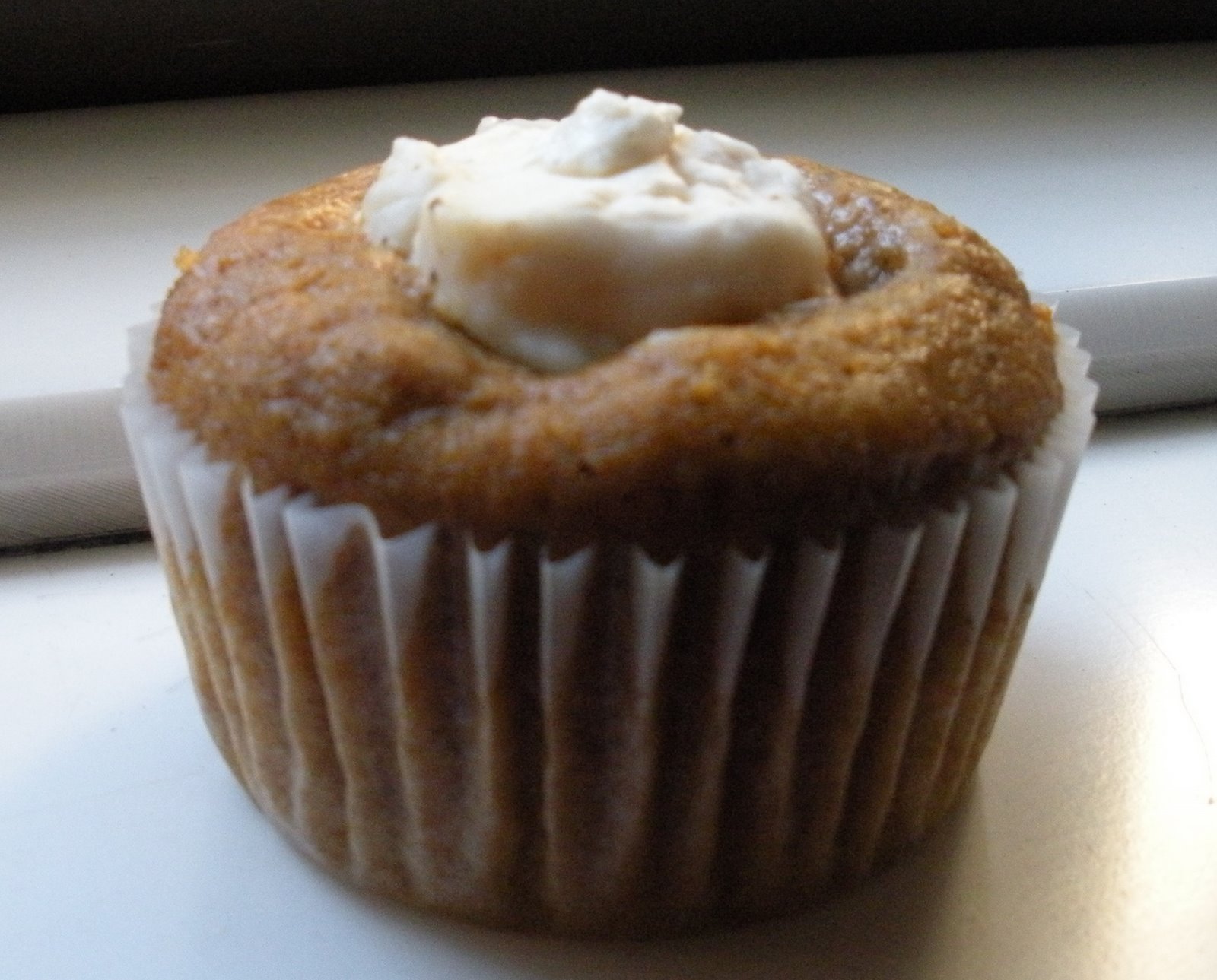 With all of the holidays I have been doing quite a bit of baking. With the colder weather I have been craving warm spiced fall flavors. With family in town it and a long day of dancing in store for us on Simchat Torah I decided to make a special treat breakfast of pumpkin cream cheese muffins. The muffins were delicious. Light and moist with a nice pumpkin spice flavor they were exactly the treat I had been craving. They were good with the cream cheese filling, but I made some without and they were delicious too. I did not intend to make the muffins parve, but ended up with a shortage of regular cream cheese when I got distracted in the middle of making the recipe and ended putting in a whole recipe worth of spices and baking soda instead of the half recipe I was intending. Oops! The only option at that point was to go ahead with the whole recipe, so I made half of the muffins with parve cream cheese. It turns out that everyone liked the parve ones better. The Toffuti cream cheese is softer than regular cream cheese, so it stayed creamier when the muffins were baked. A muffin and a huge glass of milk and we were ready to dance with the Torahs all morning long!
Recipe Updates – Delivered Fresh!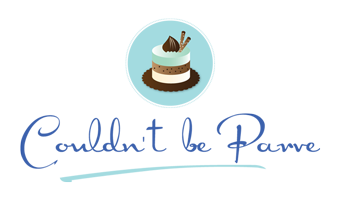 Pumpkin Cream Cheese Muffins
Pumpkin Cream Cheese Muffins
Ingredients & Instructions
Ingredients & Quantities
3 cups flour
1 Tbs cinnamon
1 1/2 tsp nutmeg
1 1/2 tsp ground cloves
1 tsp ginger
pinch of cardamom (optional)
1 tsp salt
1 tsp soda
4 eggs
2 cups sugar
2 cups cooked or canned pumpkin (I only had slightly over 1 cup so I used baked sweet potato for the rest)
1 1/4 cups vegetable oil
8 oz toffuti cream cheese
1/4 cup powdered sugar
1/2 tsp vanilla
(adapted from musingsofamommy.blogspot.com)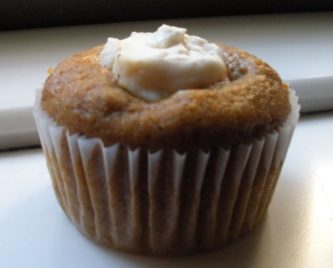 Preparation Instructions
Preheat oven to 350. Combine the cream cheese, powdered sugar, and vanilla. Place the cream cheese on a piece of foil and shape it into a long log. Place log in the freezer while continuing with the recipe.
Mix all the remaining ingredients together. Fill greased or lined muffin tins 1/2 full. Remove cream cheese from freezer and cut into 1-2 tsp pieces. Place one piece in the middle of each muffin and press down.
Bake at 350 for 20-25 minutes, until a toothpick comes out clean from the muffin part (do not touch the cream cheese it will be very hot). Let cool in pans for 5 minutes, then remove to racks to cool completely.
Thank You For Printing This Recipe! Visit Us Again Soon!
Recipe Page: http://www.couldntbeparve.com/recipe/pumpkin-cream-cheese-muffins/