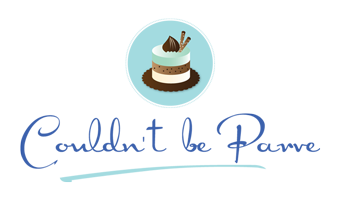 Pina Colada Popsicles
July 23, 2012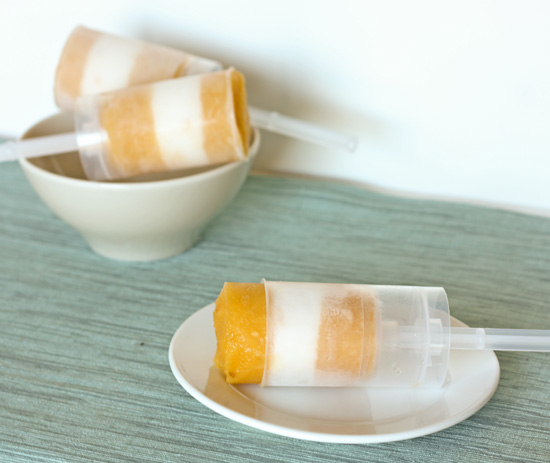 I think I have made more popsicles this summer than the rest of my life combined. In my mind popsicles are the epitome of summer fun, and my boys are absolutely crazy about them. The little one, who is just starting to talk, will ask for popsicles by holding up his hand and pretending to lick a popsicle.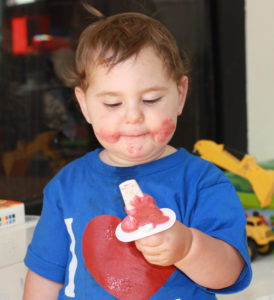 The fact that I broke down and bought a Zoku means that we make homemade popsicles almost every day. Since we try to eat mostly healthy around here the majority of the popsicles we make are simply pureed fruit or sometimes fruit juice. While that is great for everyday, it is also fun to make speciality popsicles that are more of a dessert or treat than an every afternoon snack. These pina colada popsicles are in that second category. They are still refreshing, like a good popsicle should be, but they are just sweet and creamy enough to feel like a treat.
In my past attempts at making pina colada desserts I have often been underwhelmed by the intensity of the flavor I could get using straight pineapple and coconut milk. I decided that these popsicles needed a stronger flavor profile so I concentrated the flavor of the pineapple by roasting it and the coconut milk by infusing it with toasted coconut. It was a success! The intense pineapple layer is not overly sweet which makes it the perfect compliment to the sweet creamy coconut layer. It is a bit of a stretch to call these pina colada since the rum flavor is quite minimal, but since my primary popsicle eaters are under the age of five it didn't seem right to make these super boozy. I'm sure they would be delicious with a bit more rum if you are feeding a more mature popsicle connoisseur.
I wanted to make these popsicles a bit more fun so I made them in pushup pop containers. I was in a bit of a hurry when I made them and since you have to wait for each layer to freeze before adding the next layer I only made three layers. I actually think they would be better made in five layers so that each lick would have a bit more of the coconut/pineapple combination, so I am posting that in the instructions. If waiting and layering is not your thing you can also use a standard popsicle mold and pour in the pineapple followed by the coconut. They will mix slightly but since they are very different consistencies the finished popsicle will still have two distinct parts. No matter what they look like, they are sure to be a hit.
Pina Colada Popsicles
For Pineapple Layer
1 medium pineapple, peeled, cored and cut into 8 wedges
2 tablespoons (1 oz) + 1 teaspoon rum
6 tablespoons (3 oz) dark brown sugar
For Coconut Layer
1 1/2 cups (12 oz) thai style coconut milk
3/4 cup (2.5 oz) unsweetened shredded coconut
3/4 cup (6 oz) sugar
To make the pineapple layer: Preheat the oven to 425. Line a baking sheet with parchment paper. Place 2 tablespoons of rum and brown sugar in a large bowl and mix to combine. Toss the pineapple in the sugar mixture until well coated. Transfer the the baking sheet and top with any remaining sugar. Bake for 20-25 minutes, stirring well every five minutes, or until the pineapple is starting to brown. It should smell like fragrant caramel at this point. Remove the pineapple from the oven and cool slightly. Transfer the pineapple and any liquid remaining on the baking sheet to a blender and puree until smooth. Add the remaining teaspoon of rum (or more to taste) and blend to combine. Let the mixture cool fully.
To make the coconut layer:
Preheat the oven to 350. Place the coconut on a baking sheet and bake for 5-7 minutes, stirring frequently, or until golden brown. Place the coconut milk and sugar in a small sauce pan. Bring to a boil, stirring frequently to make sure the sugar dissolves. Add the toasted coconut. Remove the pan from the heat and let it steep for 30 minutes. Place a fine mesh strainer over a bowl or measuring cup and strain the coconut milk mixture, pressing down on the solids to extract as much liquid as possible. There should still be approximately 1 1/2 cups. Let the mixture cool completely.
To make the popsicles pour a small amount of the pineapple mixture in the bottom of each mold. Let the first layer freeze completly then add a small amount of the coconut mixture. (If using traditional popsicle molds add the stick when the first layer is partially frozen but still not solid) Let the second layer freeze completely. Repeat until there are five layers, three pineapple and two coconut, or until the mold is full. Freeze until solid.(If using pushpops a good way to keep them upright while freezing is to fill a tall drinking glass with rice and push the pop down into the rice. Place the glass with the rice in the freezer until the pops are frozen.)
Recipe Updates – Delivered Fresh!
Thank You For Printing This Recipe! Visit Us Again Soon!
Recipe Page: https://www.couldntbeparve.com/recipe/pina-colada-popsicles/