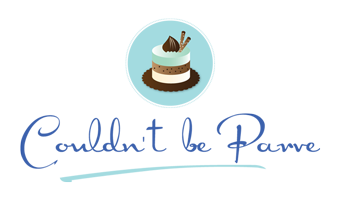 Chocolate and Peanut Butter: Not Your Bubbe's Hamentashen
February 22, 2010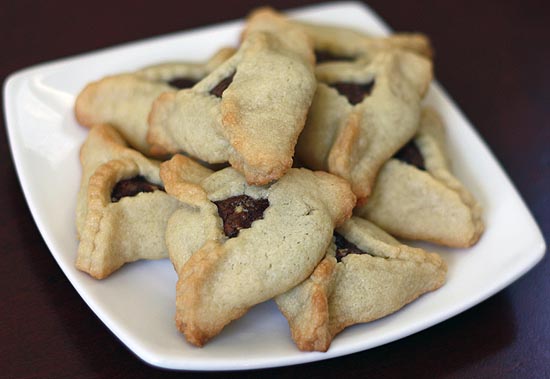 Although in my family we are partial to the traditional flavors of hamentashen (we all love poppyseed) I can't help but play around with new fillings every year. Not everyone is thrilled to get only poppyseed hamentashen in their Mishloach Manot and I like to provide our friends with interesting varieties they won't be getting from everyone else. I think I get this desire to stray from traditional flavors from my mom. One year she suggested we use kiwi jam to fill the hamentashen and the results, while tasty, were an off-putting shade of green.
These chocolate peanut butter hamentashen are sure to please anyone who loves the combination of chocolate and peanut butter. They do not taste like traditional hamentashen but they do look right and that is what really counts. Instead of a chocolate chip type filling, they are filled with what is basically a stiff brownie batter. Vanilla cookie surrounding a fudgy peanut butter brownie, what is not to like.
I know it is tempting to get as much filling in as possible, but it is very important not to overfill these hamentashen or they will bust open in the oven. Trust me on that.
Chocolate Peanut Butter Hamentashen
(adapted from
A Year in Chocolate: Four Seasons of Unforgettable Desserts
by Alice Medrich)
6 tablespoons peanut butter
1/4 cup powdered sugar
1 stick (4 oz) unsalted margarine
4 oz unsweetened chocolate, coarsly chopped
3/4 cup sugar
1 teaspoon vanilla extract
1/4 teaspoon salt
2 eggs, cold
2 tablespoons all-purpose flour
2 cups all-purpose flour
1/2 teaspoon baking powder
1/4 teaspoon salt
1 stick (4 oz) unsalted margarine
1 cup sugar
1 egg
2 teaspoons vanilla extract
To make the filling: Combine the peanut butter and powdered sugar. Stir until well mixed. Set aside.
Melt the margarine and chocolate over a double boiler, stirring frequently until smooth. Alternative, melt in a microwave in a medium bowl at 50% power stirring every 30 seconds until melted. Stir in the sugar, vanilla and salt. Add the eggs, one at a time, stirring until fully incorporated before adding the other egg. Add the flour and stir with a spoon until the mixture is smooth and glossy and the batter comes away from the side of the pan. Pinch off pea sized pieces of the peanut butter mixture and add to the chocolate batter. Repeat until the peanut butter is used up. Stir the batter well to distribute the peanut butter.
To make the dough: Throughly mix together the flour, baking powder and salt. In the bowl of an electric mixer cream together the margarine and sugar until light and fluffy. Beat in egg and vanilla extract. On low speed add flour mixture and beat until just incorporated. Form the dough into 2 flat patties. Wrap and refrigerated the patties until firm enough to roll, preferably several hours or overnight.
To make the cookies: Preheat the oven to 350. Remove one of the dough patties and let it sit until soft enough to roll, but still firm. Roll the dough between two pieces of waxed or parchment paper until it is 1/8 inch thick. Cut out rounds using a 3-inch round cookie cutter or the rim of a drinking glass, dipping the edges of the cutter in flour as necessary to prevent sticking. Repeat with the remaining disk and the scraps.
Place the cookies 1/2 inch apart on a parchment lined cookie sheet. Scoop and place 1 level teaspoon of filling in the center of each cookie. Fold up the three sides of the cookie to make a triangle with the filling visible in the middle. Pinch the edges well to seal the corners.
Bake hamentashen until pale golden at the edges, about 12 minutes. Let sit for 2 minutes and then transfer to a cooling rack and let them cool completely.
</div>
Recipe Updates – Delivered Fresh!
Thank You For Printing This Recipe! Visit Us Again Soon!
Recipe Page: http://www.couldntbeparve.com/recipe/not-your-bubbes-hamentashen/