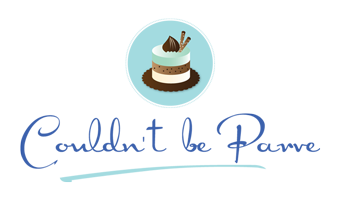 Nanaimo Bars: My First Daring Bakers Challenge
January 27, 2010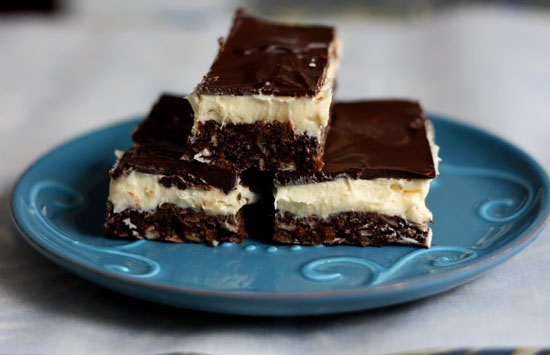 I am very excited to have joined the Daring Bakers. I have been reading many of their wonderful blogs for quite a while now and I am so happy to be joining in on the fun. In honor of the upcoming winter olympics in Canada this month's challenge was Nanaimo bars, a three layer bar that is a classic Canadian dessert. The bars consist of a base made with graham crackers, cocoa and nuts topped by a layer of custard and topped with chocolate. This challenge had two parts. The first was to make homemade graham crackers to use in the base and the second part was to make the actual bars. There was an option to make them gluten free, but I couldn't find kosher brands of all the different flours needed for the recipe so I made standard wheat graham crackers.
I have to say that for me the graham crackers were by far the standout hit of the whole project. I absolutely loved them! I have been wanting to try homemade graham crackers for a while, and they are fantastic. They are to store-bought graham crackers what homemade marshmallows are to store-bought marshmallows, and my readers certainly know how I feel about that. I have already made them again, they were that good. We all couldn't stop eating them (well, except for my two year old who took one bite and asked for a store-bought graham cracker instead). Stay tuned, homemade mallomars coming up soon!
Since I had never had a Nanaimo bar I wanted to see how my parve version stacked up to the original so I took them to Shabbat dinner at the home of a Canadian friend. They gave them the seal of approval and said they tasted authentic, so that is good enough for me. I thought the bars were good, but very sweet. They weren't my favorite as is, but I think I would have liked a flavor variation like mint or peanut butter better. Maybe next time. They weren't something I would have chosen on my own so I am glad to have had the opportunity to try them. Check out all the other daring baker's creations here.
Nainamo Bars
Graham Cracker Recipe (adapted from Nancy Silverton's Pastries from the La Brea Bakery via 101cookbooks)
2 1/2 cups plus 2 tablespoons unbleached pastry flour or unbleached all-purpose flour
1 cup dark brown sugar, lightly packed
1 teaspoon baking soda
3/4 teaspoon kosher salt
7 tablespoons (3 1/2 ounces) unsalted margarine, cut into 1-inch cubes and frozen
1/3 cup mild-flavored honey, such as clover
5 tablespoons soymilk
2 tablespoons pure vanilla extract
For the topping:
3 tablespoons granulated sugar
1 teaspoon ground cinnamon
In the bowl of a food processor fitted with the steel blade or in the bowl of an electric mixer fitted with the paddle attachment, combine the flour, brown sugar, baking soda, and salt. Pulse or mix on low to incorporate. Add the margarine and pulse on and off on and off, or mix on low, until the mixture is the consistency of a coarse meal.
In a small bowl, whisk together the honey, soymilk, and vanilla extract. Add to the flour mixture and pulse on and off a few times or mix on low until the dough barely comes together. It will be very soft and sticky.
Turn the dough out onto a lightly floured work surface and pat the dough into a rectangle about 1 inch thick. Wrap in plastic and chill until firm, about 2 hours or overnight.
To prepare the topping: In a small bowl, combine the sugar and cinnamon, and set aside.
Divide the dough in half and return one half to the refrigerator. Sift an even layer of flour onto the work surface and roll the dough into a long rectangle about 1/8 inch thick. The dough will be sticky, so flour as necessary. Trim the edges of the rectangle to 4 inches wide. Working with the shorter side of the rectangle parallel to the work surface, cut the strip every 4 1/2 inches to make 4 crackers. Gather the scraps together and set aside. Place the crackers on one or two parchment-lined baking sheets and sprinkle with the topping. Chill until firm, about 30 to 45 minutes. Repeat with the second batch of dough.
Adjust the oven rack to the upper and lower positions and preheat the oven to 350 degrees.
Gather the scraps together into a ball, chill until firm, and reroll. Dust the surface with more flour and roll out the dough to get about two or three more crackers.
Mark a vertical line down the middle of each cracker, being careful not to cut through the dough. Using a toothpick or skewer, prick the dough to form two dotted rows about 1/2 inch for each side of the dividing line.
Bake for 25 minutes, until browned and slightly firm to the tough, rotating the sheets halfway through to ensure even baking.
Yield: 10 large crackers
Nanaimo Bars (from the city of Nanaimo website)
Bottom Layer
1/2 cup (4 ounces) unsalted margarine
1/4 cup (1.8 oz) granulated sugar
5 tablespoons unsweetened cocoa powder
1 Large egg, lightly beaten
1 1/4 cups (5.6 ounces) Graham cracker crumbs (See previous recipe)
1/2 cup (2 ounces) Almonds (Any type, Finely chopped)
1 cup (4.5 ounces) Coconut (Shredded, sweetened or unsweetened)
Middle Layer
1/4 cup (2 ounces) Unsalted margarine
¼ cup (2 oz) tofutti cream cheese
2 tablespoons (40 mL) Soymilk
2 tablespoons (30 mL) Vanilla pudding mix
2 cups (8.9 ounces) Powdered sugar
Top Layer
6 ounces Semi-sweet chocolate
3 tablespoons (1.5 ounces) Unsalted Margarine
For the bottom layer: Melt margarine, sugar and cocoa in top of a double boiler. Add egg and stir to cook and thicken. Remove from heat. Stir in crumbs, nuts and coconut. Press firmly into an ungreased 8 by 8 inch pan.
For the middle layer: Cream margarine, cream cheese, soymilk, pudding powder, and powdered sugar together. Beat until light in color. Spread over bottom layer.
For the top layer: Melt chocolate and unsalted butter over low heat. Cool. Once cool, pour over middle layer and chill.
Note: I found these bars difficult to cut without breaking the topping. I highly recommend using a hot knife, wiped off between cuts, to get nicer looking bars.
Recipe Updates – Delivered Fresh!
Thank You For Printing This Recipe! Visit Us Again Soon!
Recipe Page: http://www.couldntbeparve.com/recipe/my-first-daring-bakers-challenge/