Maple Pecan Muffins
March 30, 2014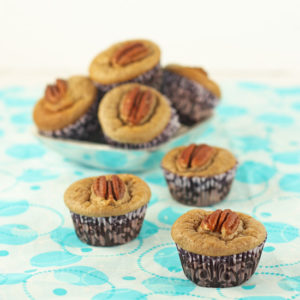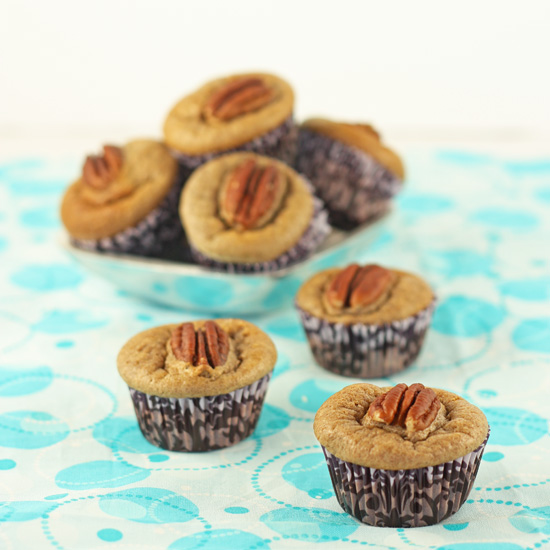 These muffins were inspired by the flourless chocolate chip peanut butter muffins that have been making the rounds on Pinterest over the last few months. Simply blend all the ingredients in the blender, scoop the batter into pans, bake, and viola you have perfect springy muffins, no flour required. Sounds too good to be true, but they are actually absolutely delicious.
For Passover I decided to try making a version using a different kind of nut. The most obvious substitution for peanut butter is almond butter but I have been making a lot of almond flour muffins lately (more great recipes for those coming in the next few weeks) so I wanted to try something different. Toasted pecans are one of my favorite nuts and I love the combination of pecans and maple so that is what I decided to go with for these muffins. The results were even better than I had hoped. Moist and delicious with a crunch from the pecan on top, these mini muffins are the perfect bite sized treat. They are a great snack or breakfast on the go. Even better they are quick and easy to make, an important factor during Pesach when there is so much other cooking and baking to do. I always make pecan butter for Passover so that we have it on hand for spreading on matzah or stirring into quinoa cereal but, because this recipe is made in the blender, I didn't even need the pre-made pecan butter. I simply put the pecans in the blender and turned them into pecan butter before adding the rest of the ingredients.
These muffins are best the day they are made but they freeze well, so I always keep a bag on hand in the freezer for a great anytime snack. (I microwave them for a few seconds to rewarm them, or just throw them in a lunchbox where they are perfectly defrosted by lunch). I am sure I will be making many batches of these in the months to come!
Recipe Updates – Delivered Fresh!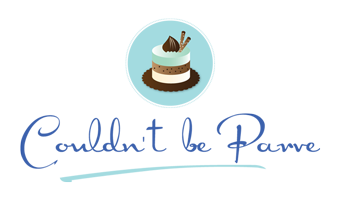 Ingredients & Instructions
Ingredients & Quantities
8 oz pecans (approximately 2 cups)
1 ripe banana
3 tablespoons (1.5 oz) maple syrup
2 eggs
1 tablespoon vanilla extract
1/2 teaspoon salt
1/4 teaspoon baking soda
additional pecan halves for topping the muffins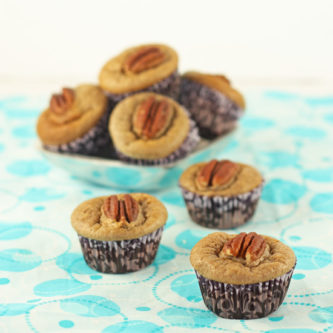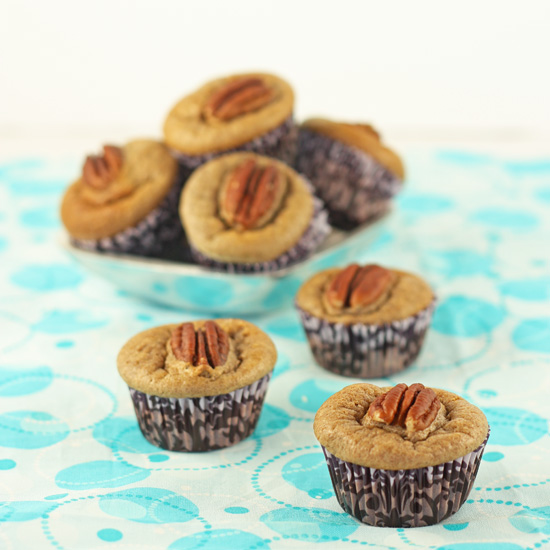 Preparation Instructions
Preheat the oven to 350. Line 24 mini muffin tins with papers or grease them well.
Toast the pecans until fragrant, approximately five minutes. Stir them frequently to prevent them from burning.
Transfer the toasted pecans to the blender. Blend on high speed until liquified. Add the rest of the ingredients to the blender and blend at high speed until well mixed and a bit fluffy.
Scoop the batter into the prepared muffin tins, filling them 3/4 full. Top each one with a pecan half.
Bake 8-10 minutes, or until a tester comes out clean. Let cool completely on a rack before enjoying.
Note: Do not try making these muffins in a larger size, the texture will not come out right.
Thank You For Printing This Recipe! Visit Us Again Soon!
Recipe Page: http://www.couldntbeparve.com/recipe/maple-pecan-muffins/