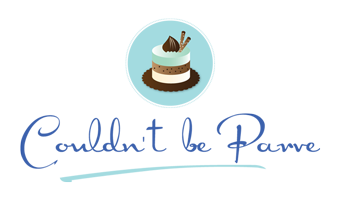 Kumquat Marshmallows
April 30, 2012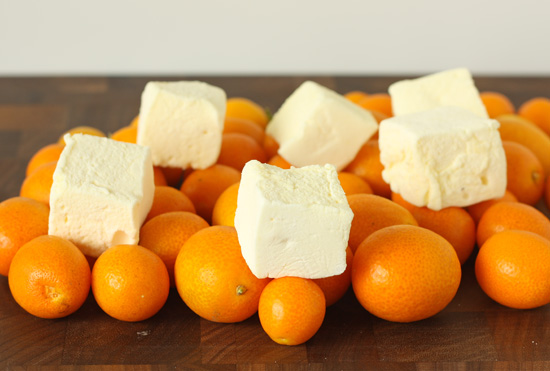 My parents have a giant kumquat tree in the backyard. Growing up I loved climbing up onto the roof to pick the kumquats and it is wonderful now to see my son enjoying it too. Every few years the tree has a bumper crop with probably hundreds of pounds of kumquats. I remember one year, when I was in fifth grade, we had so many kumquats that we made seven gallons of kumquat marmalade and still had tons to give away. I was banned from bringing them to school because while I loved eating them, most of my classmates would pretend to like them and then use them as small projectile missiles, throwing them at each other across the classroom. When I moved away from California fresh kumquats was something I missed so I am very excited that now I am back in California and my parents are having another bumper crop. Every time we are at my parents' I pick a large bag of kumquats and there are many more waiting to be picked. I always eat a bunch fresh, but there are way too many to eat like that so I imagine that a lot of kumquat recipes will be showing up here over the next few weeks.
Candied kumquats and fresh kumquats have very different flavors, and I love them both. (I will never admit how many candied tapuz sini (kumquats) I bought from the shuk when I lived in Israel). These marshmallows capture the flavor of both, because some of the kumquat juice is cooked with the sugar syrup and some is left plain. They taste like a marshmallow form of a fresh kumquat, with a hint of the tart bitterness remaining. They are quite strong, but in a delicious way. If you don't like fresh kumquats you might not like these marshmallows, but if you are like me who will eat kumquats until my mouth starts to hurt then you will love them.
Kumquat Marshmallows
For Marshmallows
2/3 cup kumquat juice (see below)
3 tablespoons (27 grams) powdered gelatin*
¾ cup kumquat juice
1 cup corn syrup**
pinch of salt
1
1/2 cups granulated sugar
1/2 cup cornstarch
½ cup confectioners' sugar
*It is important to use real gelatin, such as kolatin, in this recipe. Vegetable based gelatins will not work.
** if making these for Passover substitute Marshmallow syrup for the corn syrup and potato starch for the cornstarch
To make kumquat juice run whole fresh kumquats through a juicer. (Not a citrus juicer, the kind used for making apple or veggie juices. This is the one I use). 2 quarts of kumquats (36 ounces) will yield approximately 1 1/2 cups of juice, which is slightly more than needed for the marshmallows. Mix the leftover with simple syrup and sparkling water for a delicious soda.
To make the marshmallows:
Lightly spray an 11 x 15 jelly roll pan or 9×13 baking pan with non-stick cooking spray, then rub gently with a paper towel to distribute the spray and leave just the merest sheen of oil on the sheet. Similarly, lightly spray a large offset spatula and set beside the prepared tray.
Combine the first 2/3 cup kumquat juice and the gelatin in a medium bowl and whisk until well blended and smooth. Set aside. Combine the remaining kumquat juice, corn syrup, salt and sugar in a 6-quart saucepan and place over medium heat. When mixture boils, brush down the sides of the pan above the upper surface of the syrup with a clean, moistened pastry brush, or cover the pot with a lid for two minutes to allow the condensation to dissolve any lingering crystals.
Place a candy or instant read thermometer into the syrup and continue to cook, without stirring, until syrup reaches 240F. Do not stir the mixture once you remove the lid. Once it reaches 240F remove the pan from heat and carefully stir in the gelatin mixture.
Pour the mixture into the bowl of an electric stand mixer fitted with the whisk attachment. Quickly cover bowl with loosely draped plastic wrap or a clean kitchen towel in order to avoid splatters, and gradually increase the mixer speed to "high". Whip mixture for 12 minutes.
Scrape mixture into prepared pan and spread out smooth with oiled offset spatula. (A wet spatula or wet hands work well too) Set marshmallow aside, uncovered, at room temperature for at least 4 hours or over night before cutting.
Before cutting the marshmallows, combine the cornstarch and confectioners sugar in a large bowl. Cut marshmallows with a lightly oiled knife or pizza cutter and break into individual pieces. It may be necessary to wash and re-oil the knife if it gets sticky. Alternatively, coat the knife with the cornstarch mixture before cutting and when it starts to get sticky re-coat it. Toss the cut marshmallows with the cornstarch mixture to completely coat. Transfer marshmallows to a fine mesh strainer and shake as much of the excess starch off as possible.
Store marshmallows in an airtight container with the lid slightly ajar for up to two weeks.
Recipe Updates – Delivered Fresh!
Thank You For Printing This Recipe! Visit Us Again Soon!
Recipe Page: http://www.couldntbeparve.com/recipe/kumquat-marshmallow/