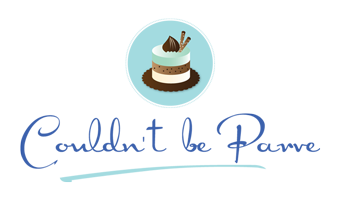 Heavenly Bakers: Carrot Cake
December 14, 2009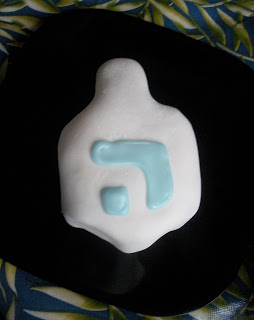 This week's cake was a classic carrot cake. I love carrot cakes and am always up for trying a new recipe so I was excited for this week. The cake was listed as a chanukkah cake probably because we were making it during the week of chanukkah. I love going all out for holidays and didn't see much of a connection between carrot cake and chanukkah, besides the fact that I grated the carrots the same way I grate the potatoes for latkes. I decided that in order to increase the chanukkah connection with this cake I was going to make the carrot cake into individual dreidel cakes and give them away as chanukkah gifts.
This was an idea that came out better in my head than in the execution. I baked the cake in a half sheet pan and then used dreidel cookie cutters to cut out shapes. So far so good. I put a layer of frosting on top of half of the dreidel cutouts and topped them with another one and then frosted the cakes on the top and sides. My plan was to cover the frosted cakes with fondant.  It worked ok, but I forgot one thing when I was picturing the final results. My experience working with with fondant has only been on full sized round cakes. It turns out large round objects are much easier to cover smoothly than small intricate shapes. Also, once all the layers of frosting and fondant were on the cakes the angles of the dreidel were not as defined as they would have been for something like cookies. They ended up a bit lumpier and less dreidel shaped than I had hoped. Plus, on such small cakes the fondant flavor overwhelms the frosting and it is all you taste. Oh well, I had fun and they the cake tastes good, so I guess that is what counts.
As far as the cake itself I thought it was good, but it probably will not be replacing my favorite carrot cake recipe. I left out the raisins because I thought they would interfere with the cutting process, but would definitely recommend adding them for textural contrast. My cake came out a bit too moist, if there is such a thing, but that is my fault. I was already in the middle of making the recipe when I realized I didn't have enough white sugar so I added a bit more brown sugar to make up the difference. I didn't try the Dreamy White Chocolate Cream Cheese frosting because I wanted to make the cakes parve, so I used my parve cream cheese frosting recipe instead. From what others have said the white chocolate frosting sounds divine, so I look forward to trying it another time.
Recipe Updates – Delivered Fresh!
Thank You For Printing This Recipe! Visit Us Again Soon!
Recipe Page: http://www.couldntbeparve.com/recipe/heavenly-bakers-carrot-cake/