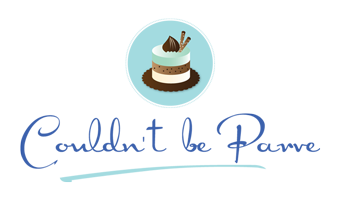 Ginger Truffles
August 22, 2012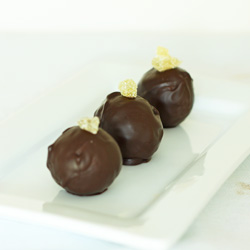 This recipe is in memory of my grandmother who passed away last week at the age of 88. Every time my grandparents would come to visit us in California we would go with them to this small independent grocery store that carried, among other things, 10 pound bars of gourmet bittersweet chocolate. The store would break them up and sell them as bulk chocolate, but my grandparents would buy a whole bar. As a child I thought this was the most amazing thing I had ever seen. My Zaida would take the bar home to Colorado with him and break it up with an ice pick. They would keep the shards of chocolate in a candy jar on the kitchen counter for people to enjoy at will. In another jar on the counter they had the spiciest ginger candies I have ever tasted, and the third jar always had licorice allsorts. It was my grandmother who loved the ginger, the spicier the better.
After my Zaida passed away, and she no longer traveled to visit us, my grandmother would ask anyone coming from somewhere with a Trader Joes to bring her the one pound bars of dark chocolate, candied ginger, and the Trader Joes triple ginger cookies. Because of that, when I was thinking of what I wanted to make as a tribute to my grandmother I knew I wanted to make something with chocolate and ginger. (Although when I mentioned to my dad that I wanted to make a dessert in honor of my grandmother he said "lemon meringue pie?" since that was her favorite, so I may need to make a pie this week as well).
These truffes have a strong kick of ginger that is perfectly offset by the creamy chocolate. I enjoy making truffles, and make them quite often, but I must say these are some of my favorites. My son ate one and said "Ema, this is the best thing I've ever eaten." If that isn't an endorsement, I don't know what is.
Ginger Truffles
Makes approximately four dozen truffles
1 cup (8oz) Thai Style Coconut Milk
2 packed teaspoons (.4 oz) finely grated fresh ginger (a microplane works best for this)
13 1/2 ounces bittersweet chocolate, finely chopped
1 pound Tempered Chocolate for dipping
Crystalized ginger, diced (optional)
Line  a shallow baking pan with plastic wrap leaving enough hanging over the sides to cover the ganache once it is in the pan.
Place the chocolate in a medium heatproof bowl in a wide skilled or barely simmering water and stir frequently until most of the chocolate is melted. This can also be done in a microwave at 50% power. Microwave for 1 ½ minutes then stir. Continue microwaving in 30 second intervals, stirring after each one, until most of the chocolate is melted. Remove chocolate from heat and stir until smooth.  Set aside.
Combine the coconut milk and ginger and bring the coconut milk mixture to a boil. Remove from the heat and let it stand for 3 minutes to cool slightly. Pour the hot coconut milk over the chocolate and whisk briskly keeping the whisk in contact with the bottom or sides of the bowl to reduce splashing. Whisk until the coconut milk is completely mixed with the chocolate. Once the ganache is mixed it should be smooth and glossy and slightly thickened like pudding. Do not mix it beyond this point. Immediately scrape the ganache into the lined pan and let cool at room temperature, without stirring or disturbing it.
Once the ganache is cool fold the plastic wrap over it and let set at room temperature for at least several hours, preferably overnight, until firm enough to scoop. Once the ganache has set it can be refrigerated for a day or two or frozen for up to 2 months.
To shape the truffles use a small ice cream scoop or melon baller to form ¾ to 1 inch balls of ganache. Don't worry about making perfect balls at this point, the goal is to make them all the same size. Let the ganache balls sit for a few minutes, then roll the ganache into smooth even balls. (If your hands run hot, like mine do, you will need to wipe your hands well between every few balls because the melted ganache that remains on your hands makes it hard to roll smooth balls of ganache.)
Melt and temper the additional chocolate. Line a cookie sheet with parchment paper To finish the truffles place a small amount of chocolate in one hand. Pick up one uncoated truffle and roll it in the chocolate on your hand until completely coated. The goal is to get a thin coating with no holes over the entire truffle. Transfer to the cookie sheet or plate. Top with the crystalized ginger. Repeat with the remaining truffles. Let sit until set, and then store in an airtight container.
Recipe Updates – Delivered Fresh!
Thank You For Printing This Recipe! Visit Us Again Soon!
Recipe Page: http://www.couldntbeparve.com/recipe/ginger-truffles/