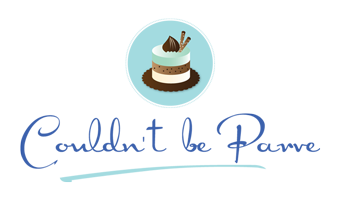 Ginger Pear Tarte Tatin
August 13, 2008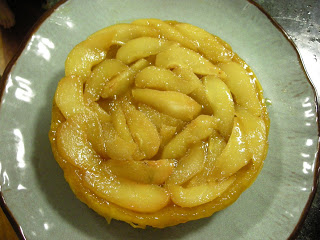 One of my favorite things about visiting my parents in California is the food. Not only is my dad a fantastic cook, and it is a treat to eat at home, but the produce is outstanding! Truly a different caliber than I can get in New York on a regular basis. As a kid growing up I never appreciated what a luxury it is to walk out into the garden for a snack of freshly picked tomatoes or kumquats, but coming from my apartment life in NYC it is truly a rare treat.
Which is why it is hard for me to understand all the people in my parent's neighborhood who don't use their fruit. It is common in this neighborhood to find laden fruit trees surrounded by piles of dropped lemons, pears, plums or loquats. It makes me sad to see the fruit going to waste, not to mention the mess created by piles of unused fruit rotting under the tree. (a summer working as a gardener made me truly appreciate the mess a single plum tree can create!)

Yesterday, when walking around the neighborhood with my family, we passed one such pear tree. I mentioned my sadness at seeing the fruit go to waste and my mom, being far braver than I, thought we should do something about it. She rang the doorbell and asked if, seeing as they were not using their pears, she could collect the ones from the ground. The owners of the house were delighted, and told her to take all she wanted and to come back often!
So she did, and 20 minutes later we found ourselves with 22 pounds of pears to do something with.
Naturally, my mind turned to dessert. I decided a ginger pear tarte tatin would showcase the delicious pears perfectly. And it did.
The recipe I used started by creating a caramel in a skillet and caramelizing the pears over the stove. The puff pastry then goes on top and the skillet is baked in the oven until the crust is golden.
Once cooled, the finished tartin is inverted onto a serving plater.
Ginger Pear Tarte Tatin(adapted from Bon Appetit)
Serves 6
Ingredients
1 sheet frozen puff pastry (half of 17.3-ounce package), thawed

mep-nl

1/2 cup sugar

mep-nl

1/4 cup water

mep-nl

2 tablespoons (1/4 stick) unsalted margarine

mep-nl

1/2 vanilla bean, seeds scraped from the pod

mep-nl

1 tablespoon grated peeled fresh ginger

mep-nl

5 medium-size firm Anjou pears (about 2 1/4 pounds), peeled, halved, cored, each half cut into 4 wedges
Preparation
Roll out pastry on lightly floured surface to 10-inch square. Trim edges, making 10-inch-diameter round; pierce round all over with fork. Slide onto rimless baking sheet. Cover and chill pastry while preparing pears or up to 1 day.
Fill large skillet with ice and water; set aside. Stir sugar, 1/4 cup water, and corn syrup in heavy 10-inch-diameter nonstick ovenproof skillet over low heat until sugar dissolves. Increase heat and boil until syrup is dark amber color, occasionally swirling and brushing down sides of skillet with wet pastry brush, about 5 minutes. Remove from heat; whisk in butter, then vanilla-bean seeds and ginger (caramel will bubble up).
Arrange pears, cut side down and overlapping, in circle in skillet, placing a few around edge, if necessary. Place skillet over medium heat. Cook until pears are tender and syrup thickens enough to coat spoon, about 23 minutes. Place hot skillet atop ice in large skillet to cool pear mixture quickly. (Can be made 4 hours ahead. Let stand at room temperature.)
Preheat oven to 375°F. Place puff pastry round atop pear mixture in skillet; tuck in edges around pears. Bake tart until pastry is puffed and golden, about 35 minutes. Cool tart completely in pan at least 1 hour and up to 6 hours.
Preheat oven to 375°F. Rewarm tart in oven 8 minutes. Place platter atop skillet. Using oven mitts, hold skillet and platter together and turn over, releasing tart. Serve tart with whipped cream.
Recipe Updates – Delivered Fresh!
Thank You For Printing This Recipe! Visit Us Again Soon!
Recipe Page: http://www.couldntbeparve.com/recipe/found-fruit/