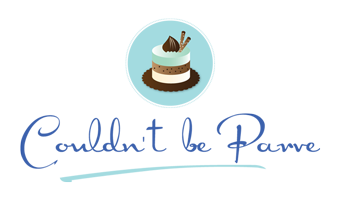 Chocolate Cupcakes
September 25, 2008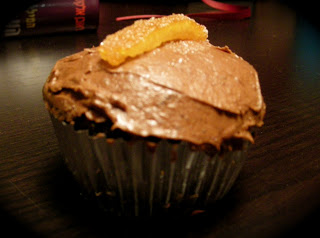 In the year the I have owned Vegan Cupcakes Take Over the World I have read it cover to cover probably a dozen times. The cupcakes look great, but somehow I wasn't quite able to put aside my skepticism that vegan cupcakes could be as good, or even better, than parve cupcakes I could make by modifying a standard recipe containing eggs.
Last night as I went into the kitchen to whip up a batch of birthday cupcakes for a friend (Happy Birthday Loren!) I realized that I had a severe egg shortage that made the recipe I had chosen an impossibility (I had one, I needed eight). Never one to give up when cupcakes are on the line, I realized this was the opportunity I had been waiting for. Vegan cupcakes it would be.
I am no longer a doubter. The chocolate orange cupcakes were delicious. Moist and chocolatey with just the right amount of spring when you bite into it. People thought they were delicious without even knowing they were vegan. I topped the cupcakes with a chocolate cream cheese frosting which was ok, but still needs some tweaking. I am still searching for a truly delicious parve buttercream that doesn't taste greasy.
Given my success with the cupcake recipe, perhaps the buttercream recipes in this book will be what I have been looking for. I am looking forward to trying!
Chocolate Orange Cupcakes (from Vegan Cupcakes Take Over the World)
Makes 12 cupcakes (according to the recipe, I made a recipe and a half and ended up with 16 cupcakes not 18, so the yield for a single recipe may yield slightly less than 12 full cupcakes)
Ingredients:
1 teaspoon apple cider vinegar
1/4 cup orange flavored liquor
1 1/2 teaspoon vanilla extract
1/3 cup cocoa powder, Dutch-processed or regular
1/2 teaspoon baking powder
2 Tablespoons finely chopped candied orange peel

Preparation:
Preheat oven to 375°F and line a muffin pan with paper or foil liners.
Whisk together the soy milk and vinegar in a large bowl, and set aside for a few minutes to curdle. Add the orange liquor, sugar, oil, and vanilla extract, to the soy milk mixture and beat until foamy. In a separate bowl, sift together the flour, cocoa powder, baking soda, baking powder, and salt. Add in two batches to wet ingredients and beat until no large lumps remain (a few tiny lumps are OK). Stir in the candied orange peel.
Pour batter into liners, filling 3/4 of the way.
Place cupcakes in the oven and immediately reduce the oven temperature to 350. Bake 18 to 20 minutes, until a toothpick inserted into the center comes out clean. Transfer to a cooling rack and let cool completely.
Frost with frosting of choice.
Recipe Updates – Delivered Fresh!
Thank You For Printing This Recipe! Visit Us Again Soon!
Recipe Page: http://www.couldntbeparve.com/recipe/fortuitous-lack-of-eggs/