Classic Egg Cream
April 24, 2010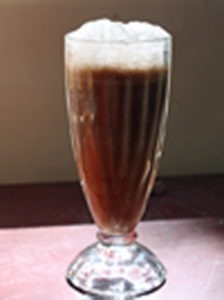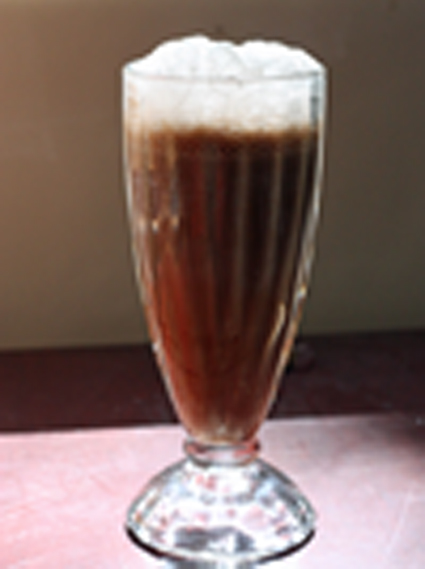 There are some things that for a long time it never occurred to me could be made at home. Like marshmallows, graham crackers, and chocolate syrup for drinks. As a kid growing up one of my favorite things on Passover was making chocolate milk with U-Bet chocolate syrup. It was the only time of the year we had it. Growing up in California I didn't quite understand the deep nostalgia it evoked in my mom, but she looked forward to it more than we did because of her Northeastern upbringing. I had seen Alton Brown make homemade chocolate syrup a while ago but it didn't occur to me to make it myself until I wanted to make my son some "special milk" and realized that hot chocolate powder doesn't dissolve easily in cold milk. I used this quick and delicious recipe by Alice Medrich and now we have chocolate syrup sitting in the refrigerator ready to go. Like anything homemade it is better than store-bought because you can control the quality of the ingredients. Using a high quality cocoa powder makes this a chocolate syrup that is not just for kids. It is intensely chocolate-y and is great for everything from drizzling on ice cream to making a mocha out of a morning cup of coffee.
It also turns out that it makes awesome egg creams. I have to admit that, not having grown up with it, the idea of carbonated chocolate soda doesn't really appeal to me. It isn't bad, I just don't quite get what there is to love. There are people who will tell you that a properly made egg cream is the best thing in the world, so this is sure to make them happy. This vegan version is just as creamy as the original and with the homemade chocolate syrup it has a great chocolate flavor. My mom (who grew up in the egg cream region) thought it was delicious. Traditionally an egg cream is made with whole milk, but to mimic the richness of whole milk I used original flavored coconut creamer. For a slightly different flavor twist I imagine that the flavored creamers (french vanilla!) would make a deliciously creative egg cream. If you have a seltzer maker this is a great place to use it because an egg cream comes out best if the seltzer is extra carbonated, but regular chilled seltzer works fine too.
Recipe Updates – Delivered Fresh!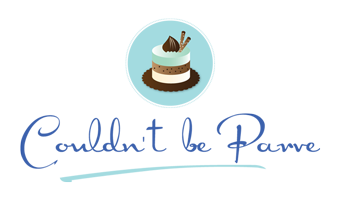 Ingredients & Instructions
Ingredients & Quantities
3 tablespoon bittersweet chocolate syrup (see below)
6 tablespoons coconut creamer
seltzer to fill the glass
Alice Medrich's Cocoa Syrup
¾ cup cocoa powder (I used Ghirardelli)
1 cup sugar
pinch salt (1/4 tsp)
1 cup boiling water
1 tsp vanilla (optional)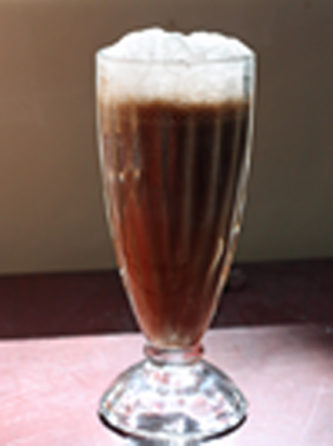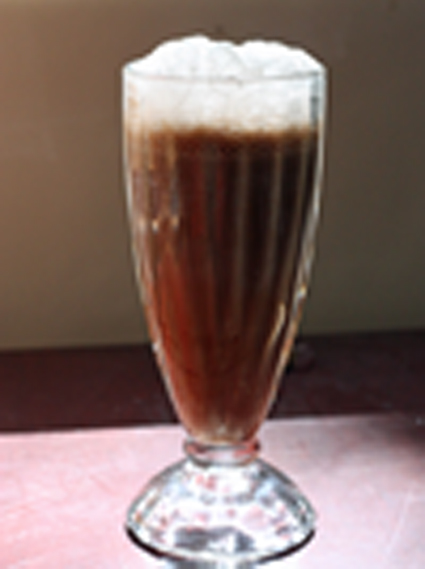 Preparation Instructions
Alice Medrich's Cocoa Syrup
Whisk together cocoa, sugar and salt until well blended in medium saucepan. Add enough water to make a thick paste and incorporate all dry ingredients. Add remaining water and bring to a simmer over medium heat. Simmer for two minutes. Remove from heat. Stir in vanilla if using.
Let cool and store in a jar or squeeze bottle in the fridge.
Old Fashioned Egg Cream
Carefully pour the chocolate syrup into the bottom of an old fashioned milkshake glass. (In a pinch any 12 ounce drinking glass will do.) Make sure not to get any chocolate on the sides of the glass. Top chocolate with the coconut creamer. Take a long spoon and place it in the glass so that it reaches the bottom. Pour the seltzer in while lifting the spoon up and down to combine. If you stir at this point the foam will be brown instead of white. It will taste the same but will not be as exciting looking. Continue pouring in seltzer until the foam rises slightly above the rim of the glass. At this point, stir the mixture to finish combining the chocolate and cream. Try to disturb the bubbles as little as possible. Serve immedieately.
Thank You For Printing This Recipe! Visit Us Again Soon!
Recipe Page: http://www.couldntbeparve.com/recipe/classic-egg-cream/