Cinnamon Hearts
March 12, 2014
I absolutely adore making candy (as is evidenced by all the candy recipes I have posted.) The thing about making candy is that most recipes make quite a bit more candy than one family should have sitting on the counter for easy snacking. This is especially a problem since I tend to get into candy making moods and I will make several different kinds of candy within a day or two. That is why I love holidays like Purim, or if we are being totally honest Christmas, where gifts of food are expected. It means I have a legitimate excuse to turn my kitchen into a candy factory in order to give it away as gifts.
These cinnamon patties are one of my favorite candies to make. They have the texture of a peppermint patty but with the spicy kick of cinnamon oil. The dough is quick and easy to make and it can be cut into fun shapes to suit any occasion. Everyone who has tried these loves them so I find myself making them often. I actually posted the recipe for these almost six years ago, in the very early days of my blog, but since I keep making these over and over I thought it was worth dragging the recipe out of the archives and sharing it again.
Recipe Updates – Delivered Fresh!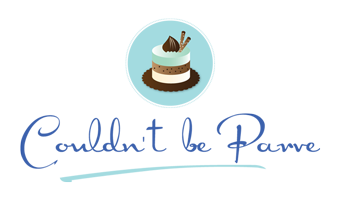 Ingredients & Instructions
Ingredients & Quantities
2 cups confectioners' sugar
3 Tablespoons light corn syrup
2 teaspoons water
5-10 drops cinnamon oil*
1 pound bittersweet chocolate, tempered for dipping
*For the candy to have the right amount of cinnamon flavor, the flavor of the dough should be a bit stronger than you would want to eat on its own. Different oils vary in strength, so start with less and add more to taste. I use Lorann Oils cinnamon oil and 8 drops is perfect to my taste.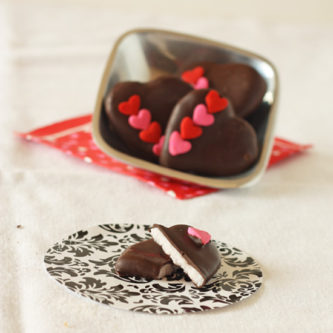 Preparation Instructions
Line a baking sheet with plastic wrap or parchment paper and lightly dust it with confectioners sugar.
In a bowl, mix the corn syrup, water, and cinnamon oil. Gradually stir in the confectioners' sugar. As the mixture thickens, knead it with your hands until it forma a smooth ball (it will seem dry at first, but it will come together). If the dough is sticky add a bit more powdered sugar until you can knead it without it sticking to your hands.
Pat the dough out onto the sugar-dusted baking sheet about 1/2 inch thick and let it dry, uncovered, overnight.
Dust the extra sugar off the candy dough and flip it over to make sure it isn't stuck to the parchment paper. Cut the dough into circles or shapes using a cookie cutter (the back of a large pastry tip is the perfect size for circles).
Melt and temper the chocolate.*
Using a dipping fork, completely submerge each patty in the chocolate. Scrape the excess chocolate off on the side of the bowl and place the dipped oval on a parchment lined baking sheet (the easiest way to do this is to place the fork only half way under the candy circle, touch one edge of the dipped circle to the parchment and gently pull the fork out). Repeat with the remaining ovals. If adding a decoration such as sprinkles only dip a few at a time and then decorate them while the chocolate has not yet set.
Store in an airtight container for up to a week.
*If you do not want to bother with tempering, you can dip the candies in untempered chocolate and chill them in the freezer until the chocolate is set. Store the finished candies in the refrigerator or freezer. The chocolate coating will be thicker than if dipped in tempered chocolate.
Candy recipe adapted from The Perfect Scoop by David Lebovitz.
Thank You For Printing This Recipe! Visit Us Again Soon!
Recipe Page: http://www.couldntbeparve.com/recipe/cinnamon-hearts/