Churros con Chocolate
December 10, 2012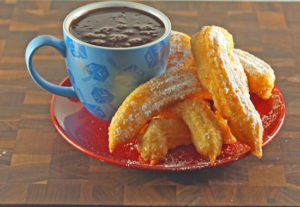 I can never have a Spanish churro without thinking fondly of my trips to Spain many years ago. There is a cafe in Madrid that is known for their churros con chocolate, and the best time to get them  is in the very early morning, after a late evening of carousing. One such morning, my sister and I went there to get our last dose of churros before making our way to the airport for our flight home. She managed to talk the manager into letting us help fry the churros, but, unfortunately for us, it turned out they had just made their last batch for the night and were cleaning the equipment.  Even since then I have thought it would be fun to make my own churros, and I finally now just got around to it.
These churros are not like the Mexican style churros you find at carnivals and fairs. The dough of these churros is very similar to cream puff dough which yields a light crispy churro enhanced only by a sprinkle of powdered sugar. The traditional way to serve Spanish churros is with a cup of thick hot chocolate to dip them in. In my opinion the chocolate is the best part. It is thick enough to generously coat the dipped churro, but still thin enough to drink the end of the cup when the churros are gone. It is almost like drinking a warm, rich, chocolate pudding.
Since Chanukkah is the only time of year I ever deep fry anything, I decided to make and share these churros for the first ever Hanukkah Blog Party, hosted by Leah of Cook Kosher and Miriam of Overtime Cook.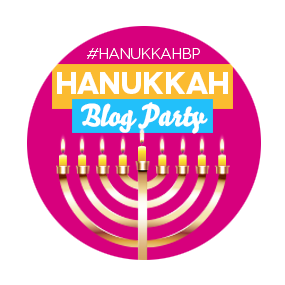 This blog party is a fun collection of Hanukkah themed recipes, treats and crafts from Jewish bloggers all over the world! Check out the bottom of this post for links to all of the delicious treats and crafts.
To help get everyone into party mode, the blog party has a bunch of fabulous new cookbooks to giveaway! Leave a comment on this post for your chance to win one of:
2 copies of Susie Fishbein's new Kosher By Design Cooking Coach (sponsored by Artscroll)
2 copies of Leah Schapira's  Fresh and Easy Kosher Cooking (sponsored by Artscroll)
2 copies of Esther Deutch's CHIC Made Simple (sponsored by the author)
Giveaway ends at 11:59 PM on Sunday, December 16th. You can only enter once on each blog, so visit the other blogs and leave comments for extra chances to win!*
The Giveaway is now closed. Thanks for entering!
This is the second of many fabulous Holiday Blog Parties. If you would like to be added to the mailing list to participate in future parties, please email holidayblogparties@gmail.com
For some great Chanukkah inspiration check out these great Chanukah themed recipes from talented bloggers from across the web. Happy Hanukkah!
Latkes:
Jamie from Joy of Kosher made Zucchini Latkes with Tzatziki
Daniel from Peikes Cookbook made Potato and Fennel Latkes Fried in Duck Fat With Chinese Five Spice Apple Sauce
Susan from The Girl in the Little Red Kitchen made Squash and Potato Latkes
Samantha from The Little Ferraro Kitchen made Ruby Red Beet Latkes with Cumin
Nechamah from TIforOA Food Ideas made Healthy Oatmeal Latkes
Liz from The Lemon Bowl made Traditional Potato Latkes
Melanie from From Fast Food to Fresh Food made (I Can't Believe They're Crispy!) Baked Latkes
Laura from Mother Would Know made Three Variations of Sweet and Savory Latkes
Sarah from Crispy Bits and Burnt Ends made Kimchee Latkes
Shulie from Food Wanderings made Baked Panko Sweet Potato Leek Latkes
Donuts and Desserts: 
Miriam from Overtime Cook made Shortcut Cannoli with Chocolate Mousse Filling
Leah from Cook Kosher made 5 Minute Donuts
Estee from The Kosher Scoop made Tropical Fruit Fritters
Melinda from Kitchen-Tested made Sweet Steamed Buns
Amy from What Jew Wanna Eat made Homemade Dark Chocolate Sea Salt Gelt
Avidan from Baking It Up As I Go Along made Orange Olive Oil Cake
Tali from More Quiche Please made Glazed Chocolate Donut Holes
Amital from Organized Jewish Home made Mom's Sour Cream Sugar Cookies
Princess Lea from The Frumanista made Túrógombóc
Stephanie and Jessica from The Kosher Foodies made Beignets
Gigi from Gigi's Kitchen made Bunuelos: Mini Powdered Cheese Donuts 
Esther from Esther O Designs made Edible Menorahs
Patti from No Bacon Here made Hanukkah Oreo Balls
Shoshana from Couldn't Be Parve made Churros con Chocolate
Shaindy from My Happily Hectic Life made Inside Out Apple Crisp
Eve from Gluten Free Nosh made Gluten-Free Hanukkah Sugar Cookies
The Gluten Free maven made Gluten Free Vegan Cake Donuts
Amy from Baking and Mistaking made Mini Cream-Filled French Beignets
Sarah from Food, Words, Photos made Chocolate Peanut Butter Cookies
Victoria from Itsy Bitsy Balebusta made Pure Vanilla Donuts
Vicky and Ruth from May I Have That Recipe made Dulce de Leche and Eggnog cream filled mini sufganiot
Dena from Oh You Cook made Poached Pears in Pomegranate Sauce
Michele from Kosher Treif Cooking made Tiramisu Cheessecake
Sharon from FashionIsha made Sparkly Chanukah Cookies
Appetizers, Soups, Sauces, Drinks and other Hanukkah Food:
Laura from Pragmatic Attic made Caramel Spice Applesauce
Jessie from Bread and Butter made Honey Spiced Hanukkah Martini
G6 from Guess Who's Coming 2 Dinner made Sweet Potato Leek Soup
Claire from I Love Soup made Sweet Potato, Coconut & Lemongrass Soup.
Jennifer from Juanita's Cocina made Kugel
Liz from Kosher Like Me made Ready, Stuff Roll!
Yosef from This American Bite made Garlic, Za'atar, and Olive Oil Popcorn
Shelley from The Kosher Home made Hanukkah Crafts and Printables
*Note: Prizes can only be shipped within the US. Entries must be accompanied by a valid email address in order to qualify.
Recipe Updates – Delivered Fresh!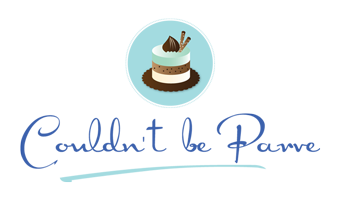 Ingredients & Instructions
Ingredients & Quantities
For Churros
1 cup (8 oz) water
1/2 cup (4 oz) margarine
pinch of salt (increase to ¼ tsp if using unsalted margarine)
1 cup (4.5 oz) all purpose flour
3 large eggs
vegetable oil, for frying
confectioners' sugar for dusting
For Chocolate
1 (14 oz) can coconut milk
1/4 cup (2 oz) water
1 tablespoon (8 g) cornstarch
2 tablespoons cocoa powder
1/4 cup (2 oz) sugar
1/2 cup (3.5) oz high quality chocolate chips or chopped chocolate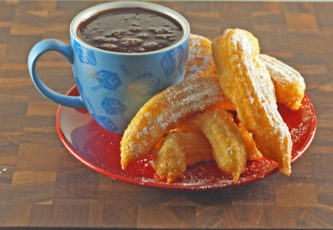 Preparation Instructions
To Make the Churros
Combine the margarine and water in a medium saucepan, and bring to a boil. When the mixture is boiling, add in flour all at once and stir vigorously with a wooden spoon until the dough comes together. Continue to stir and cook the dough for about 1 minute. Transfer the dough to a large mixing bowl or to the bowl of an electric stand mixer. Turn the mixer on medium-high. Beat in the eggs one at a time, waiting until egg has been well incorporated before adding the next. The batter may look wet before it comes together, but keep mixing and a smooth dough will form.? Transfer dough to a pastry bag fitted with a medium or large star tip.?
Pour about 2-inches of oil into a deep saucepan. Bring the oil to about 350F. Pipe four or five inch pieces of dough into the hot oil. Make them in batches so as not to cool the oil too much. Fry the dough until it is a deep golden brown. Remove the churros from the oil and drain on paper towels. Let cool slightly before sprinkling with powdered sugar. Serve immediately with chocolate for dipping.
To Make the Chocolate
Place the cocoa powder, cornstarch and sugar in a medium sauce pan. Whisk in the coconut milk and water until smooth. Heat the mixture until boiling. Remove from the heat and add the chocolate. Stir until the chocolate is melted. If lumps of chocolate remain place the saucepan back over very low heat and stir until the chocolate is completely melted. Pour the chocolate into small tea cups and serve with the churros.
Thank You For Printing This Recipe! Visit Us Again Soon!
Recipe Page: http://www.couldntbeparve.com/recipe/churros-con-chocolate/