Chocolate Scotcheroos
November 13, 2009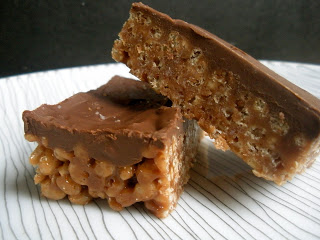 Butterscotch is one of my favorite flavors, so when I stumbled across the recipe for Chocolate Scotcheroos a few weeks ago on David Lebovitz's site they immediately caught my eye. Peanut butter, rice cereal, chocolate, and butterscotch chips, what could be better for the perfect late night treat?Wanting to make them parve (and not being able to find parve butterscotch chips) I added some butterscotch flavoring to parve white chocolate chips and used that for the topping with the dark chocolate.
These bars came together quickly and were a big hit. The butterscotch flavor was not very pronounced, so I have increased the amount in the recipe. We thought they were great even without much butterscotch flavor, so I might make them with just the white chocolate sometimes as a variation. I used organic brown rice crisp cereal because that is what I had on hand and they came out a bit too chewy, so I would recommend using regular cereal instead. They are quite sweet so small bars are the perfect size.
(Adapted from David Lebovitz)
Recipe Updates – Delivered Fresh!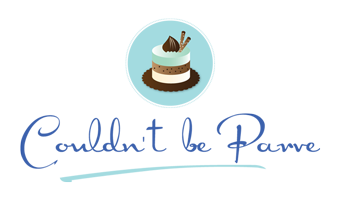 Ingredients & Instructions
Ingredients & Quantities
1 cup (200g) sugar
1 cup (320g) rice syrup (light corn syrup would work too)
1/2 cup (130g) peanut butter
1/2 cup (130g) chocolate-hazelnut paste (I used Dark Chocolate Dreams peanut butter from Peanut butter and Co, but regular peanut butter works fine too)
6 cups (200g) crisp rice cereal
6 ounces chopped bittersweet or semisweet chocolate, or 1 cup (165g) chocolate chips
1 cup (165g) white chocolate chips
Butterscotch candy flavoring, 15 drops or to taste.
Optional: Fleur de sel or flaky sea salt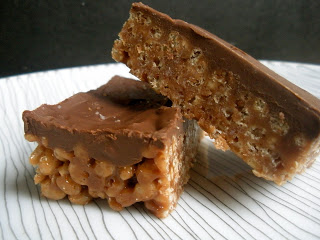 Preparation Instructions
Spray a 9 x 13-inch baking pan with non-stick cooking spray. Line the pan with a parchment sleeve to make removal easier (optional).
In a large saucepan (at least 6 qts) over medium heat, bring the sugar and rice or corn syrup to a full boil. Remove from heat and stir in peanut butter and chocolate spread, then mix the rice cereal in until completely coated. Press the mixture into the prepared pan, making sure the top is smooth.
Melt the white chocolate chips in a clean, dry bowl set over a double boiler or microwave, stirring gently until smooth and well-blended. Add the butterscotch flavoring and mix well. Adjust according to taste, it should taste quite "butterscotch-y" in order for the flavor to come through once the dark chocolate is added. Stir in the dark chocolate and return to the heat until mostly melted. Remove from heat and stir until completely melted. Spread over the rice cereal mixture, sprinkle lightly with salt (if using) and cool until set.
Thank You For Printing This Recipe! Visit Us Again Soon!
Recipe Page: http://www.couldntbeparve.com/recipe/chocolate-scotcheroos/