Chocolate Raspberry Baked Alaska
April 8, 2011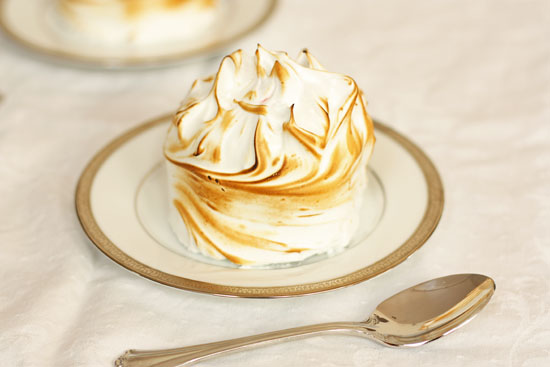 There is something fun about bringing out a dessert and having people say "wow, you made that?". While I have been making more things like cookies for desserts these days, it is nice to sometimes pull out all the stops for a dessert that is sure to impress. If you want a showstopping dessert for your seder (or really anytime) look no farther. This Baked Alaska is sure to wow your guests with a rich brownie layer, creamy raspberry parfait, and toasty meringue. While it does have several parts, the entire thing can be made in advance. When it comes time to serve dessert, a quick trip under the broiler is all it needs to create the perfect balance between the cold creamy parfait and the warm toasty meringue.
This dessert takes advantage of one of the key differences between Shabbat and holidays. While on Shabbat all the food needs to be prepared before sunset, on holidays it is permitted to cook as long as the flame is transferred from a preexisting flame. This makes it possible to serve desserts that require last minute cooking. I like to take advantage of that, serving things on holidays like souffles, fondue or Baked Alaska that require last minute cooking or heating.
I posted this recipe, along with some other favorites (like Coconut Panna Cotta with Lime Curd and Almond Butter and Jelly Sandwiches) in post about Passover desserts on the new Joy of Kosher site. Joy of Kosher is a great resource for recipes, menus and all kinds of other great information. If you are looking for inspiration for your seders (or really any time of year) it is a great place to look.
Recipe Updates – Delivered Fresh!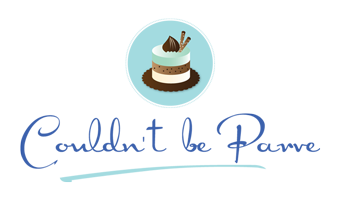 Chocolate Raspberry Baked Alaska
Chocolate Raspberry Baked Alaska
Ingredients & Instructions
Ingredients & Quantities
For Brownie Layer
Scant ½ cup vegetable oil (3.25 oz)
1 cup sugar
2 Tablespoons dark brown sugar
3/4 cup good quality unsweetened cocoa powder
1/2 teaspoon salt
¼ cup Kosher for Passover Amaretto
2 teaspoons vanilla extract
2 large eggs
1/2 cup almond flour/almond meal
1/3 cup chocolate chips, melted
For Raspberry layer
2 12-oz bags frozen raspberries, thawed with juices
8 large egg yolks
¾ cup sugar
2/3 cup Kosher for Passover Amaretto
For Meringue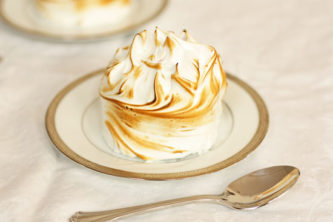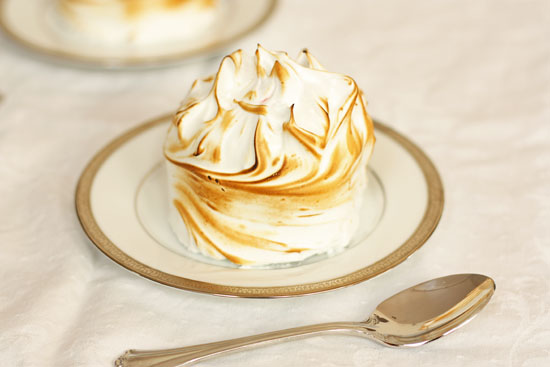 Preparation Instructions
Preheat the oven to 325.
For brownie layer: Line a 9×9 square pan with parchment or foil, leaving an overhang on two sides. Spray the pan liberally with cooking spray. Set aside.
For raspberry layer: Line 2 9×4.5 loaf pans with plastic wrap or parchment paper and set aside.
Cooking Instructions
To make the brownie layer
Combine the oil, sugars, cocoa, amaretto, salt and vanilla in the bowl of an electric mixer. Add the eggs one at a time, beating well after each addition.  Add the almond flour and beat at high speed for 2 minutes. Stir in the melted chocolate.
Pour into the prepared pan. Bake for approximately 25 minutes or until a tester near the middle of the pan comes out with lots of moist crumbs.  They will seem underdone, that is correct. Let the brownies cool completely in the pan, then remove them from pan by lifting them out with the parchment/foil overhang.  Cut the brownie in half into two 9 x 4.5 inch pieces. Set aside. 
(can be made up to two days in advance, further if the brownies are frozen)
To make the raspberry layer
Puree the berries in food processor. Strain through a sieve set over large measuring cup, pressing in solids in strainer to extract as much puree as possible. Alternatively, pass the raspberries through a food mill to remove the seeds. Cover puree and chill until cold, at least 1 hour and up to 1 day.
Combine egg yolks, amaretto and sugar in a medium metal bowl. Set over saucepan of simmering water (do not allow the bottom of the bowl to touch the water). Whisk constantly until thick and billowy and candy thermometer registers 160, about 7 minutes. (If you do not have a candy thermometer it should feel hot to the touch) Remove bowl from water. Add 1 ¾ cup cold berry puree. Using an electric mixer beat mixture until cool, about 7 minutes. Pour into prepared baking pans. Top each pan with one piece of the brownie. Cover, freeze until firm, at least 6 hours.
To make the meringue
Place the egg whites and sugar in the metal bowl of an electric mixer. Place the bowl over a pan of simmering water and stir constantly until the sugar is dissolved and the mixture is warm to the touch, 2-3 minutes. Transfer bowl to the mixer and whip (using the whisk attachment) until the mixture holds a stiff peak. (Depending on the size of the mixing bowl this may need to be done in two batches)
Remove one of the loaf pans from the freezer. Invert it onto a cookie sheet and remove the plastic wrap. Working quickly, spread ½ the meringue on the frozen loaf, making sure to cover it completely and seal the edges. Return it to the freezer and repeat with the second loaf. (The baked Alaskas can be made up to this point a day ahead. Keep frozen until ready to serve.)
Right before serving remove the baked Alaskas from the freezer. Place them under the broiler for 1-2 minutes or until the outsides are lightly toasted. This can also be done using a kitchen torch. Serve immediately.
Thank You For Printing This Recipe! Visit Us Again Soon!
Recipe Page: http://www.couldntbeparve.com/recipe/chocolate-raspberry-baked-alaska/