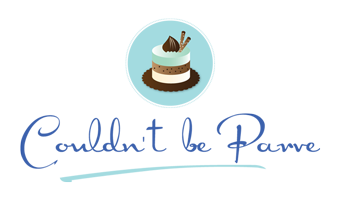 Chocolate Peppermint Fudge
December 15, 2010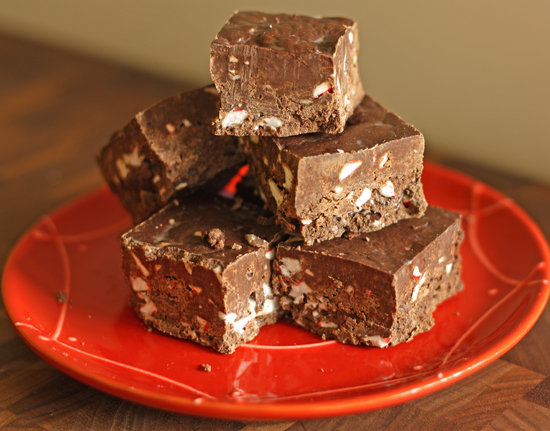 This time of year my kitchen turns into a candy factory. I absolutely love making candy of all kinds. Holiday gifts are a great excuse for me to turn large amounts of sugar and chocolate into all different kinds of sweet treats. Sometimes it is about the process, the calm relaxed state I get into while rolling and dipping truffles. Other times it is all about the product, making candies that are delicious and impressive without taking the kind of time that hand dipped truffles do. This fudge is the second variety. It can be whipped up quickly and makes a nice gift (or midnight treat). Fudge most often has dairy which means that it can be almost impossible to buy if dairy is not a part of your diet, so it is nice to be able to make a delicious dairy free fudge when the craving strikes.
Since it is the holiday season and I love all things peppermint I decided to make a peppermint variation on my favorite quick fudge recipe. The fudge is made with homemade vegan sweetened condensed milk. It can be made ahead and frozen, so I usually make a big batch and freeze it in 1 1/4 cup portions (the size of a can of sweetened condensed milk) to use as needed in recipes like magic bars and fudge.
Quick Chocolate Peppermint Fudge
(adapted from Cooks Illustrated)
Makes about 2 1/2 pounds
Ingredients
16 ounces semisweet chocolate , chopped fine
2 ounces unsweetened chocolate , chopped fine
½ teaspoon baking soda
1/8 teaspoon table salt
1 ¼ cups vegan sweetened condensed milk (see recipe below)
1 tablespoon vanilla extract
2 cups crushed peppermint candy (such as candy canes)
Cut 12-inch length extra-wide heavy-duty aluminum foil; fold edges back to form 7 1/2-inch width. With folded sides facing down, fit foil securely into bottom and up sides of 8-inch-square baking pan, allowing excess to overhang pan sides. Spray foil with nonstick cooking spray.
Toss chocolates, baking soda, and salt in medium heatproof bowl until baking soda is evenly distributed. Stir in sweetened condensed milk and vanilla. Set bowl over 4-quart saucepan containing 2 cups simmering water. Stir with rubber spatula until chocolate is almost fully melted and few small pieces remain, 2 to 4 minutes. Do not melt the chocolate completely or the fudge may become greasy. (It is important to use the double boiler. Melting in the microwave does not produce the desired texture) Remove bowl from heat and continue to stir until chocolate is fully melted and mixture is smooth, about 2 minutes. Stir in candy. Transfer fudge to prepared pan and spread in even layer with spatula.
Refrigerate until set, about 2 hours. Remove fudge from pan using foil and cut into squares. Let come to room temperature for a few minutes before serving.
The fudge is best within a few days, because it will dry out as it sits. It can be stored tightly wrapped in the freezer, however, for up to three months.
TO MAKE DOUBLE BATCH:
Line 13 by 9-inch pan with two sheets of foil placed perpendicular to each other and double amounts of all ingredients. In step 2, use large heatproof bowl and Dutch oven containing 4 cups simmering water
Vegan Sweetened Condensed Milk (from http://www.veganwolf.com/recipes/basics/swcondmilk.htm)
Dry soymilk powder equivalent to making 3 cups of milk (3/4 cup Better Then Milk brand)
3/4 cup water
6 Tablespoons margarine
1 1/2 cup sugar
pinch of salt
Mix soymilk powder and water until they reach the boiling point (I use the microwave)
Melt the margarine in a pan on the stove. Add the sugar. When the sugar begins to melt add the hot milk and salt. Bring to a gentle boil and cook for 5 minutes stiring constantly.
Let cool and use in any recipe calling for sweetened condensed milk.
Recipe Updates – Delivered Fresh!
Thank You For Printing This Recipe! Visit Us Again Soon!
Recipe Page: http://www.couldntbeparve.com/recipe/chocolate-peppermint-fudge/