Chocolate Olive Oil Challah with Sea Salt
April 23, 2014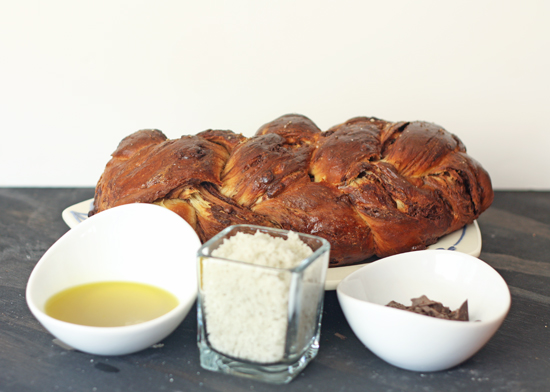 I have to admit I really do not mind Passover food. We tend not to eat that many grains regularly so the food we eat during the week of Passover really isn't that different from the rest of the year. I like the creativity it takes to make desserts taste great without grains and, I have to say, overall I tend to be very happy with the results. Passover doesn't feel like an exercise in deprivation, that is for sure. We certainly eat well (perhaps too well). The one moment of the week, however, where I truly miss hametz (leavened grains) is at that moment on Shabbat where we take the cover of the plate and instead of big beautiful challahs there are two flat pieces of matzah. Not quite the same thing, that is for sure. That is why for this month's Kosher Connection Chametzfest Round up I decided to post an over the top delicious challah recipe, because that is my idea of the ideal chametz.
This challah was inspired by Smitten Kitchen's amazing olive oil fig challah. I made that challah a while back and I loved the flavor and texture the olive oil gives the challah dough. It made me start thinking about what other flavors might go well with the olive oil dough, and thus this challah was born. Fruity olive oil pairs really well with a nice dark chocolate and a sprinkle of sea salt brings it all together. This challah is truly delicious. The one criticism that people had of this challah was that it tasted a bit more like dessert than like challah, but I don't think that is a problem at all. It certainly disappeared and no one seemed to mind at all that it was less than suitable for dipping in hummus. I cannot wait to make this challah again.
For more Chametz fun check out the rest of the Kosher Connection for this month!
Recipe Updates – Delivered Fresh!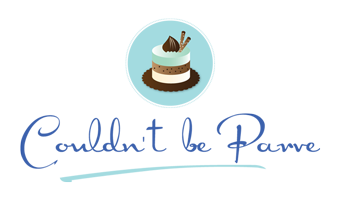 Chocolate Olive Oil Challah with Sea Salt
Chocolate Olive Oil Challah with Sea Salt
Ingredients & Instructions
Ingredients & Quantities
4 1/2 teaspoons (2 packets — 1/2 ounce or 14 grams) active dry yeast
1/2 cup (170 grams) plus 2 teaspoons honey
1 1/3 cup (10.7 oz) warm water (110 to 116 degrees F)
2/3 cup (5.3 oz) olive oil, plus more for the bowl
4 large eggs
4 teaspoons flaky sea salt, such as Maldon, or 1 1/2 teaspoons table salt
8 cups (1000 grams) all-purpose flour
10 ounces dark chocolate, chopped into small chunks
1 egg
flaky sea salt for sprinkling on top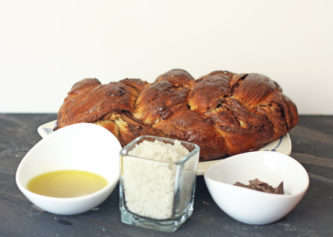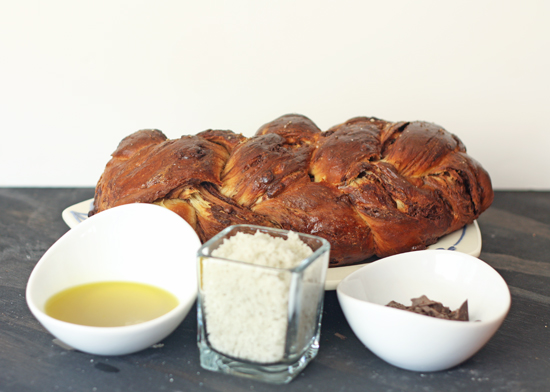 Preparation Instructions
Whisk the yeast and 2 teaspoons of honey into the warm water, and let it stand for a few minutes, until foamy. In a large mixer bowl, combine the yeast mixture with the remaining honey, 2/3 cup olive oil, and eggs. Add the salt and flour, and mix until dough begins to hold together. Switch to a dough hook, and run at low speed for 5 to 8 minutes. Transfer the dough to an olive-oil coated bowl cover with plastic wrap, and set aside for 1 hour, or until almost doubled in size.
Once the dough has risen turn it out onto a floured counter and divide it in half. Work the chocolate into the dough. The easiest way to do this is to roll out each half of the dough into a snake about two feet long and then flatten the roll with a rolling pin so that it is 6 inches wide. Place half of the chocolate in the middle of the dough and bring the sides together around the chocolate, trapping it in the middle. Press down on the dough so that the chocolate is attached to it it and there is no hollow space inside. Then roll the dough out to the desired length, approximately 5-6 feet. Repeat with the other half dough. If making a six strand braid cut each half into 6 pieces. For a woven braid cut each one into 4. Braid the challahs and place them on parchment lined baking sheets.
Beat the remaining egg until smooth, and brush over the challahs. Let the challahs rise for another hour, but 45 minutes into this rise, preheat the oven to 375°F.
Before baking, brush the loaf one more time with egg wash and sprinkle with sea salt. Bake in middle of the oven for 35 to 40 minutes. It should be beautifully bronzed. If it starts getting too dark too quickly, cover it with foil for the remainder of the baking time. The very best way to check for doneness is with an instant-read thermometer — the center of the loaf should be 195 degrees.
Cool loaf on a rack before serving.
Recipe adapted from Smitten Kitchen
Recipe Yield
2 large challah loaves
Thank You For Printing This Recipe! Visit Us Again Soon!
Recipe Page: http://www.couldntbeparve.com/recipe/chocolate-olive-oil-challah-with-sea-salt/