Chocolate Chip Peanut Butter Oreo Cookie Bars
July 30, 2014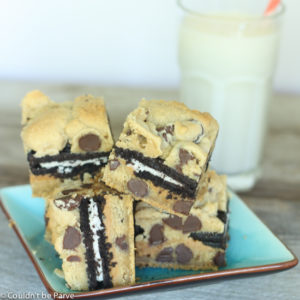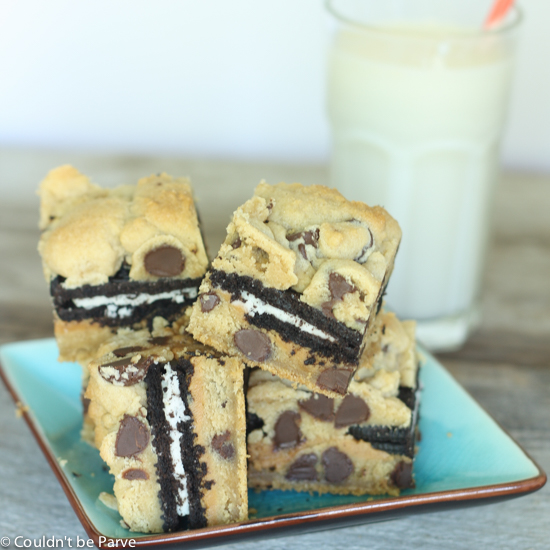 A few years ago a recipe for oreo stuffed chocolate chip cookies took the internet by storm. I have to admit I was intrigued but I never got around to making them. It seemed like a lot of effort and the finished cookies were so huge I never really found the right occasion to make them. Earlier this year I made Cake Batter Oreo Cookie bars and I loved how the Oreos stayed nice and crunchy within the cookie. I knew it was time to try them with chocolate chip cookies as well. Since I don't have time these days to fuss around with complicated steps like stuffing each cookie individually I decided that I would make chocolate chip Oreo cookie bars instead of individual cookies. And then I threw in some peanut butter just for good measure. Which, not surprisingly, turned out to be a very good idea.
I first made these cookies several months ago and I have made them many times since. It is rare for me to make the same recipe again and again, but these are just so good I can't help myself. They are quickly becoming one of my signature cookies, and people frequently request them. I am happy to comply since they are not only delicious but also quick and easy to make.  They are quite rich so I like to cut them into small squares, which means a 9 x 13 pan yields quite a few, perfect for sharing. They also freeze well so they are great to have on hand for a last minute dessert emergency (or, who am I kidding, a late night snack). These are a great little cookie to have in your repertoire, they are perfect for any occasion.
Recipe Updates – Delivered Fresh!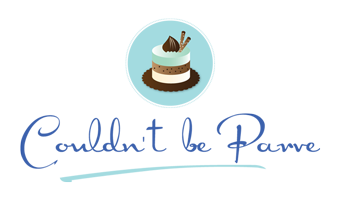 Chocolate Chip Peanut Butter Oreo Cookie Bars
Ingredients & Instructions
Ingredients & Quantities
3 3/4 cups (17 oz) all purpose flour
1 1/4 teaspoons baking soda
1 1/2 teaspoons baking powder
1 1/2 teaspoons coarse salt
2 1/2 sticks (1 1/4 cups) non hydrogenated margarine
1 1/4 cups (10 ounces) dark brown sugar
1 cup plus 2 tablespoons (8 ounces) granulated sugar
2 large eggs
2 teaspoons natural vanilla extract
3 cups (18 ounces) chocolate chips
3/4 cup (6.8 ounces or 192g) peanut butter
35 oreo-style cookies (slightly more than one standard sized package)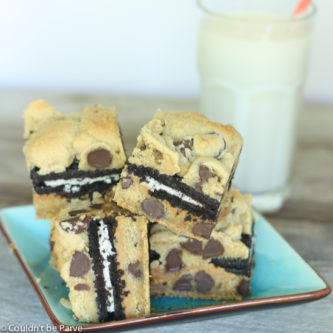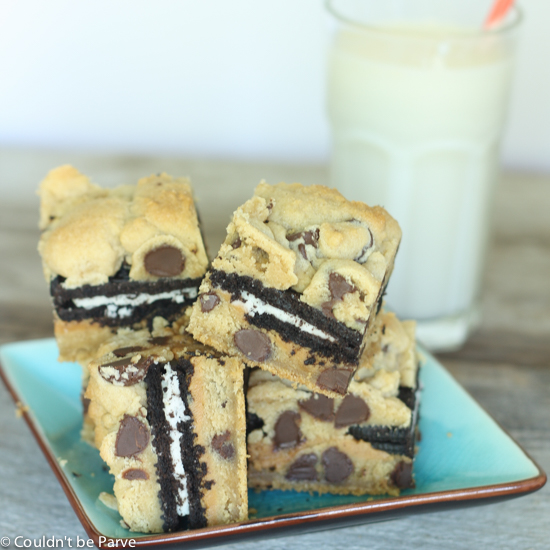 Preparation Instructions
Whisk together the flour, baking soda, baking powder and salt into a bowl. Set aside.
Using a mixer fitted with paddle attachment, cream the margarine and the sugars together until very light, about 5 minutes. Add the eggs, one at a time, mixing well after each addition. Stir in the vanilla. Reduce the speed to low, add dry ingredients and mix until just combined, 5 to 10 seconds. Add the chocolate chips and mix just until combined.
Preheat the oven to 350. Line a 9 x 13 inch baking pan with a parchment sling. (This is optional but makes it very easy to remove the cookies). Press half of the cookie dough into an even layer on the bottom of the pan. Spread the peanut butter evenly on top of the cookie dough. Top the peanut butter with the oreos, placing them close together to make a single layer across the entire pan. Crumble the remaining cookie dough evenly over the top. Press it down gently to make and even layer over the top of the cookies.
Bake for 20 minutes, or until the cookies seem set on top and a tester comes out with just a few crumbs. Do not over bake. Let cool completely before cutting into bars.
Cookie dough recipe adapted from the New York Times Chocolate Chip Cookie Recipe.
Recipe Yield
Approximately 3 dozen bar cookies
Thank You For Printing This Recipe! Visit Us Again Soon!
Recipe Page: http://www.couldntbeparve.com/recipe/chocolate-chip-peanut-butter-oreo-cookie-bars/