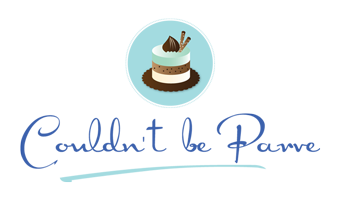 Chanukkah Sugar Cookies
December 18, 2009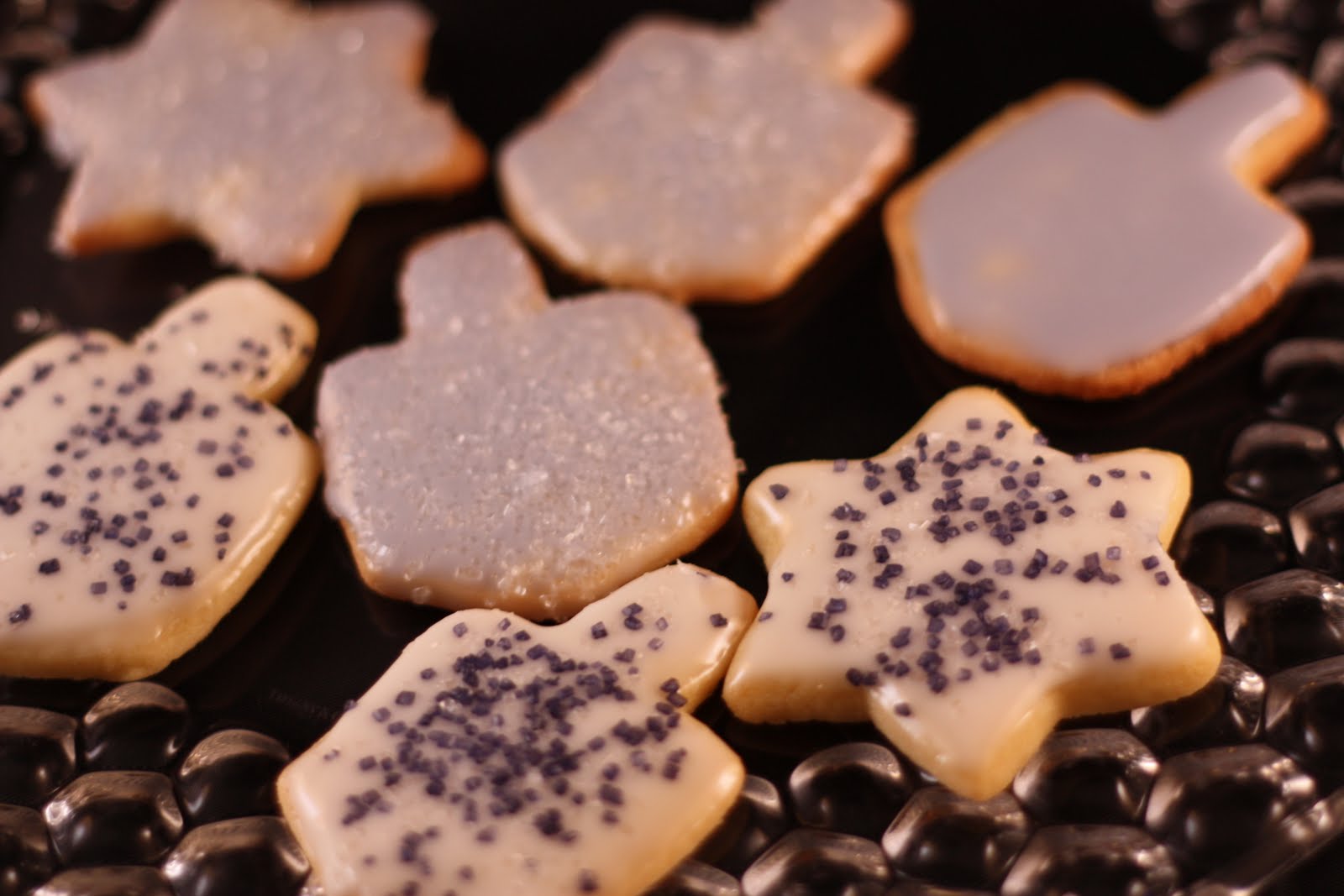 Although I am someone who loves to bake all kinds of cookies, I rarely make decorated sugar cookies. In fact, before this week, the last time I made decorated sugar cookies was for my childbirth class reunion when my son was 6 weeks old. A crazy undertaking with a 6 week old baby, I know.  Maybe that's why it has taken me so long to do it again. My son is now more than 2 so clearly it has been a while.
When he came home from preschool right before Thanksgiving extremely excited about making turkey cookies in school, I knew chanukkah cookies would have to be in our future. He was very excited about making them and turned out to be much more adept than I expected at cutting out the shapes. I am so happy that he is old enough to help, and imagine that we will be making these cookies an annual tradition.
The difficulty with parve sugar cookies is that you don't have the richness of flavor that butter would provide. In my experience plain parve sugar cookies are just kind of "eh", but if you add a bit of additional flavor they can be delicious. Almond or citrus are always good choices, but I wanted the flavor to be a bit more subtle so I used sweet dough flavor in the cookie and eggnog flavor in the icing. I was very happy with the results. I used the recipe from King Arthur flour and they came out delicious with a great texture. Even better, the dough was very easy to work with. It didn't even stick when I had to roll out the scraps more than once because little hands aren't so precise at cutting out cookies close together. Also, I love that the recipe called for salted butter because it meant I could use my favorite non-hydrogenated margarine, Smart Balance Organic Whipped Buttery Spread.
1 1/4 cups (5 ounces) confectioners' sugar
1 cup + 2 tablespoons  (9 ounces) salted margarine
2 3/4 cups (11 1/2 ounces) King Arthur Unbleached All-Purpose Flour
2 1/4 cups (10 ounces) confectioners' sugar or glazing sugar
2 tablespoons (1 1/4 ounces) light corn syrup
2 tablespoons, or up to 2 tablespoons + 1 teaspoon water; enough to make a pourable/spreadable icing
a few drops eggnog or other extra strong flavor, or to taste
1 cup coarse sugar or colored sugar for decorating, optional
In the bowl of an electric mixer combine the sugar, butter, egg yolk, salt, and flavor, and beat until smooth. Add the flour and mix until smooth. The mixture will seem dry at first, but will suddenly become cohesive. If it doesn't, dribble in a tablespoon of water.
Divide the dough in half. Place half the dough on a piece of parchment paper. Top with another sheet of parchment and roll the dough out until it is it 1/8″ to 3/16″ thick. Repeat with remaining dough. Place parchment with dough on a cookie sheet so that it lies flat and refrigerate for 2 hours, or overnight.
Remove the dough from the refrigerator, and remove the top sheet of parchment. Use a cookie cutter to cut shapes. Re-roll and cut the dough scraps. Place the cookies on ungreased or parchment-lined baking sheets. They can be close together; they'll barely spread.
Bake the cookies in a preheated 350°F oven for 12 to 14 minutes, until they're set and barely browned around the edges.
Remove from the oven, and cool right on the pan. If you've used parchment, you can lift cookies and parchment off the pan, so you can continue to use the pan as the cookies cool.
Repeat with the remaining piece of dough, rolling, cutting, and baking cookies.
When cookies are completely cool, ice and decorate.
Combine the sugar, water, flavor and corn syrup to make a soft, spreadable icing, adding more water if necessary. Tint the icing with food color as desired.
14) Spread icing on cookies, using a knife, a spoon, or your finger to spread it all the way to the edges. Sprinkle with colored sugar or other sugar decorations, as desired. Allow the icing to harden before storing the cookies.
* For other flavors you may need different amounts. Try 2 teaspoons vanilla extract, or 1 teaspoon almond extract, or a combination. For extra-strong flavors (eggnog, citrus oils, etc.), start with 1/8 teaspoon, and flavor to taste.
Recipe Updates – Delivered Fresh!
Thank You For Printing This Recipe! Visit Us Again Soon!
Recipe Page: http://www.couldntbeparve.com/recipe/chanukkah-sugar-cookies/