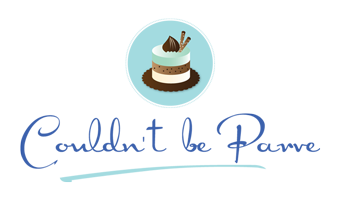 Candied Ginger Cardamom Bars
August 5, 2009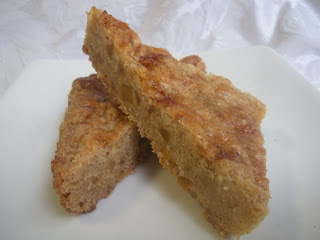 For years I have been collecting recipes. In addition to my overflowing bookshelf of cookbooks (an entire bookshelf, not just one shelf on it) I have a collection of recipes caught my eye that I saved from magazines and other articles. I used to keep them in binders, but a few years ago streamlined and moved them all to my computer. The problem is that I collect recipes faster than I try them, and as a result have a ton of recipes that I have never tried. I want the recipes on my computer to be ones I have tried and would want to make again, so I am trying to go through my recipes and test them out. If I like them I keep them, if not I erase them. Ultimately this should leave me with only great recipes, but it is going to take me while to get there.
This recipe was my first attempt at using recipes already on my computer rather than searching for new ones and I am delighted I finally got around to making it. After
a week of nothing but chocolate
I wanted to make a dessert for shabbat that was not chocolate-y in any way. This time of year I would usually turn to fruit if I didn't want chocolate, but due to time constraints I needed to make something with only ingredients I had in the pantry because there was no time to plan ahead and shop for ingredients. These bars, with a spicy combination of crystalized ginger and cardamom, were the perfect solution. Not only are they delicious, but they come together quickly and easily in the food processor. Just as easy, if not easier, than a basic brownie they are welcome change when you are in the mood for something different. Also, they can be thrown together at the last minute or made a day or two in advance. I will definitely be keeping this recipe and making it again and again.
Candied Ginger Cardamom Bars (adapted from Bon Appetit)
2 cups all purpose flour
1 cup sugar
1 1/2 teaspoons ground cardamom
1 teaspoon cinnamon
1/2 teaspoon salt
1 cup (2 sticks) frozen margarine, cut into 1/2 inch cubes
1 large egg, beaten to blend
3/4 cup finely chopped crystallized ginger (about 4 1/2 ounce)
Preheat the oven to 350. Spray a 9-inch square baking pan with nonstick spray. Blend flour, sugar, cardamom, cinnamon, and salt in the food processor. Add margarine and pulse until a coarse meal forms. Add 2 tablespoons beaten egg; blend until moist crumbs form. Add the ginger. Using on/off pulses process until moist clumps form. Press the dough evenly over the bottom of the prepared pan. Brush the remaining beaten egg over the dough. Using a small sharp knife, score the top of the dough with diagonal lines spaced 1 inch apart. Repeat in opposite direction, forming a lattice pattern.
Bake until pastry is golden and a tester inserted into the center comes out clean, 35-40 minutes. Transfer to a rack and cool completely in the pan. Cut into bars. (Can be made 2 days ahead. Store airtight at room temperature)
Recipe Updates – Delivered Fresh!
Thank You For Printing This Recipe! Visit Us Again Soon!
Recipe Page: http://www.couldntbeparve.com/recipe/candied-ginger-cardamom-bars/