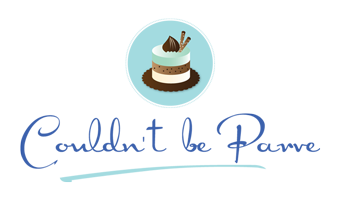 Pumpkin Cheesecake
September 14, 2009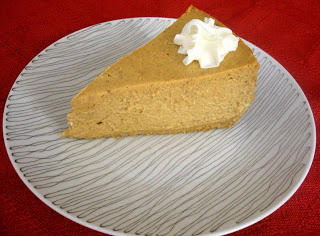 A few weeks ago I was invited to participate in a kosher taste test in Bryant park of the book America's Most Wanted Recipes by Ron Douglass.
The book is a collection of copycat recipes from many different popular chain restaurants. While many of recipes are challenging for a kosher cook because they call for a combination of milk and meat or shellfish or both, it is kind of fun to think of being able to make a kosher Taco Bell burrito or KFC fried chicken at home by making a few ingredient substitutions.
Naturally, I decided to make one of the desserts for the taste test. All of the desserts in the book are inherently kosher. However, since many people who keep kosher only make cakes to serve at festive occasions and on Shabbat when they are serving meat, it seemed that modifying the recipes to make them parve was the way to go.
I made two different Cheesecake Factory cheesecakes, oreo and pumpkin. I have to say that I didn't like the oreo one at all. The cookie topping got incredibly soggy and because of that the whole cheesecake had a weird texture. I don't know if this is true of all oreo cheesecakes or just this one, because frankly I have never tasted one before. All I know is that we were not fans.
The pumpkin cheesecake, however, was a different story. This is the one I made for the taste test and it got rave reviews, even from people who did not know it was parve. The texture was quite soft, especially in the middle. In fact, it tasted a bit like a cross between a cheesecake and pumpkin pie. I baked it the 45 minutes the recipe called for and then turned the oven off not wanting to over cook it, but perhaps next time I will try leaving it in a bit longer to see if the middle sets just a little more. Even with the soft middle the cheesecake was quite delicious. It would make a wonderful parve finish to any meal, especially if you are looking for something a little different to end up that traditional turkey meal in November.
Pumpkin Cheesecake
Crust
2 cups graham cracker crumbs
1 tablespoon sugar
1 teaspoon ground cinnamon
5 tablespoons margarine, melted
Filling
two 8-oz containers toffuti cream cheese
1 cup toffuti sour cream
1 1/4 cup sugar
3 tablespoons packed light brown sugar
1 teaspoon vanilla extract
1 tablespoon lemon juice
pinch of salt
one 15 oz can pumpkin puree
2 teaspoons pumpkin-pie spice
1/2 teaspoon ground cinnamon
4 eggs, beaten
Preheat the oven to 350. Combine all the crust ingredients and mix just until crumbly. Pat into the bottom of a 9-inch springform pan and 3/4 of the way up the sides. Set aside
In the bowl of a stand mixer beat the cream cheese, sour cream, both sugars, vanilla and lemon juice until smooth. Add the pumpkin puree and the spices and blend. Add the eggs one at a time and blend again until mixed. Pour the filling into the prepared crust.
Bake for 40-45 minutes until the center is almost set. Turn the oven off and leave the cheesecake in the oven for an additional 30 minutes.
Remove from the oven and allow to cool. Refrigerate for several hours until the cheesecake cools completely and firms.
To serve run a knife or metal spatula around the sides of the pan to loosen the cake and remove the side of the pan.
Recipe Updates – Delivered Fresh!
Thank You For Printing This Recipe! Visit Us Again Soon!
Recipe Page: http://www.couldntbeparve.com/recipe/americas-most-wanted-recipes/