Whole Grain Muffins
February 6, 2009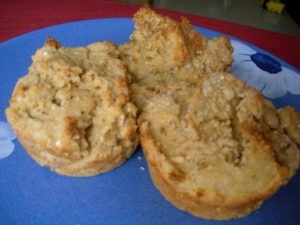 Somehow I accidentally baked a batch of muffins. These muffins weren't accidental in the sense that they were intended to be something else but came out as muffins. These muffins were accidental in that I was supposed to be unpacking boxes and somehow found myself mixing up a batch of muffins instead. How did that happen? It is kind of like If You Give a Mouse a Cookie. It started when I turned on the oven (the first time in my new apartment) to bake a sweet potato to feed the baby over Shabbat. A whole oven seemed like a lot of space for one small sweet potato. And the new seven grain hot cereal I had bought earlier in the day had a muffin recipe on the back that caught my eye. And I had other new ingredients, like coconut milk yogurt, that I wanted to experiment with. And so, while the baby slept I made muffins instead of unpacking progress. And baked apples. Oops.
These muffins are 100% whole grain. I actually prefer muffins with a whole grain taste to them. They fill me up better, and don't leave me feeling like I had a cupcake for snack. (Not that there is anything wrong with that, it just isn't motivational on my way to the gym.) In trying to keep the glycemic index lower I used all agave instead of other forms of sweeteners, and they came out quite well. The muffins did not rise at all in the oven, so I expected them to taste like dense hockey pucks but they had a surprisingly pleasant texture, not too dense at all with a nice crumb.
The coconut milk yogurt worked beautifully in this recipe. When I tasted it plain before adding it to the recipe the yogurt had a distinctly coconut-y flavor, so I was not sure what the final muffins would taste like. It turned out that the coconut flavor was not identifiable at all once the muffins were baked, so I would highly recommend using this product as a non-dairy yogurt substitute in baking (especially also trying to avoid soy). I used the plain variety, but I imagine the other flavors would be good in baking as well. Because I thought the coconut flavor would come through more strongly I didn't add any other additions or spices to the muffins. As a result I thought it was a good base recipe but rather bland. I will certainly be making variations of these muffins again and again, they are the perfect pre-workout snack with a string cheese. Plus, they are a good source of whole grains without added sugar for my little one, more toddler than baby these days.
The next variation I am planning on trying is a spiced gingerbread version. Stay tuned.
Recipe Updates – Delivered Fresh!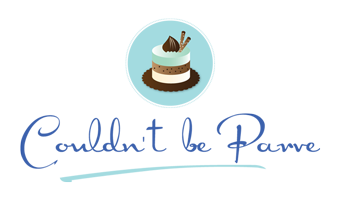 Ingredients & Instructions
Ingredients & Quantities
1 3/4 cups white whole wheat flour
1/2 cup 7 grain hot cereal, uncooked (I used Arrowhead Mills)
1/2 teaspoons salt
2 teaspoons non-aluminum baking powder
1 egg
1 teaspoons vanilla
3/4 cup coconut milk yogurt
2 Tablespoons canola oil
1/2 cup agave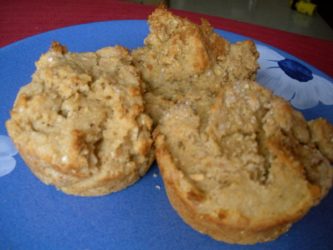 Preparation Instructions
Preheat the oven to 350. Combine all the dry ingredients in a large bowl. Combine the wet ingredients in another bowl. Stir the wet ingredients into the dry ingredients, stirring until just combined.
Fill greased muffin tins. These muffins do not really rise at all, so fill the muffin tins as high as you would like the finished muffins to be.
Bake for 15-20 minutes or until done. (In my oven, 15 minutes was plenty.)
Recipe Yield
12 smallish muffins or 9 large ones
Thank You For Printing This Recipe! Visit Us Again Soon!
Recipe Page: http://www.couldntbeparve.com/recipe/accidental-muffins_05/