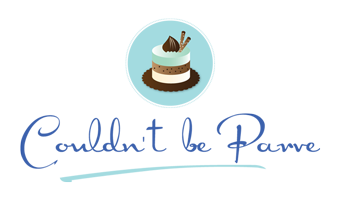 15 Minute Rocky Road Fudge
June 8, 2009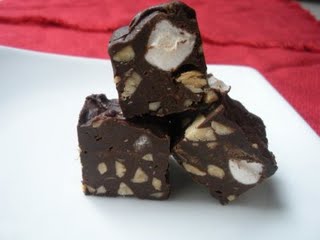 One of my favorite things to do with sweetened condensed milk is make quick fudge. I used to make a version that was basically just chocolate and the condensed milk, but I have switched to a recipe from Cooks Illustrated is simply sublime and has the texture of real fudge. I decided to make a batch parve to see how the vegan sweetened condensed milk worked in this recipe. I was hoping it would work because I did not have a usable parve fudge recipe that I like and that was truly a shame. Also, fudge is easy to make in large quantities so a parve recipe to include in next year's Mishloach Manot instead of the individually dipped chocolates I made last year would be a great time saver. Never one to pass over an opportunities to add marshmallows to something I decided to make the rocky road version of the fudge instead of the plain chocolate walnut one.
Well, this recipe is a winner. The texture of the fudge is almost perfect; creamy and sweet just like fudge should be. It is a bit too firm right out of the refrigerator, but once it came back to room temperature it was wonderful. I had to freeze most of the batch immediately or we would have eaten the whole thing! The quality of the chocolate is important in this recipe, so use a good quality chocolate you enjoy eating (I use Callebaut and Scharffen Berger). Also, do not leave out the nuts, they are critical to the texture.
15 Minute Rocky Road Fudge
(adapted from Cooks Illustrated)
Makes about 2 1/2 pounds
Ingredients
16 ounces semisweet chocolate , chopped fine
2 ounces unsweetened chocolate , chopped fine
½ teaspoon baking soda
1/8 teaspoon table salt
1 ¼ cups vegan sweetened condensed milk (see recipe below)
1 tablespoon vanilla extract
1 cup mini-marshmallows (if making the fudge vegan use cut up vegan marshmallows)
1 cup chopped salted peanuts
½ cup semisweet chocolate chips
Cut 12-inch length extra-wide heavy-duty aluminum foil; fold edges back to form 7 1/2-inch width. With folded sides facing down, fit foil securely into bottom and up sides of 8-inch-square baking pan, allowing excess to overhang pan sides. Spray foil with nonstick cooking spray.
Toss chocolates, baking soda, and salt in medium heatproof bowl until baking soda is evenly distributed. Stir in sweetened condensed milk and vanilla. Set bowl over 4-quart saucepan containing 2 cups simmering water. Stir with rubber spatula until chocolate is almost fully melted and few small pieces remain, 2 to 4 minutes. Do not melt the chocolate completely or the fudge may become greasy.
Remove bowl from heat and continue to stir until chocolate is fully melted and mixture is smooth, about 2 minutes. Stir in marshmallows, peanuts, and chocolate chips. Transfer fudge to prepared pan and spread in even layer with spatula.
Refrigerate until set, about 2 hours. Remove fudge from pan using foil and cut into squares. Let come to room temperature for a few minutes before serving.
The fudge is best within a few days, because it will dry out as it sits. It can be stored tightly wrapped in the freezer, however, for up to three months.
TO MAKE DOUBLE BATCH:
Line 13 by 9-inch pan with two sheets of foil placed perpendicular to each other and double amounts of all ingredients. In step 2, use large heatproof bowl and Dutch oven containing 4 cups simmering water
Sweetened Condensed Milk (from http://www.veganwolf.com/recipes/basics/swcondmilk.htm)
Dry soymilk powder equivalent to making 3 cups of milk (3/4 cup Better Then Milk brand)
3/4 cup water
6 Tablespoons margarine
1 1/2 cup sugar
pinch of salt
Mix soymilk powder and water until they reach the boiling point (I use the microwave)
Melt the margarine in a pain on the stove. Add the sugar. When the sugar begins to melt add the hot milk and salt. Bring to a gentle boil and cook for 5 minutes stiring constantly.
Let cool and use in any recipe calling for sweetened condensed milk.
Recipe Updates – Delivered Fresh!
Thank You For Printing This Recipe! Visit Us Again Soon!
Recipe Page: http://www.couldntbeparve.com/recipe/15-minute-rocky-road-fudge_07/