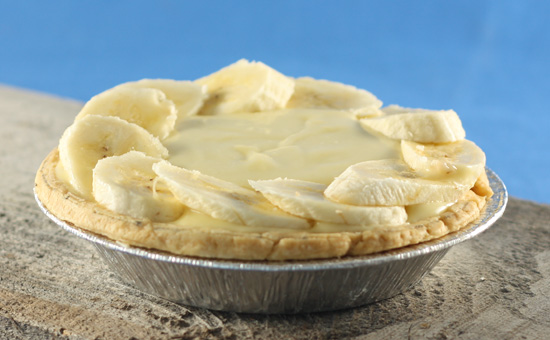 Today is March 14th. 3.14. A day known in some circles as Pi(e) day. Every year I see other people posting pies on their blogs in honor of Pi day and I kick myself for not taking that opportunity (can you tell that I am secretly a math nerd?). So this year I decided to jump on the bandwagon and actually post a pie on pi day. And what a pie it is. Rum Caramelized bananas topped with luscious pastry cream and topped with even more fresh sliced bananas. This is what a banana cream pie should be. This pie is so rich and creamy no one would ever suspect it is dairy free.
When I am thinking of making a pie I tend to turn to fruit pies rather than custard pies, but this pie has changed my mind. Now I have visions of the coconut cream pies, chocolate cream pies and all kinds of other cream pies I can make dancing around in my head. If they come out anywhere near as delicious as this pie I may never go back!
I have to say, although I am pretty happy about this pie, I am even more excited for Pi(e) day next year. 3.1415. It is going to be epic. I am going to have to start thinking now to come up with a pie worthy of that great occasion.