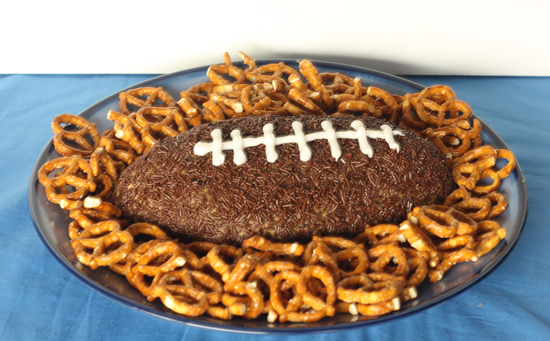 I have to admit I am not much of a football person. If a game is on I might watch it for a few minutes, but usually I just do other things while the rest of my family shouts at the tv. The exception is the superbowl. I absolutely adore superbowl parties! Truth be told I still don't watch too much of the game, but I absolutely love the food. Since most of the entertaining we do is on Shabbat or Holidays I love having a superbowl party because it is an excuse to make all kinds of fun finger foods. Since I firmly believe that wings (and pretzel wrapped hot dogs) are a necessary part of the celebration I always try to put out an assortment of finger food parve desserts. When I saw this peanut butter football I knew it would have to become part of our superbowl tradition. Sweet peanut butter dip with chocolate and pretzels, it is the perfect sweet treat for noshing on throughout the game. (Cake Batter Rice Krispy Treats cut into football shapes are great too). I adapted the original recipe to make it parve and more intensely peanut butter flavored, and every year it is a big hit. Fun and delicious, it is almost enough to make me want to watch more football.
For more fun superbowl/finger foods check out the rest of this month's kosher connection recipes.

Peanut Butter Football Dip
Ingredients
¼ cup (2 oz) margarine
4 ounces tofutti cream cheese, softened
1 1/4 cup (320g) peanut butter
½ teaspoon vanilla extract
1 1/4 cups (150 g) powdered sugar (up to 2 cups if needed)
½ cup mini chocolate chips
Chocolate sprinkles or chocolate chips for the outside of the football
White chocolate or frosting for the football laces
Preparation
Cream margarine, cream cheese, and peanut butter until mixed (using a hand-held mixer). Mix in vanilla.
Add powdered sugar, ½ cup at a time, and mix until combined. (If you want a stiffer mixture, add the extra ½ cup of powdered sugar.) Mix in chocolate chips.
Turn out mixture on a large sheet of waxed paper. Use your hands to form into a football shape.
Place the waxed paper onto your serving plate. Cover in sprinkles or chocolate chips, pressing them into the surface a little so they stick. Pipe on the laces using melted white chocolate or frosting and chill until ready to serve.
Serving suggestion: pretzels, animal crackers, cookies, chocolate wafers.
Note:If your mixture is too soft to form into a football shape, chill it for about 15-30 minutes. (The length of chilling time depends on how soft it starts.) The freezer will speed up this step.
Recipe adapted from Crazy for Crust
http://www.couldntbeparve.com/2014/01/peanut-butter-football-dip/
Copyright Couldn't Be Parve