Peanut Butter Football Dip
January 20, 2014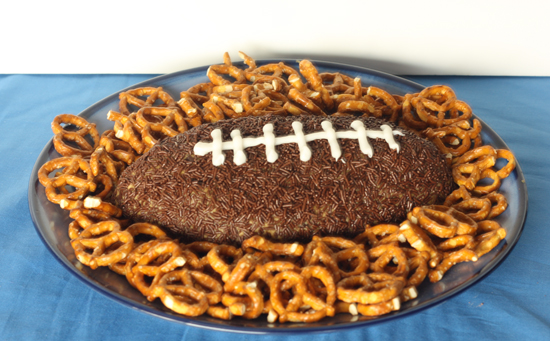 I have to admit I am not much of a football person. If a game is on I might watch it for a few minutes, but usually I just do other things while the rest of my family shouts at the tv. The exception is the superbowl. I absolutely adore superbowl parties! Truth be told I still don't watch too much of the game, but I absolutely love the food. Since most of the entertaining we do is on Shabbat or Holidays I love having a superbowl party because it is an excuse to make all kinds of fun finger foods. Since I firmly believe that wings (and pretzel wrapped hot dogs) are a necessary part of the celebration I always try to put out an assortment of finger food parve desserts. When I saw this peanut butter football I knew it would have to become part of our superbowl tradition. Sweet peanut butter dip with chocolate and pretzels, it is the perfect sweet treat for noshing on throughout the game. (Cake Batter Rice Krispy Treats cut into football shapes are great too). I adapted the original recipe to make it parve and more intensely peanut butter flavored, and every year it is a big hit. Fun and delicious, it is almost enough to make me want to watch more football.
For more fun superbowl/finger foods check out the rest of this month's kosher connection recipes.

');

Recipe Updates – Delivered Fresh!

Peanut Butter Football Dip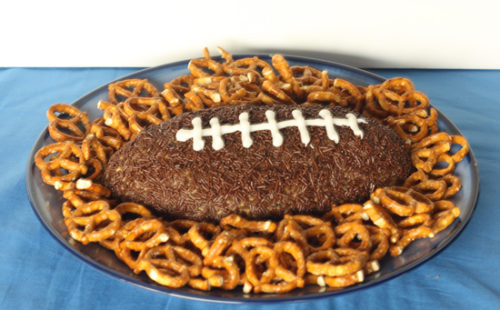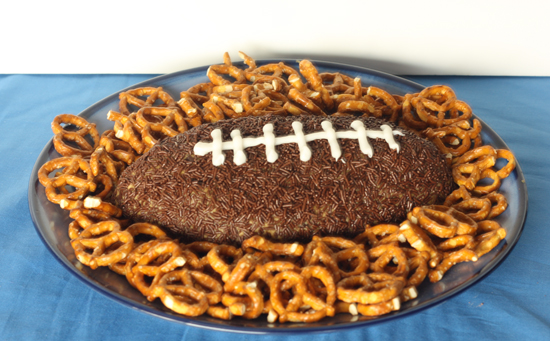 Thank You For Printing This Recipe! Visit Us Again Soon!
Recipe Page: http://www.couldntbeparve.com/recipe/peanut-butter-football-dip/