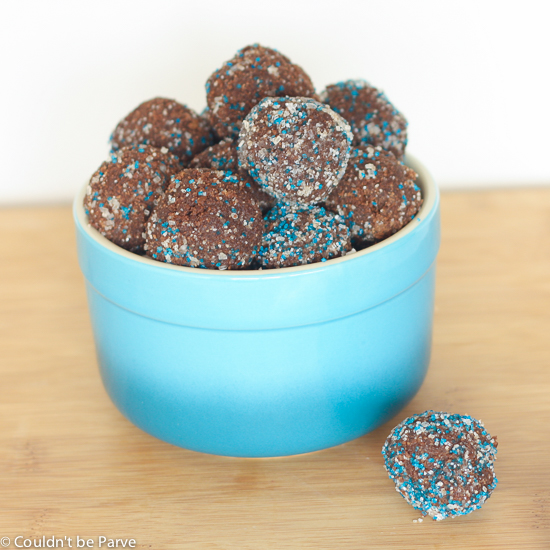 Today is Yom Haatzmaut, Israel's Independence day, so I thought it was the perfect time to share this easy and tasty treat. Kedurei Shokolad (Chocolate Balls), which I promise are more delicious than they sound, are a quintessential Israeli treat. They may not be what most tourists think of when asked about Israeli dessert treats, since they are something that is usually made at home with kids rather than sold in stores, but they are part of the fabric of an Israeli childhood.
Made out of crushed cookies and chocolate, Kedurei Shokolad have a similar texture to a rum ball. They are usually coated in a sprinkles which makes them look festive and gives the outside a nice crunch. Since the texture of the kedurei shokolad reminds me of rum balls I decided to kick these up a notch by adding a splash of liquor. I love the combination of chocolate and orange so I added a bit of orange as well. The result is delicious, the perfect bite sized indulgence. It isn't fancy, but it sure is tasty.

Kedurei Shokolad (Israeli Chocolate Balls)
Ingredients
1 ½ cups (150g, 5.3 oz) chocolate wafer crumbs
¼ cup (2 oz) margarine
3 oz chocolate, melted
2 tablespoons (1 oz) Sabra Chocolate Orange Liquor*
1 tablespoon orange juice concentrate
¼ c (2 ounces) sugar
Sprinkles for rolling
Preparation
Combine all the ingredients in a large bowl. Stir until well combined (it is easiest to use your hands.) Roll the mixture into one inch balls. Roll each ball in sprinkles. Store in an airtight container for up to three days.
*To make these non-alcoholic leave out the Sabra and add an additional two tablespoons orange juice concentrate and two tablespoons of sugar
http://www.couldntbeparve.com/2015/04/kedurei-shokolad-israeli-chocolate-balls/
Copyright Couldn't Be Parve
{ 0 comments }