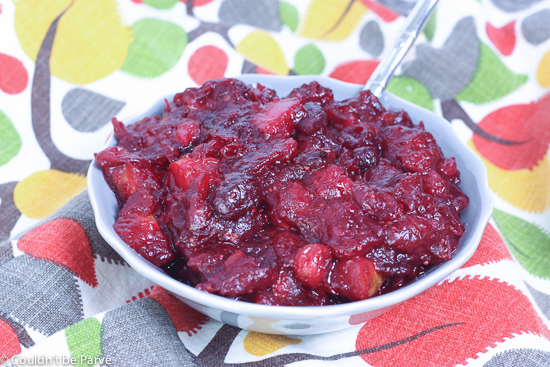 Cranberry Pear Lime Sauce
Ingredients
4 cups (20 ounces) diced ripe pear
18 oz fresh or frozen cranberries
3/4-1 cup sugar (6-7.5 ounces), depending on the sweetness of the pears
1 packed tablespoon finely grated lime zest
3 tablespoons (1.5 ounces) fresh lime juice
1 teaspoon ground ginger
Preparation
Combine all the ingredients in a large pan or wok. Place the pan over medium heat. Stir frequently until the liquid comes out of the pears and the sugar melts. Then stir occasionally until the pears are soft and the cranberries have burst, approximately 20-30 minutes. Serve warm or chilled.
(Can be made up to three days in advance)
http://www.couldntbeparve.com/2015/11/cranberry-pear-lime-sauce/
Copyright Couldn't Be Parve
I know that it is already Thanksgiving, but if you have time to squeeze in one more cranberry sauce I highly recommend this one. As you may have noticed, I have barely had time for blogging lately, but this cranberry sauce is so delicious I wanted to make sure to get it out there.
The flavors in this sauce are based on a cranberry sauce I made many many years ago, back when I was in college. I decided I wanted to start canning things for fun, but of course I decided that in the late fall in Providence. What that meant was that I had no fresh summer produce available to make things like marmalades or jams so I had to settle for making and canning foods that were easily available in the fall. And that meant a lot of cranberries. (That was the year my roommate and I went through thirty pounds of cranberries. No exaggeration. Everything had cranberries in it, even the kugel). Well, one of my favorites of the cranberry sauces was one that was a combination of cranberries, pears, and lime, with a kick of ginger. But of course I lost the recipe.
{ 0 comments }