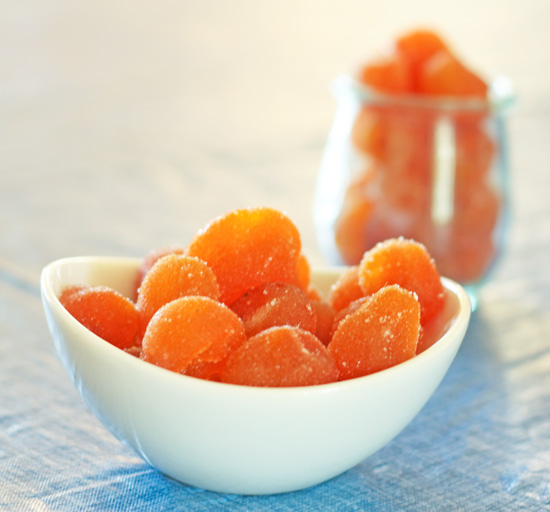 Well it appears to be kumquat season around here again. My parents' kumquat tree has sagging branches from the hundreds of pounds of kumquats just waiting to be picked. I am the one who is always tasked with turning the bounty into delicious kumquat treats (but I also always seem eat so many of them my tongue starts to tingle. You would think I would learn, but they are just so good!) I actually have no idea when the official kumquat season is, since my parents' tree seems to ripen in different seasons different years. For us kumquat season is whenever the tree says so. And that is now.
While I usually cook most of the kumquats into various marmalades or experiment with fun recipes like kumquat pate de fruit or marshmallows, I always make sure to make a few batches of sweet candied kumquats. They are wonderful to have around as a quick treat or as a component in a more complicated dessert. In addition, candied kumquats are like glistening gems, the candying process makes them so pretty, which makes them a great gift. When I lived in Israel I used to buy candied kumquats in large quantities from the shuk because they reminded me of home (I spent a lot of time in the gym that year to offset my sugar consumption!) and now whenever I eat them I think of Israel. Funny how the associations of a food can change like that with time.
I have tried many different methods of candying kumquats over the years and my favorite are the Chinese style candied kumquats. They come out with a bit more complex finished flavor and the texture is perfect. The method is a bit more of a hassle than some of the other methods of candying, it requires multiple heating and cooling periods. I always double the recipe because the candy keeps well. To me it is worth it to get the perfect kumquat but I realize that my patience for fussing with candy making may be more extreme than most so I am including an easier method as well. Either way, the candied kumquats are sure to be a huge hit.