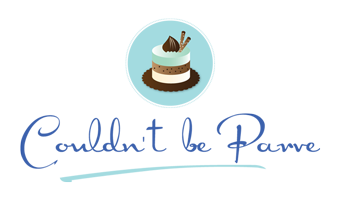 Coffee Ice Cream and How to Make Great Ice Cream without an Ice Cream Maker
November 15, 2011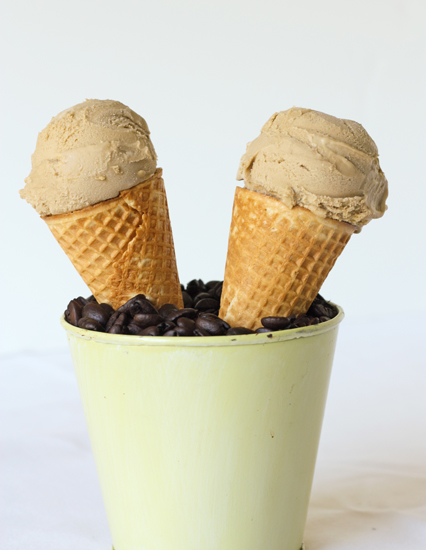 [donotprint]I am not in complete denial. I do realize that it is already the middle of November and I should be posting recipes for all kinds of delicious fall treats made with warming spices. Or pumpkin. Or at least something in the pie family that would fit in nicely at a Thanksgiving feast. Yet here I am posting about ice cream. Why? Because I firmly believe that ice cream knows no season. Sure the heat of summer makes us crave the cooling sweetness of ice cream, but it is perfect for winter too. (Especially if you live in an overheated apartment building like we used to, when winter is when you crave cooling treats.) And this coffee ice cream is too good not to share. Not to mention how delicious it would be served with a slice of warm pecan pie (although cinnamon ice cream is pretty delicious on pecan pie too).
This coffee ice cream is creamy and delicious. The coffee flavor is intense but not at all harsh. It almost tastes like Vietnamese coffee with a milky sweetness tempering the intense coffee flavor. With all that creaminess no one will suspect its dairy-free. It was a big hit around here, that's for sure.
Although I believe that an ice cream maker is a crucial kitchen appliance I realize that not every feels the same way. I hate to think that people are missing out on all these delicious homemade ice cream recipes because of that, so over the summer I came up with a method of making ice cream without an ice cream maker that is almost as creamy as ice cream made using an ice cream maker. The key to making creamy, rather than icy, ice cream is to freeze the mixture as quickly as possible. The easiest way to do that at home (if you don't have access to things like liquid nitrogen) is to spread the ice cream base out over a large cookie sheet. The large surface area means it freezes quickly and a quick pulse in the food processor yields ice cream so creamy no one would guess it wasn't made in an ice cream maker. (It works for sorbet too) I have posted the step by step instructions below the coffee ice cream recipe. Homemade is so much better than store bought, especially when talking about parve ice cream, and now anyone can make it regardless of their ice cream maker status.
[/donotprint]
[print_link]
Coffee Ice Cream
Makes approximately 1 1/2 quarts
1 cup soy powder
1/2 cup oil
3 cups almond milk
3 tablespoons good quality instant coffee or espresso (I like Elite brand)
1 cup sugar
pinch of salt
6 egg yolks
In a medium saucepan whisk together 2 cups of almond milk, soy milk powder, oil, sugar and salt. Place the egg yolks in the bowl and whisking to combine. Whisk in the instant coffee. Set the bowl next to the stove. Place the remaining cup of almond milk in another medium bowl and set the strainer on top. Set aside. Heat the almond milk mixture until warm.
Slowly stream the warm mixture into the egg yolks while whisking constantly. Scrape the warmed yolk mixture back into the pan and cook over medium heat stirring constantly with a heatproof spatula. Make sure to scrape the bottom of the pan with the spatula while stirring. Cook until the mixture thickens and coats the back of the spatula. Pour the custard through the strainer into the remaining almond milk. Place the bowl over an ice bath and stir until cool.
Chill the mixture thoroughly in the refrigerator and then freeze in a ice cream maker according to the manufacturers instructions.
Note: The ice cream will get harder as it sits in the freezer so it has been in the freezer a while let it sit out for 5-10 minutes to soften it before serving in order to get the best texture.
How to Make Ice Cream without an Ice Cream Maker

Make ice cream according to the directions in the recipe, making sure to chill the mixture at least several hours but preferably overnight. Line two rimmed cookie sheets with plastic wrap. Pour half of the mixture onto each pan and freeze until completely firm. Remove one pan from the freezer. Working quickly, peel the ice cream off the plastic and break into medium-large pieces. Place them in the bowl of a food processor fit with a metal blade. Process until the ice cream is the texture of soft serve. Place in a container and freeze until firm. Repeat with the remaining ice cream. If making a recipe with a mix-in, such as cookie dough, fold the mix-in into the ice cream after removing it from the food processor.
Recipe Updates – Delivered Fresh!
Thank You For Printing This Recipe! Visit Us Again Soon!
Recipe Page: http://www.couldntbeparve.com/recipe/coffee-ice-cream-and-how-to-make-great-ice-cream-without-an-ice-cream-maker/