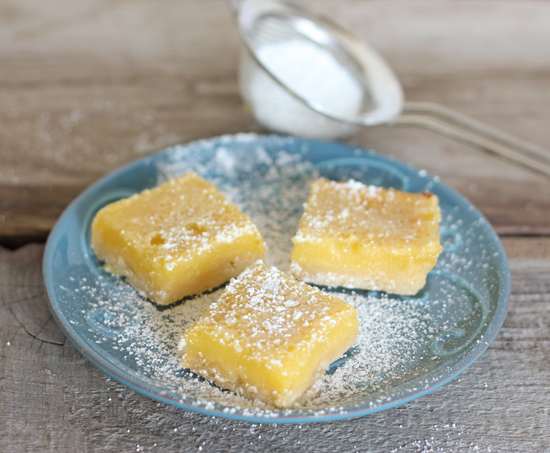 Gluten-free Lemon Bars
June 10, 2014
I have been making a lot of gluten-free lemon bars lately. Every week I ask my son what gluten-free shabbat treat he would like for synagogue and almost every week he answers "lemon bars." Occasionally he asks for lemon cupcakes, but usually it is lemon bars. This is the same kid who has asked for a lemon cake for his birthday party every year since he was two, so I guess I shouldn't be surprised when he repeatedly chooses lemon over chocolate. I happen to love lemon bars so I certainly don't mind making them on a regular basis.
After a bunch of experimentation with different recipes I finally landed on a recipe that I will use from now on. I tried all kinds of recipes that didn't have any flour in the filling because I thought those would turn out the best when made gluten-free. They were all fine but the lemon part had more of a lemon curd texture than the firmer sliceable texture I wanted from a lemon bar. It turns out the best recipe was under my nose all the time. I finally did what I should have in the first place and tried substituting gluten-free flour in the Smitten Kitchen lemon bar recipe. And it came out perfectly. A rich crisp crust topped with a tangy lemon filling that is lusciously smooth and totally addictive.
Now I do a lot of gluten-free baking so I have quite a collection of gluten-free flours in my pantry at all times. I enjoy experimenting with different flours and different blends for different types of recipes. But sometimes I just want to take out a bag of flour and bake something without having to worry about ten different containers of flours. In the past I haven't loved any of the pre-made gluten-free mixes so I always make my own, but now I have found a mix that works so well I find myself reaching for it more and more often.
The Authentic Foods Multi-Blend Flour is wonderful for cakes and cookies. (Thanks Sandi for introducing me to it)! It is a bit starchier than I like for general use but is perfect for treats. It can simply be substituted by weight for the wheat flour in many recipes with delicious results. (3/4 cup of the gluten-free flour can be substituted for a cup of wheat flour if not baking by weight. But I really really think everyone should bake by weight. It is so much easier, I promise) If you want to make these lemon bars and do not want to use the mix they will still come out fine if you substitute BY WEIGHT any mix of flours that is about 60% whole gran and 40% starch, and add 1/2 teaspoon of xantham gum.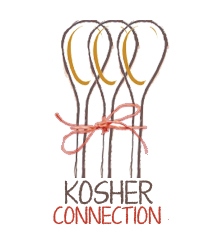 Search the Kosher Connection
The Kosher Connection is a group of Kosher Foodies that share ideas, recipes and culinary experiences together. This custom search widget allows you to search recipes from these bloggers