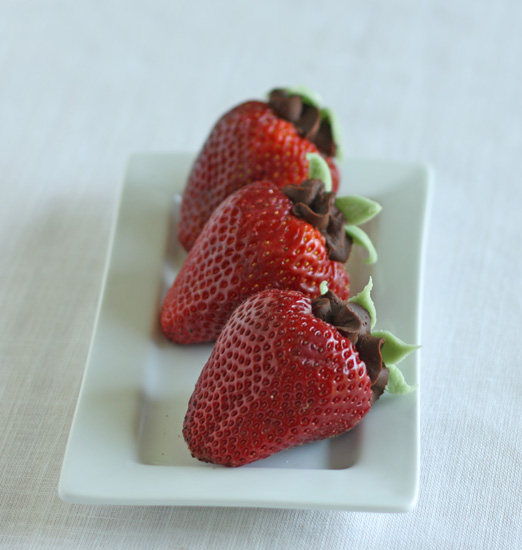 Ganache Filled Strawberries
May 24, 2011
Over the past few weeks I have been completely blown away by the amazing strawberries at the farmers market. Not only are they delicious, they are also absolutely enormous. Some of them are literally as big as an average sized lemon. These giant strawberries made me aware of something that I hadn't realized before. Strawberries naturally grow with a hollow space inside. With normal sized berries this space is barely noticeable. However, once I cut the stems off these giant berries there was a void just begging to be filled with something delicious. So I made some chocolate ganache to put inside. And then they still looked a bit plain on top, so I made some marzipan leaves to go with them.
I love the way the almond of the marzipan compliments the chocolate and strawberry flavors, but mostly I love these because they are elegant and fun at the same time. I served them as part of an assorted dessert buffet and they were a big hit. While we still will be eating most of the amazing strawberries we get from the market plain and unadorned, I will be making these often throughout strawberry season as a quick and delicious dessert.
Ganache Filled Strawberries
Makes 24-26 giant strawberries
12 oz chocolate, finely chopped
7.5 oz Thai style coconut milk
26 of the largest strawberries available
marzipan, tinted light green for the stems
Line a shallow baking dish with plastic wrap. Place the chocolate in a large heatproof bowl. Heat the coconut milk until it is just boiling. Pour the coconut milk over the chocolate and let stand for five minutes. Gently whisk the mixture until it is smooth and glossy and the chocolate is completely melted. Pour the ganache into the prepared dish and let sit at room temperature until set, at least two hours.
Using a paring knife carefully cut the stem out of each strawberry, removing any of the white part that remains in the middle.
Remove the set ganache from the pan, remove the plastic wrap, and place in the bowl of an electric mixer fit with a whisk attachment. Whip the ganache until light and fluffy. Transfer the ganache to a pastry bag with a large tip. (A ziplock bag with the end cut off works well too) Pipe the ganache into the center of the strawberry. (These can be made up to 4 hours in advance. Store, covered, in the refrigerator and return to room temperature before serving.)
Roll out the marzipan on a surface that is lightly dusted with powdered sugar. Using a five petal flower cutter cut out 26 stems (It may be a good idea to make a few extras in case some break. These can also be made up to a day in advance. Store them in a single layer in an airtight container)
Using a dowel or a bone tool press the middle of the marzipan cutout down into the ganache. Serve.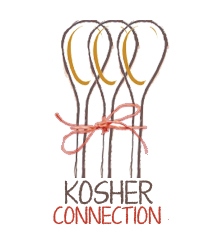 Search the Kosher Connection
The Kosher Connection is a group of Kosher Foodies that share ideas, recipes and culinary experiences together. This custom search widget allows you to search recipes from these bloggers