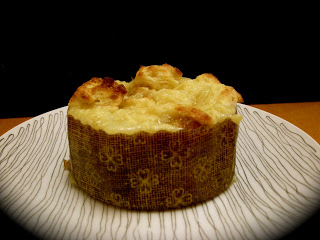 Banana Fosters Bread Pudding
August 4, 2008
It is said that on Shabbat each person gets an extra soul that stays with him throughout the day. It is my theory that the extra soul is the one that gets the calories on Shabbat, and it takes them with it when it leaves. With that theory, there is always room for dessert on Shabbat!
Earlier this week I had made a batch of David
Lebovitz's
easy chocolate ice cream. For my taste it was a bit too boozy to eat in large quantities by itself, so I wanted a dessert for
Shabbat
that would pair nicely with a small scoop. Bananas, chocolate and rum are always a winning combination, so I decided to make a banana bread pudding to go with the ice cream.
The bread pudding turned out delicious, rich and custardy with the right amount of banana flavor. I am a big fan of using coconut milk in parve desserts, and it this recipe it worked perfectly. The coconut flavor was very subtle, and paired nicely with the banana flavor.
The flavor of the bread pudding was a bit too subtle to stand up to the strong ice cream, so we ended up scraping the ice cream off and eating them separate. All in all, a delicious end to a wonderful shabbos meal.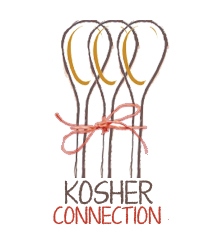 Search the Kosher Connection
The Kosher Connection is a group of Kosher Foodies that share ideas, recipes and culinary experiences together. This custom search widget allows you to search recipes from these bloggers