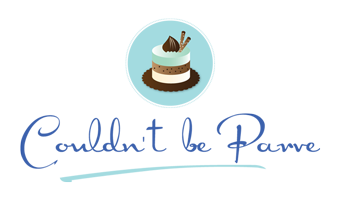 Win a Chanukkah Cookie House Decorating Kit
December 1, 2012
A few weeks ago I was lucky enough to attend Kosherfest, an exhibition of thousands of kosher food products and companies from all over. I found all kinds of great stuff there, from Kosher facon to great desserts and everything in between. I look forward to sharing some of my discoveries here on my blog in the coming months, there is a lot of exciting Kosher food to be eaten, that is for sure, from companies both new and old. One of the surprise highlights for me was the Manischewitz booth. When I think Manischewitz I tend to think of very traditional offerings, but I was pleasantly surprised by all the new exciting things they had on display. I am especially looking forward to Pesach this year (red velvet macaroons and chocolate covered potato chips anyone?). One of the fun things they were debuting was a decorate your own Hanukkah house kit. I knew my kids would love making it with me so when they offered to send me a sample I jumped at the chance.
Now this post is a bit of a departure for me. I am open to doing product reviews on my blog when they are things that will be relavant to my readers, but this is the first time I am posting something that is not strictly parve. The house decorating kit is certified Kosher dairy, although it does not contain any actual dairy products. I thought about it long an hard and in the end decided that many of you might be interested in hearing about this fun Hanukkah activity so I decided to post it. On Chanukkah there is a tradition of eating dairy so if there every is a time for a dairy dessert this is it. Also, the house is so much more about the building than the eating, so even if you don't eat it in the end the activity is still tons of fun.
So what did we think of the house? My kids and I had a blast putting it together. The frosting holds the house together surprisingly well and we didn't have any problems geting it to stand up. The kit comes with everything you need to decorate the house, including an adorable sugar mezuzzah. (If you look closely at my house you will see there is no mezuzzah. My little one took it off the door and ate it while the older one and I were distracted decorating the roof). I had a bit of trouble piping the frosting neatly because I cut too big a whole in the bag, but once I transfered it to another piping bag it worked great. This is definitely something I would make a yearly tradition.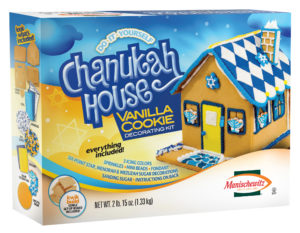 Even more fun, Manischewitz is hosting a Chanukkah House contest. Simply upload a picture of your finished house to their facebook site by December 15th and you could win $500. Now, since my five year old did most of the decorating, I don't think our house is going to win any prizes but that doesn't mean one of you can't win. The generous people at Manischewitz have offered to send one lucky reader their very own Chanukkah House Kit. All you have to do is leave a comment with your favorite Chanukkah treat by Wednesday December 5th at 11:59 pm PST.
a Rafflecopter giveaway

Disclaimer: I received the Chanukah House Kit for free but all views and opinions in this post are my own.
Recipe Updates – Delivered Fresh!
Thank You For Printing This Recipe! Visit Us Again Soon!
Recipe Page: http://www.couldntbeparve.com/recipe/win-a-chanukkah-cookie-house-decorating-kit/