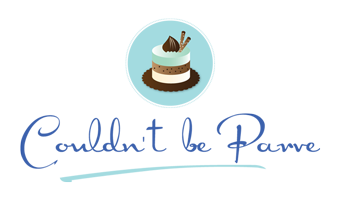 S'more Cupcakes
May 20, 2009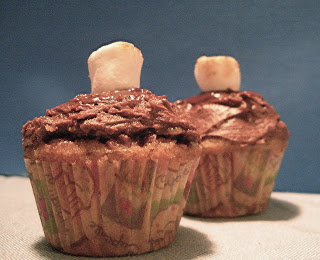 As I mentioned in my last post, once I had made graham cracker cupcakes my mind immediately turned to smores. I had some extra batter left over from baking the bases for the ice cream cupcakes, and decided to make mini cupcakes (mostly because I had cute new mini cupcake papers I wanted to use).
The cupcakes themselves were moist and deliciously graham crackery in flavor. Since it is often difficult to capture the illusive flavor of graham crackers in other baked goods I wanted to make sure the flavor was identifiable to someone who didn't know what it was supposed to be. My husband's description of the flavor without any prompting was "It tastes like Golden Grahams" which is close enough for me. A spread of chocolate buttercream and a toasted marshmallow on top and we were enjoying smores in cupcake form.
Graham Cracker Cupcakes (adapted from Vanilla Garlic)
Makes 12-14 full size cupcakes
Ingredients:
1/2 cup margarine
1 cup sugar
3 eggs, room temperature
1 cup soy milk
1 cup flour
1 1/2 cups graham cracker crumbs
1 teaspoon baking soda
1 teaspoon baking powder
1/8 teaspoon salt
Preparation:
Preheat the oven to 375.
Cream the margarine and sugar in the bowl of an electric mixer until light and fluffy, about 3 minutes. Add the eggs, one at a time, beating well after each addition.
Sift together the flour, graham cracker crumbs, baking soda, baking powder and salt. Add 1/4 of the flour mixture to the butter, then add 1/3 of the soy milk. Continue alternating the dry and wet ingredients, mixing after each addition and ending with the dry. Continue to mix until just combined.
Scoop into cupcake papers or a well greased muffin tin and place in the over. Immediately turn the temperature down to 350 and bake for 15-18 minutes or until a tester comes out clean. Let cool completely.
Chocolate Buttercream
Ingredients
1/2 cup margarine
1 oz solid vegetable shortening
5 oz toffuti cream cheese
3/4 lb 10X confectioners' sugar
3/4 oz good quality cocoa powder
1 Tablespoon chocolate liqueur (purchased or homemade)
1/2 teaspoon vanilla
1 teaspoon meringue powder
4 oz bittersweet chocolate, melted and cooled
Preparation:
Cream butter, shortening, and cream cheese together for 3 minutes. Stop and scrape the bowl. Cream for an additional 60 seconds. Sift the sugar and cocoa powder together. Beat sugar mixture 1 cup at a time into the margarine mixture.
Add the liqueur, vanilla and meringue powder.
Beat for a minute or two making sure the ingredients are throughly incorporated.
Add the melted chocolate and beat until combined.
To Assemble the Cupcakes: Spread the top of each cupcake with the chocolate buttercream. Top with a marshmallow and toast the marshmallow with a kitchen torch.
Recipe Updates – Delivered Fresh!
Thank You For Printing This Recipe! Visit Us Again Soon!
Recipe Page: http://www.couldntbeparve.com/recipe/while-we-are-on-topic/