Watermelon Basil Granita
August 22, 2010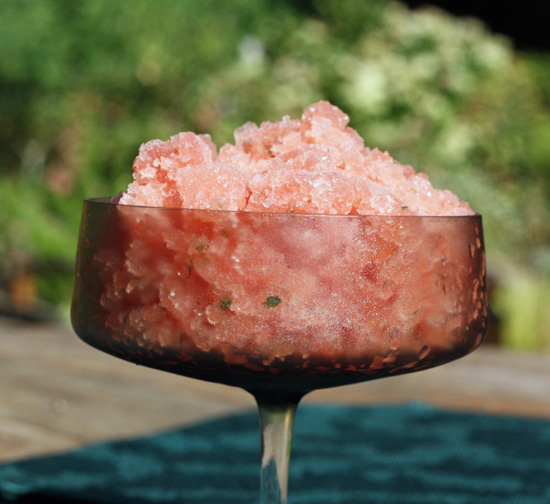 One of my favorite things to cool off with in the summer is a snow cone. Tiny crystals of ice bathed in sweet syrup is pure refreshment down to the last bite. I am not crazy about all the artificial things you find in most snow cones, but I still buy one every chance I get. I spent most of my first pregnancy craving snow cones. Since they are not all that easy to find in most places I only had one that whole summer. When Deb from smitten kitchen pointed out last summer that granitas are essentially the same thing, only natural and homemade, I could have kicked myself. All that flavorful frozen goodness I could have been enjoying if only I didn't always pass up granita recipes in favor of richer desserts! This summer I decided it was time to rectify my mistake. When I brought home a watermelon from the farm stand only to realize that my dad had bought one as well, watermelon seemed like a good place to start.
This watermelon granita is very refreshing. Not too sweet, it is perfect for cooling off on a hot summer's day. I love the depth of flavor that the basil gives it, but for the less adventurous you could leave it out or substitute mint instead. It would also make a nice palette cleanser between courses.
Recipe Updates – Delivered Fresh!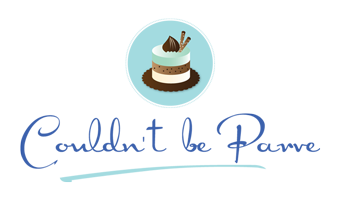 Ingredients & Instructions
Ingredients & Quantities
4 cups seedless watermelon chunks
1/2 cup sugar
Juice of 1 lime
2 small basil leaves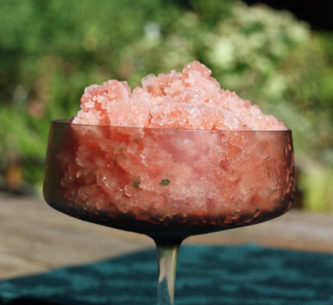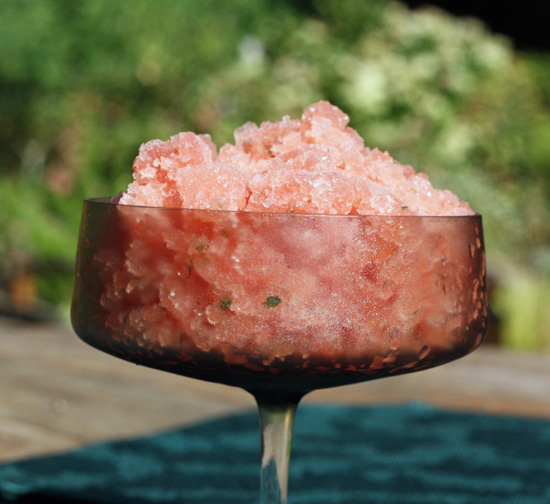 Cooking Instructions
Combine all ingredients in a food processor. Puree until smooth. Pour into a shallow, wide pan and freeze for 1 hour. Rake mixture with fork and freeze for another hour. Rake and freeze for one more hour. Rake and serve in cups.
Thank You For Printing This Recipe! Visit Us Again Soon!
Recipe Page: http://www.couldntbeparve.com/recipe/watermelon-basil-granita/