Tu B'Shevat Macarons
February 8, 2012
Today is Tu B'shevat, the Jewish new year of the trees, this year. As a child we always planted a new tree in the backyard every year on Tu B'Shevat and now that we live in California I am continuing that tradition with my children. Last year we planted concord grape vines and this year we planted a cherry tree. We are going to have a small celebration today enjoying all the fruits of Israel, but I wanted to make something that wasn't just fruit as well. (We are also making these because my son loves almond paste)
Almonds are traditionally associated with Tu B'Shevat because the almond tree is blooming this time of year in Israel so I knew I wanted to make something with almonds. I decided this was the perfect opportunity for me to get over my fear of French macarons and make some with Tu B'Shevat inspired fillings. These are not the heavy dense coconut macaroons that come in a can at pesach. They are delicate almond cookies that seem to hold infinite possibilites when it comes to flavor combinations. I am always inspired by the beauty of the macarons that I see people post, but I have been intimidated to try them because they are notoriously finicky. I had attempted them once more than a year ago and they were a total failure. Flat sticky disks with not a foot to be seen. It was enough to scare me off for a while, but I couldn't let macarons defeat me permanently so I took the plunge and tried again.
I decided to make my macarons using the italian meringue method because it makes the batter a bit more stable and that makes the process easier for a macaron newbie like me. I used this recipe from Dessert First and they came out well. I was so worried about overmixing the batter that I ended up under-mixing it a bit which is why my macarons have a bit of a nipple sticking up (yes, it's really called that). But I did get nice feet, so all in all I was pretty happy with this attempt. And now that I have gotten close to it working I can't wait to try again and perfect the method. I can't wait to try all different flavors!
I am not posting the macaron recipe since I followed this one exactly and it includes a good tutorial on how to make them, but I am posting the filling recipes I used. Since it is traditional to eat fruits from the seven biblical species (figs, pomegranate, date, olives, grapes, wheat and barley) I decided to make both pomegranate and fig fillings. The pomegranate ganache has a bit of a tangy flavor from the tart pomegranate juice but the pomegranate flavor is somewhat subtle so I added a few fresh pomegranate seeds to each macaron and it was perfect. The honeyed fig jam recipe makes quite a bit more than is needed for the macarons but the leftovers keep for a while in the fridge and it is delicious with toast. (Or, if not worrying about parve as part of a sandwich with goat cheese) It also makes a fantastic hamentashen filling if you can keep it around that long.
Recipe Updates – Delivered Fresh!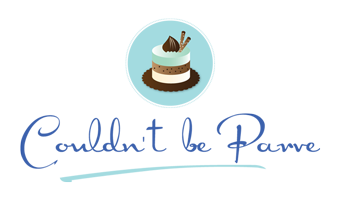 Ingredients & Instructions
Ingredients & Quantities
Pomegranate Ganache Filling
(Makes enough for approximately 12 macarons. If using only ganache to fill a whole batch of macarons, triple the recipe.)
2 tablespoons pomegranate concentrate (see below)
2 tablespoons Thai style coconut milk*
2.5 oz finely chopped semisweet chocolate or good quality chocolate chips
pomegranate seeds (optional)
Pomegranate concentrate
1 cup pomegranate juice
2 tablespoons sugar
Honeyed Fig Jam
(makes approximately 1 1/2 cups)
1 cup dried mission figs, tough stem removed
2 cups water
2 3-inch pieces orange zest
1 3 inch cinnamon stick
½ cup honey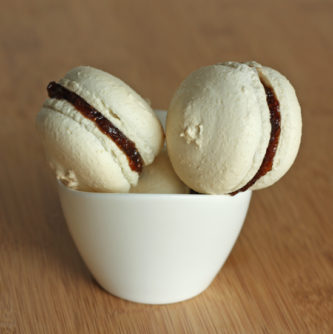 Preparation Instructions
Pomegranate concentrate
Combine the pomegranate juice and sugar in a 4 cup pyrex measuring cup. The mixture will boil up quite a bit as it cooks so do not use a smaller measuring cup. Microwave the juice on high for 10-15 minutes, or until it is reduced to 1/4 cup and slightly syrupy. (This can also be done in a pan on the stovetop, but using the microwave makes it very easy to see when it has reduced far enough.)
Cooking Instructions
Pomegranate Ganache Filling
Place the chocolate in a medium bowl. Combine the pomegranate concentrate with the coconut milk and bring the mixture to a boil. Pour the pomegranate mixture over the chocolate and let stand for five minutes. Whisk to throughly combine. Chill the ganache until thick, at least one hour. Let the ganache return to room temperature before filling macarons. (can be made up to one week ahead, store in an airtight container in the refrigerator)
To fill the macarons spread a small amount of the ganache on one of the macaroons. Add a few pomegranate seeds (if desired) and top with another macaron. (If using the fresh pomegranate seeds spread a thin layer of the ganache on each macaron side to keep the moisture of the seeds from dissolving the shell).
Honeyed Fig Jam
Combine all the ingredients except the honey in a saucepan. Simmer for approximately 20 minutes or until the liquid is reduced by half. Remove the cinnamon stick, transfer the mixture to a food processor or blender, and puree until smooth.
Return the mixture to the pan and stir in the honey. Cook over medium heat, stirring very frequently, until the mixture has the consistency of jam. To test it place a plate in the freezer with a dab of jam. Once the jam has cooled it should wrinkle slightly when pushed with a finger.
Remove the jam from the heat and transfer to a clean jar. Store in the refrigerator.
Thank You For Printing This Recipe! Visit Us Again Soon!
Recipe Page: http://www.couldntbeparve.com/recipe/tu-bshevat-macarons/