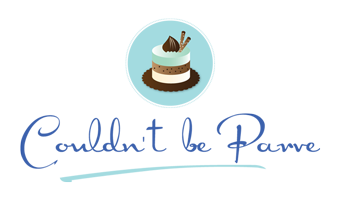 Banana Cupcakes with Cream Cheese Frosting
December 4, 2008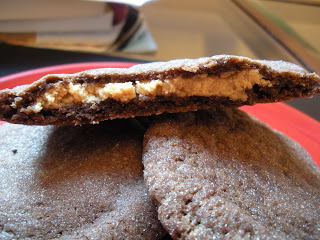 Over the past week I have been doing so much baking I haven't even had time to blog about it. Besides all of the thanksgiving baking that happened over the past week, a friend hired me to make the desserts for a lunch 'n learn she taught yesterday. I had so much fun doing it! I got to pretend for a few days that I was baking professionally, and I have to say I might have liked it a bit too much. I am itching for another opportunity to come my way so that I can break out the flour and sugar and get baking again.
I made an assortment of cookies, bars and mini cupcakes. They were all well received, but the favorites seemed to be the banana cupcakes with cream cheese frosting and the "magic in the middles" cookies, chocolate peanut butter cookies with a peanut butter filling. The cupcakes came out very cute, but this picture doesn't show that so well. Sorry.


The banana cake is dense and moist and absolutely delicious. I know some people like a light springy cake, but I love the intense banana flavor of this cake. It is based on the recipe for banana chocolate streusel cake in Kosher by Design Entertains and is my absolutely favorite banana cake recipe. It also doesn't hurt that the entire thing is made in one bowl. The original cake has chocolate streusel sprinkled through the batter and on top, and it is a great homey dessert. My husband considers it his favorite cake, and it doesn't even require the additional work of making a frosting and decorating it. For this I wanted something a bit more elegant so I baked it into cupcakes and frosted it with a cream cheese frosting. The frosting pushed these over the top, from delicious to divine. I highly recommend them.
Banana Cupcakes (adapted from Kosher by Design Entertains)
Ingredients:
4 ripe bananas, mashed
1 cup (2 sticks) margarine, melted
2 cups sugar
2 large eggs
1/2 cup low-fat mayonnaise
1/2 cup soymilk
1 teaspoon baking soda
3 cups all-purpose flour
1/8 teaspoon salt
1 teaspoon vanilla
Preparation:
Preheat oven to 375. Line muffin tins with cupcake papers.
In the bowl of an electric mixer place the mashed banana. Add all the rest of the ingredients and beat until combined.
Fill cupcake papers 3/4 full. Place in the oven and immediately reduce the temperature to 350.
Bake 12 minutes for mini muffins 20-25 for full size muffins.
Cream Cheese Frosting
Ingredients:
1/2 cup margarine
1 oz solid vegetable shortening
5 oz toffuti cream cheese
3/4 lb 10X confectioners' sugar
1/2 teaspoon vanilla
1 Tablespoon lemon juice (more to taste)
1 1/2 teaspoon meringue powder
Preparation:
Cream margarine, shortening, and cream cheese together until well mixed.
Stop and scrape the bowl. Sift the sugar. Beat sugar 1 cup at a time into the margarine mixture.
Add the lemon juice, vanilla and meringue powder. Beat for a minute or two making sure the ingredients are throughly incorporated. Add more lemon juice to taste to give the frosting the desired level of tanginess.
Note: This is a half recipe, which is about 1 qt of frosting. If making a layer cake, double the recipe.
Recipe Updates – Delivered Fresh!
Thank You For Printing This Recipe! Visit Us Again Soon!
Recipe Page: http://www.couldntbeparve.com/recipe/too-much-baking-to-blog/