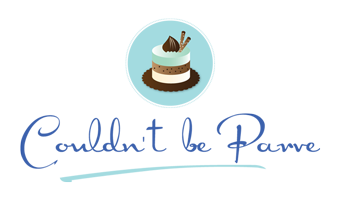 Lemon Macadamia Nut Cookies
February 5, 2010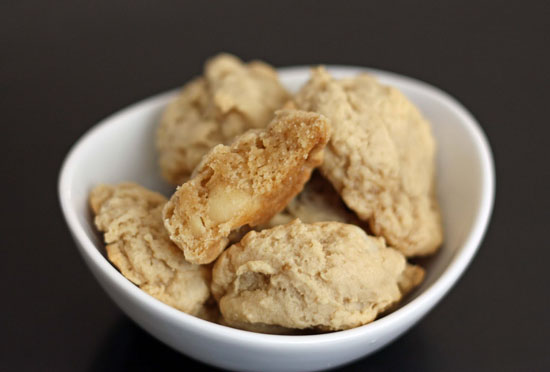 There is nothing like reorganizing the pantry to set me going in the kitchen. I have a bad habit of making shopping lists without checking the pantry first and then buying things impulsively when I am in the store. That is why in the reorganization I found things like three entire bags of dried chick peas. And a dozen cans of tomatoes. I keep buying them meaning to cook them then a few weeks later will forget about them and buy more. In an effort to make a dent in all the stored food around here we had chana masala for dinner.
More exciting than the chickpeas and a canned tomatoes was a bag of macadamia nuts that I found hiding behind the pistachios since my last trip to Trader Joe's. As soon as I saw them all I could think of was making macadamia nut cookies. Because parve white chocolate isn't as delicious and luscious as real good quality white chocolate my plan was to take a white chocolate macadamia nut cookie recipe and use other additions instead of the white chocolate. Imagine my shock when I turned to my handy Mrs. Fields cookie book (the first cookbook I ever owned myself) and found that there wasn't a recipe for white chocolate macadamia nut cookies. I was surprised because I remember the original Mrs Fields store in Palo Alto (before it was an international franchise) and I know they sold them. Maybe they weren't popular enough to make it into the book. However, there was a recipe for lemon macadamia nut cookies that caught my eye, especially since it didn't even call for white chocolate.
The cookies are very tasty. I like the contrast of the lemon flavor with the rich macadamia nuts. My cookies didn't spread at all, which is why I am calling them "tasty lumps". They stayed pretty much exactly the shape they were when I put them on the cookie sheet. For some reason the last 6 cookies I made (the ones that didn't fit in the oven with the first batch) spread more and looked like the ones in the picture so I don't know if it was a temperature thing, or just because of the type of margarine I used to make them parve. They weren't my favorite cookie, by any means, but they were a nice change. (Maybe the original version is better than my parve adaptation). In my opinion the cookies are best still slightly warm. I would make them again but next time will press the dough down a bit before baking to get a better shape. I used lemon oil to flavor them, but I bet they would be great with lime oil too.
Lemon Macadamia Nut Cookies
(Adapted from the Mrs. Fields Best Cookie Book Ever)
Yield: About 2 1/2 dozen
2 cups all-purpose flour
1/2 teaspoon baking soda
1/4 teaspoon salt
1 cup (packed) light brown sugar
1/2 cup sugar
1/2 cup (4 oz) salted margarine (I used earth balance organic whipped buttery spread)
4 oz tofutti cream cheese, softened
1 large egg
2 teaspoons lemon extract or 1/2 teaspoon lemon oil
7 oz whole roasted salted macadamia nuts (about 1 1/2 cups)
Preheat the oven to 300. In a medium bowl whisk together the flour, baking soda and salt.
Place both sugars in the bowl of the electric mixer and beat until combined. Add margarine and cream cheese and beat until the mixture forms a smooth paste. Add the egg and lemon extract and beat until combined. Add the flour mixture and macadamia nuts and mix on low speed until just combined.
Line two cookie sheets with parchment paper. Drop tablespoon sized balls of cookie dough 2 inches apart on the cookie sheet. Bake for 18 to 20 minutes. Check after 10 minutes. If the cookies don't look like they are spreading press the tops down gently and continue cooking until set. They won't brown on top, but the bottoms will be lightly browned. Immediately move the cookies onto a wire rack and cool.
Recipe Updates – Delivered Fresh!
Thank You For Printing This Recipe! Visit Us Again Soon!
Recipe Page: http://www.couldntbeparve.com/recipe/tasty-lumps/