Strawberry Soup with Basil Cream and Pound Cake Croutons
May 20, 2013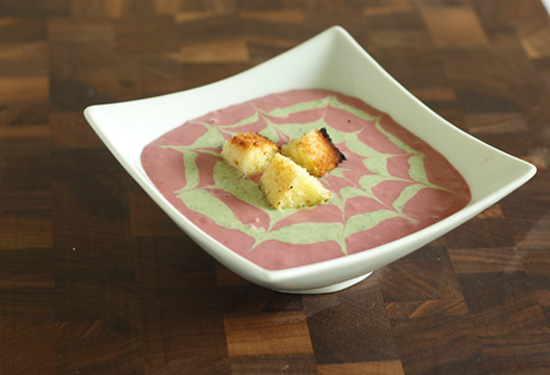 It sometimes surprises me how many strawberries we go through in my house durring the summer months. Most of them get eaten straight out of the baskets or pureed into smoothies and popsicles but I also love to play around with strawberries in all kinds of recipes from salads to jams to cakes. One of my most requested recipes is a strawberry soup with basil cream. The fusion of strawberries and basil is one of my favorite flavor combinations. This soup is deliciously unique. People are always surprised when I serve this refreshing strawberry soup as a first course and then go back for seconds, asking for the recipe.
I usually make the recipe dairy (I served more than six quarts of this soup over Shavout), but when I saw that the theme of this month's Kosher Connection recipe challenge was croutons I immediately knew that I wanted to make a sweeter parve version of my strawberry soup to serve with pound cake croutons as a dessert. It is nice, light, refreshing dessert, perfect for a summer lunch. All the components can be made ahead and just assembled when ready to serve. The parve version of this soup has a hint of coconut flavor from the coconut greek yogurt but it pairs nicely with the flavors of strawberry and lemon present in the soup. If you are a bit hesitant about the combination of basil and strawberries I recommend you try it, but if it isn't for you the soup is great without the cream as well.
Recipe Updates – Delivered Fresh!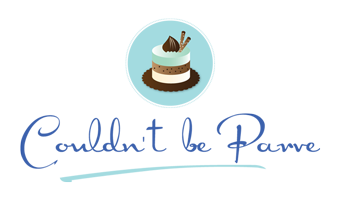 Strawberry Soup with Basil Cream and Pound Cake Croutons
Strawberry Soup with Basil Cream and Pound Cake Croutons
Ingredients & Instructions
Ingredients & Quantities
Strawberry Soup
2 lbs hulled strawberries
2 cartons (12 oz) plain coconut greek style yogurt
1/2 cup (4 oz) simple syrup, or to taste
2 teaspoons meyer lemon zest
Basil Cream
15 large basil leaves
2 tablespoons (1 oz) sugar
1/2 cup (4 oz) tofutti sour cream
Pound Cake Croutons
4 (3/4 inch) slices parve pound cake (such as this lemon one)
6 tablespoons (3 oz) sugar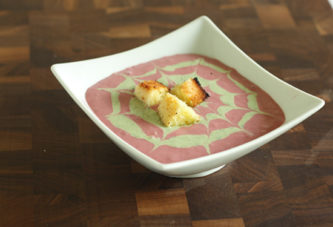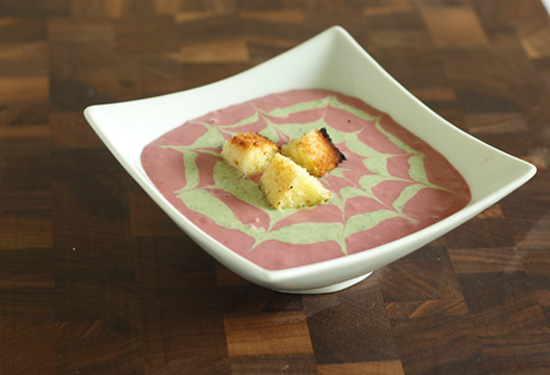 Preparation Instructions
To Make the Soup:
Combine the strawberries, simple syrup, lemon zest and coconut yogurt in a blender. Blend until smooth. Depending on the sweetness of the strawberries (and how sweet you want to make the soup) it may be necessary to add a bit more simple syrup. Taste the soup and add it a bit at a time until the soup is the desired sweetness. (If making it as a true dessert you may want to make it a bit sweeter than if serving the soup as a first course.) Strain the soup through a fine mesh sieve to remove the strawberry seeds and chill well until ready to serve.
To Make the Basil Cream:
Combine the basil and sugar in a food processor or blender and blend until finely chopped. (A smallish food processor works best for this). Add the tofutti sour cream and process until smooth. Chill until serving.
To Make the Croutons:
Preheat the broiler to high. Place the pound cake on a baking sheet and sprinkle 3/4 tablespoon sugar evenly over each of the slices. Broil for 1-2 minutes or until the sugar is melted and starting to brown. Keep a close eye on the cake to keep it from burning. Cool for a minute or two then flip the slices of cake over. Sprinkle with the remaining sugar and broil until the sugar is melted. Let cool then cut the cake into 3/4 inch cubes.
To Serve the Soup:
Pour the soup into serving bowls. Top with a generous dollop of the basil cream and a handful of pound cake croutons.
Recipe Yield
4-6 servings
Thank You For Printing This Recipe! Visit Us Again Soon!
Recipe Page: http://www.couldntbeparve.com/recipe/strawberry-soup-with-basil-cream-and-pound-cake-croutons/