Strawberry-Rhubarb, the Essence of Summer
July 24, 2008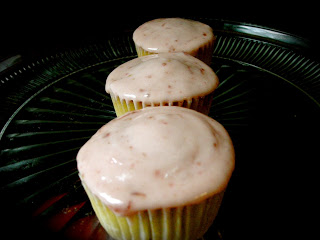 Ok, so maybe that is an exaggeration, but strawberry rhubarb happens to be one of my favorite flavor combinations of all time. Actually, it is really the rhubarb that I love. As a kid I used to eat it raw, straight out of the garden at camp. So when I saw fresh, local rhubarb in the store I couldn't resist. Making dinner for friends who recently had baby gave me an excuse to bake mid-week and these cupcakes were born.
I had seen a recipe for rhubarb muffins by The Parve Baker, and decided to convert the idea into a cupcake, topped with strawberry cream cheese frosting. The cupcakes tasted good, but did not have as much of a pronounced rhubarb flavor as I would have liked. Next time I will fill the cupcakes with rhubarb sauce before frosting them.
The frosting, however, was to die for. If it weren't so bad for me I would have eaten the frosting straight with a spoon and skipped the cupcake all together! Not bad for a parve frosting.
Recipe Updates – Delivered Fresh!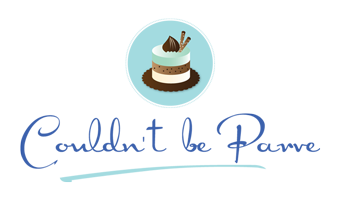 Ingredients & Instructions
Ingredients & Quantities
1 cup sugar
3/4 stick unsalted margarine
2 large eggs
1/2 teaspoon grated lemon peel
1/2 teaspoon vanilla extract
1 1/2 cups cake flour
1/2 teaspoon baking powder
1/2 teaspoon baking soda
1/4 teaspoon salt
1/2 cup + 2 tablespoons vanilla soy milk
1 teaspoon lemon juice 
1 1/2 stalks rhubarb, finely diced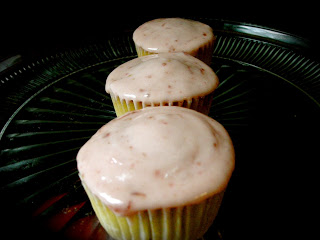 Preparation Instructions
Preheat the oven to 350 °F. In a small bowl combine the soy milk and lemon juice. Set aside to let it curdle. Using electric mixer, cream the sugar and margarine until well blended. Add eggs 1 at a time, beating well after each addition. Mix in lemon peel and vanilla. Sift flour, baking powder, baking soda and salt into medium bowl; add to mixer alternately with soy milk in 3 additions each, beginning with dry ingredients. Add rhubarb and mix until just combined.
Fill cupcake papers 2/3 full and bake for 20 minutes, until the tops spring back lightly when pressed. Transfer to rack and let cool.
Strawberry Cream Cheese Frosting
Ingredients
1/4 cup margarine (room temperature)
1  8 oz package toffuti cream cheese (room temperature
1/2 cup strawberries, mashed up in a food processor
1/3 cup strawberry preserves (I used homemade, but any high quality preserve will work)
1 lb powdered sugar
1 tablespoon meringue powder
Preparation
Cream butter and cream cheese. Mix in the strawberries and the preserves. Add the powdered sugar a little bit at a time, until you get the taste and consistency you prefer. Add the meringue powder and beat 30 seconds more.
Note: This is a spreading frosting, it is not firm enough for piping. Recipe adapted from the cupcake project
Thank You For Printing This Recipe! Visit Us Again Soon!
Recipe Page: http://www.couldntbeparve.com/recipe/strawberry-rhubarb-essence-of-summer/