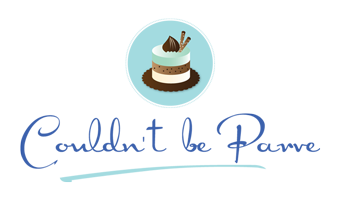 Strawberry-Rhubarb Cupcakes, revisited
August 24, 2008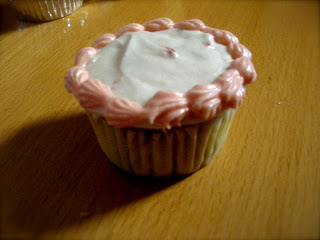 Since my shabbat dessert plans fell through (see previous post) and I needed to come up with something that could be made quickly I decided that this would be a good opportunity to revisit the strawberry-rhubarb cupcakes I had made earlier this summer. I had liked the original version, but the cupcakes did not have as much rhubarb flavor as I wanted. I had frozen half of the cupcakes, unfrosted, and decided to take them out and see if I could bump up the flavor with a rhubarb filling.
I wanted something creamier than a rhubarb compote, so decided to make rhubarb curd. It turns out that the bold flavor of rhubarb becomes quite muted when cooked into a curd. The curd was delicious; tangy and custardy, but even knowing that the rhubarb was in there, I couldn't pick out the flavor. Perhaps it is the strong association of lemon with curd, but it actually tasted lemony. The bright yellow color could have been part of why it evoked lemon among all the tasters. I used farm eggs from the CSA and the color and richness of the yolks turned the curd a deep yellow.
I wanted to make a pipe-able frosting this time, so I used my favorite cream cheese buttercream recipe, substituting strawberry jam for the liquid in the recipe. Again, it was delicious but did not taste much like strawberries.
All in all, the cupcakes were rich and moist, and absolutely did not taste parve. They tasted like cupcakes, however they did not taste much like strawberries or rhubarb. Perhaps my next attempt will get it right!

Rhubarb Curd
Ingredients:
3/4 cup rhubarb juice (from 1 lb of rhubarb)
5 egg yolks
1 egg
1 cup sugar
Preparation:
Combine all the ingredients in a sauce pan. Cook over medium heat, stirring constantly, until the mixture thickens. (It is done when you run a finger across the back of the spoon and the curd does not flow back into the track). Remove from the heat and pour through a strainer into a heat-proof bowl. Let the curd cool at room temperature, then refrigerate.
This recipe makes much more curd than is needed to fill the cupcakes, but the extra can be refrigerated in a sealed jar for up to 2 months.

Strawberry Cream Cheese Frosting
(adapted from
The Well Decorated Cake
by Toba Garrett)
I am posting a half recipe which is plenty to cover 12 cupcakes, but will not leave much extra for decorating. Double it if you want to have enough for piping decorations
Ingredients:
1/2 cup margarine
1 oz solid vegetable shortening
5 oz toffuti cream cheese
3/4 lb 10X confectioners' sugar
2 Tablespoons strawberry preserves
1 Tablespoon lemon juice
1/2 Tablespoon meringue powder
red food coloring (optional for decorating)
Preparation:
Cream butter, shortening, and cream cheese together for 3 minutes. Stop and scrape the bowl. Cream for an additional 60 seconds.
Add sugar 1 cup at a time to the cream mixture. Add the rest of the ingredients.
Beat for 3 minutes, making sure the ingredients are throughly incorporated.

Assembling the Cupcakes
Cut a cone from the top of each cupcake. Turn the cone over and cut off the extra cupcake part, leaving just a flat lid. Fill each cavity with the curd. Replace the lid and frost with the cream cheese frosting.
Recipe Updates – Delivered Fresh!
Thank You For Printing This Recipe! Visit Us Again Soon!
Recipe Page: http://www.couldntbeparve.com/recipe/strawberry-rhubarb-cupcakes-revisited/